Lopburi is a much bigger town than most foreigners will ever see or realize, since most of the sights worth seeing are within the bounds of the Old City. This is fine with me, and with most visitors, who would likely rather avoid the multi-lane, highway commercial strips and just relax in Lopburi's semi-small town atmosphere.
If you do want to get to the newer part of the city, you're either going to need your own transportation or a will and passion for walking, as it's about 5km from the Old City. So, for convenience's sake, this guide will only focus on Old Lopburi.
Lodging
A few hotels line the road paralleling the railway. I've never seen the rooms and can't speak for their quality. More budget traveller-oriented hotels and guesthouses are down Phraya Kamchat Road, including Noom Guest House, White House, Nett Hotel and Lopburi Asia Hotel. All are similarly priced in the 200-400 baht range. Although, of the ones I've stayed, Nett Hotel was the most comfortable.
Street Food
The roads running parallel to the railroad and in front of the Nett Hotel are where you'll find the highest grouping of street vendors selling a great variety of dishes. Some days of the week, vendors will be set up on the north side of the Suan Rachanusorn park.
Sit-Down Restaurants
White House and Noom Guest House both have similar menus of a few western and Thai items. The owners are brothers, but it doesn't seem the two businesses are the same. White House became a favorite hangout of mine for its nice garden café atmosphere and friendly owners.
Noom Guest House, on the other hand, is a street side atmosphere with tables set up on the sidewalk and a covered area with wooden platforms to sit on. The staff is friendly enough, but when their chair collapsed on me, screwing up my back to the point where I couldn't move from my bed for 3 days and $100 in hospital expenses, they didn't even acknowledge the problem, much less offer an apology. Needless to say, I'm a little bitter toward them.
Across the street from Noom Guest House, inside of the park is a small restaurant popular with locals. From the looks of it, it has a simple menu, but is usually quite busy.
Near the southwest corner of the park, at the corner of Ratchadamnoen 2 and Sorasak is a restaurant called Keang Ba Cafe & Art. Interesting paintings adorn the open air venue and it's got some very good food. The green curry was amazing.
For those who need western fast food, there is a KFC on Ratchdamnoen near Tesco, a few blocks west of Prang Sam Yot.
Nightlife
Not much in the way of nightlife in Lopburi. Noom and White House both serve simple drinks and there is a constant crowd of young foreigners drinking at both most days. Noom closes early, but White House stays open most nights until midnight. It's here you'll find many local foreign English teachers hanging out on weekend chatting and usually welcoming of visitors.
After White House closes down, there are only 2 options, the Come On Bar and another bar whose name is only in Thai. Come On Bar is a simple street-side setup but gets pretty busy with young locals. Quite a few will also be anxious to speak some level of English with you as well.
On the opposite side of the park is a Thai bar and music venue. Having live acts most nights and staying open late, this place is usually quite busy. Drink prices are more here, usually about 150 baht for a beer. The local English teachers seemed a little wary of it, but I've never seen a problem there.
Sights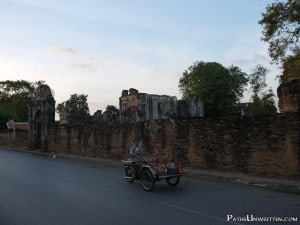 Most of the interesting sights in Lopburi were covered in my Lost Cities post. There are a few other smaller ruins around town that you'll surely come across while walking around.
The central park, Suan Rachanusorn, can be a good place to just sit and relax for a while. There are a few activities around and usually has a few locals if you're curious for some people watching.
Otherwise, head over to the river. Across the bridge is a curious temple and just past that an unusually tall modern stupa that is leaning a little too crookedly for comfort.
Leaving Lopburi
The main bus station is a ways outside of Old Lopburi and taxis and tuk-tuks are pretty much non-existent. The train station has many daily trains going toward Bangkok and Chiang Mai, and all those cities in between.
Near the train station is also an assortment of large vans that will leave for various destinations, including nearby towns like Ayutthaya, Bangkok, and Saraburi.