One of the fundamental burdens of any explorer is finding a place to rest your head, be it weary or not. In any distant land, such an inn – be it a hotel, a guest house, or even a dorm bed in a hostel – can prove a respite from rough life on the road. Or it can be a distraction from the wonder of the exotic locale you find yourself. Easily both.
Since the years when Paths Unwritten began, I have found myself becoming more selective (AKA picky) than that impatient 25 year old wandering door to door for the cheapest bed. That's not to say I no longer appreciate a good deal or the atmosphere of a hostel, but a private bed here or there does bring some peace and quiet. So, keeping that in mind, here are my top 5 hotels from 2018:
5) Gin's Maekhong View Resort & Spa | Chiang Saen, Thailand
Chiang Saen is one of those small towns in Thailand the usually flies under the radar, even given (or perhaps in spite of) its proximity to the infamous Golden Triangle where Laos, Thailand, and Myanmar meet. However, the sights in Chiang Saen outshine those of the Golden Triangle. It's home to a 900 year old ruined city surrounded by a crumbling city wall along the Mekong River.
Straddling the northern edge of that city wall (literally outside the check-in desk window) is Gin's Maekhong View Resort & Spa, a picturesque little hotel on the riverside providing a great view of neighboring Laos. The hotel has its own spa, comprehensive restaurant, and the rooms have walkout straight to the poolside and dock into the Mekong. Throw in their motorbike rental and it becomes a fantastic spot from which to explore Chiang Saen.
4) WelcomHeritage Traditional Haveli Hotel | Jaipur, India
After questionable accommodation in the preceding cities of Delhi and Agra, I was certainly in the mood for something comfortable once we arrived in Jaipur. This led us to the WelcomHeritage Traditional Haveli Hotel. I hadn't heard the term before, but havelis are traditional mansions in India, many of which have since been renovated into guest accommodation.
During the four weeks I spent in India, WelcomHeritage was the best place I stayed during the whole trip. The rooms and atmosphere were exceptionally clean and comfortable and the staff was able to take care of everything we needed. In particular, they arranged a courteous driver to take us to destinations I wanted that were a bit offbeat from the normal Jaipur tourist circuit. The hotel was not located in a highly interesting area, but the facility itself was very impressive.
3) Pyramids Loft Homestay | Giza, Egypt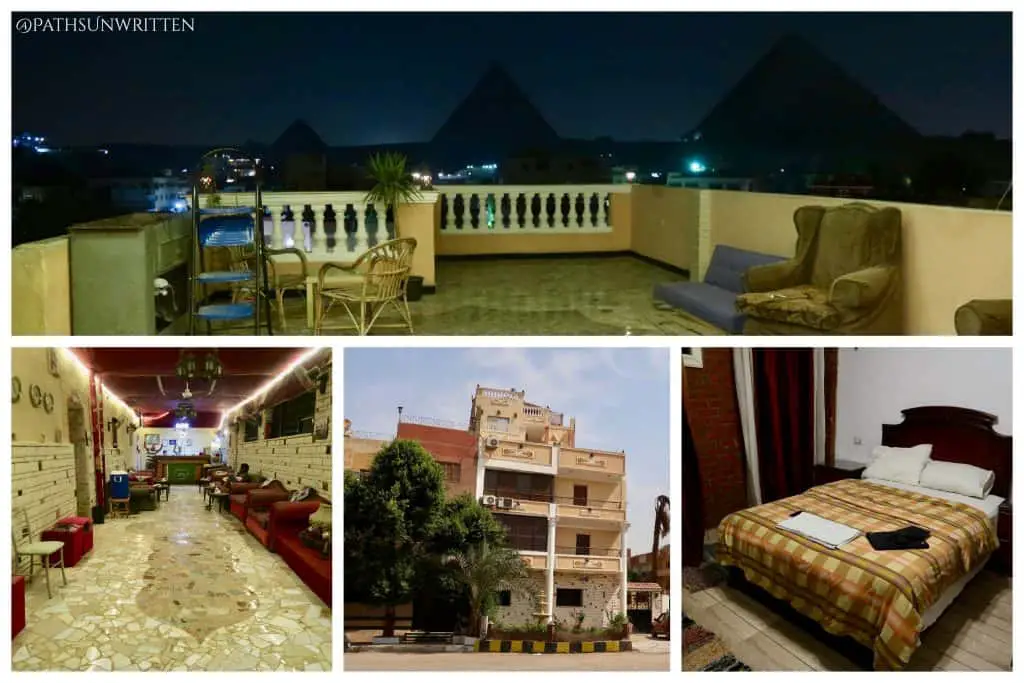 Imagine the splendor of stepping out of your bedroom in the morning and seeing the 5000 year old ruins of the Giza Pyramids. Well, so long as you consider them a wonder of ancient architecture and not focus on their more morbid nature as tombs. For me, this was every morning during my first week in Egypt when I was staying at the Pyramids Loft.
Located in the village at the foot of the Giza Plateau, the Pyramids Loft has recently moved to a larger, newer building set only a couple streets back from the front gate to the Pyramids. Being the particularly picky archaeology nerd that, I am, the staff here was able to
2) PinkCoco Gili Air | Gili Air, Indonesia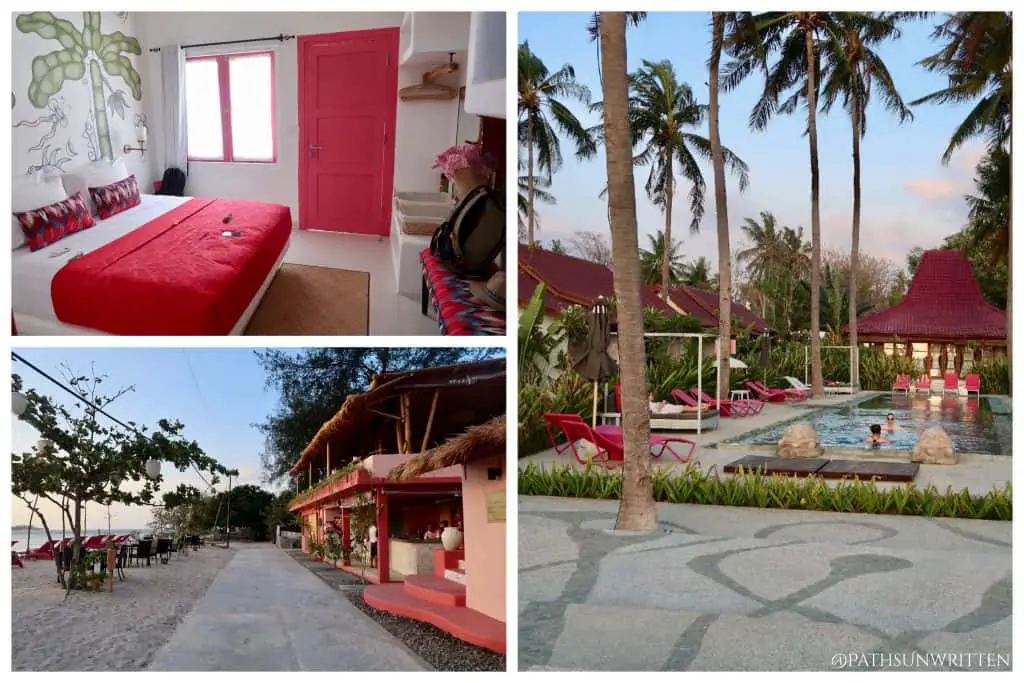 My first trip to Bali was fantastic. My first trip to one of Bali's satellite islands was a disaster. However, there is something to be said about the atmosphere of small islands to big resort islands like Bali. Gili Air certainly has the exotic, yet relaxed atmosphere of the small island that it is. Unfortunately, it didn't have the beaches I was hoping for, instead nothing but sharp rocks spread out for 200 meters in every direction.
But, PinkCoco was everything you could hope for in a resort hotel on Gili Air. They've got a quiet beachfront location looking west toward the other Gilis. On a vaguely clear day, the shadow of Gunung Agung, Bali's massive volcano, dominated the western horizon. Their second storey restaurant looks over the beach and is perfect for sunrise or sunset. The pool is the focal point of the whole hotel, and many of the guests we encountered never left there all day. The employees exemplify the definition of hospitality and were helpful with anything we had questions about.
1) JW Marriott Marquis | Dubai, United Arab Emirates
Very rarely do I find what is essentially an arcology – a building which seems to function as its own self-contained town – but Dubai's JW Marriott Marquis was one such place. This was the hotel I stayed during my 2 weeks in Dubai. While there during a work conference, there was no real need to leave the whole twin-towered hotel. It had restaurants serving cuisine from around the world. Room service delivery of water was plentiful. The pool was extremely nice and provided a view of the Arabian Gulf as well as the neighborhood of Jumeirah.
For such a hotel and in a place with cost of living relatively high as Dubai is, the hotel was surprisingly cheap. However, the cost of utilizing their facilities seemed substantially higher. The restaurants usually started around 10 USD and went up from there. Likewise, though the JW Marriott Marquis was a local destination for nightlife, with the exception of some specials, their drinks usually started around 10 USD as well. My coworker and I surmised this discrepancy must actually be how they make most of their profit.
What do you look for in a Hotel? Are the any must-haves? Let me know the best hotel you've ever stayed below!