"Coney Island is dilapidated and gritty and trashy,
which is why I love it.
It's like the Cyclone rollercoaster –
rickety, loud, scary at times
and a helluva good time."
-A.K. Gupta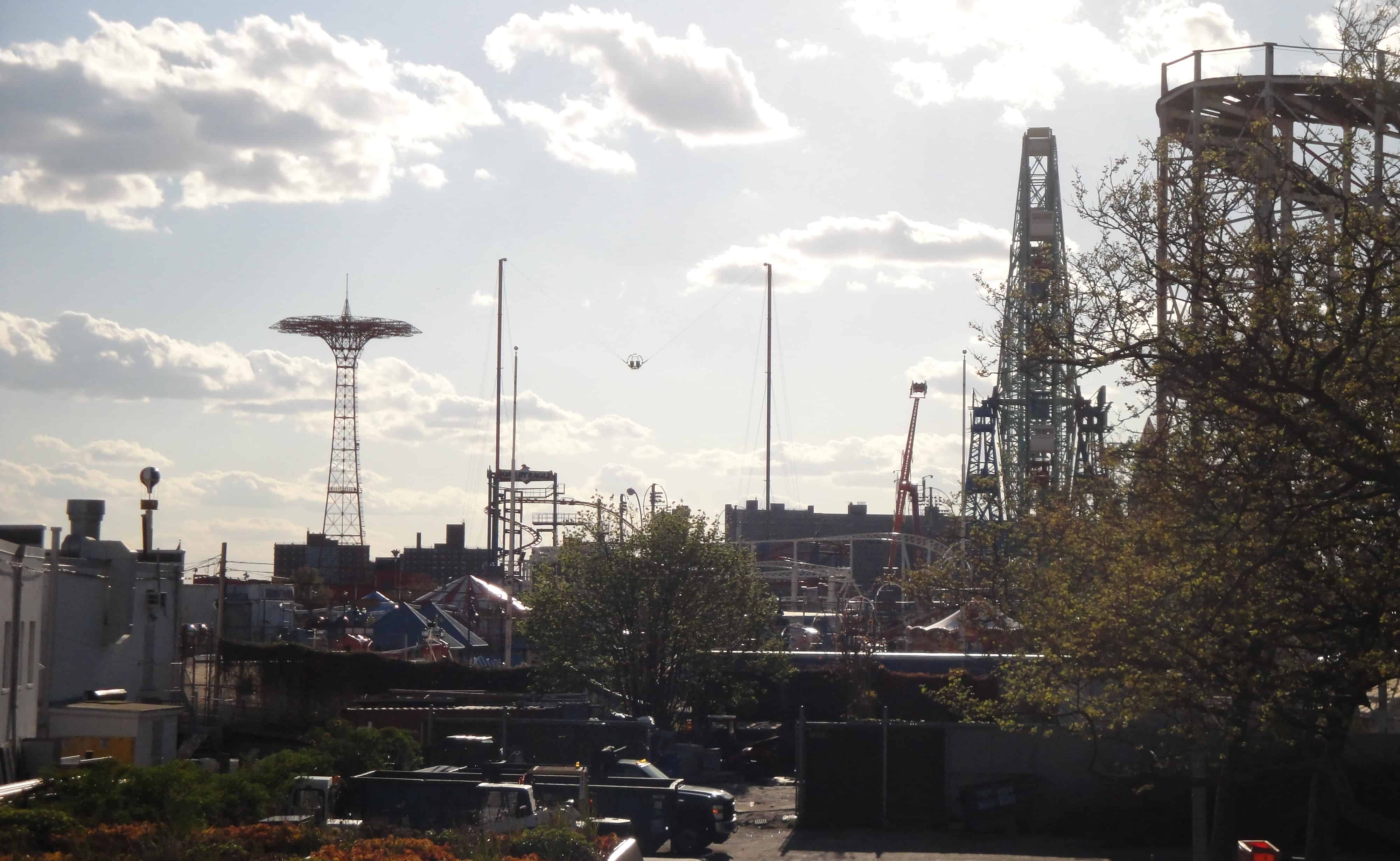 I had stayed an extra day past my initial reservations to come here, which meant relocating halfway across Manhattan to the HI New York in the process.  So after an hour long metro ride to its Brooklyn terminus, I was eager to get out at see the legendary Coney Island.
One of my favorite foods growing up was the chili dog.  Also variably known as a Coney Island dog, a Michigan dog, and a Coney.  A small product of this passion can be found here.
Walking out of the Coney Island Station onto the main strip of the neighborhood, I received a dose of reality.  Growing up with the ever-present Coney Island term and dog, I had for some fantastical reason expected the strip to be lavished with chili dog stands and restaurants.
Instead, the first thing I saw when I walked off the station property is the fenced off, abandoned amusement park.  Walking past that, I came to Nathan's Famous Dogs, the apparent source of the Coney legend, and which turned out to be the only "Coney Island" restaurant in town.
Deciding to forego it for the time being in lieu of some exploring, I began to walk the perimeter of the derelict amusement park.  Many of the rides looked in pretty good condition for as long as they had likely been closed for.
Inside of the fence were a few stray individuals, including one decent sized group that was leaving as I was getting there. I think that they may have been coming from the Ferris wheel, but I never noticed it running again in the time that I was there.
Moving counterclockwise around the amusement park led me down a dead end street to the beach and boardwalk.
For those unfamiliar with the origins on Coney Island, it began as a summer beach resort for residents of Manhattan, well before the Brooklyn Bridge or trains were built.  And, apparently before the Statue of Liberty's prominence, a landmark hotel in the shape of a giant elephant was the first thing visible when approaching the New York coast.  Curiously enough, this giant elephant was also a brothel.
It continued on as a (brothel-less) recreation and resort spot well into the 20th Century as expanded transit made it possible for it to be a simple day trip.  At some point in the last century, it went through a period of significant decline and abandonment, resulting in this place of an eerie tranquility I was walking through.
Granted this was early May, not quite beach season, but the state of everything around, less the boardwalk itself, gave that notion that Coney Island is worn echo of everything that it used to be.  Yet there were a decent number of people walking both the beach and the boardwalk.  A little less than half the stands were open, selling such staples as sausages and fried clams.
I continued north around the beach side of the amusement park, still seeing no sign that anything was happening in it, though there was a guard standing at one of the fence doors into the park.  Once I had reached the closed aquarium, I decided to call it and head back toward where most of the stands and Nathan's Famous were.
Though tempted to try out some of the fried clams, I was resigned to a Nathan's coney dog, though still not quite yet.  Continuing south on the boardwalk, I was bordered on the left by a white sandy beach neatly divided up by stone breakwaters and guarded by signs alerting that the beach was closed, thereby forbidding both swimming and bathing.
On the right, I was passing building after building that had seen better days.  All the while, I was approaching a curious red tower that loomed above everything and looked like it belonged in the amusement park, yet was near a kilometer away.  I later found out it had been a tower from which people parachuted from, well before base-jumping ever came around.
I took a left onto a dock that stretched a ways out into the ocean and was full of people fishing next to their buckets of chum.  Off in the distance were a number of ships, including one very large freighter nearing some destination.  Having grown up with Great Lakes freighters, cargo container freighters were an interesting change.  Not to mention my initial introduction to them had been a rather dramatic close-up of one in the Caribbean while on the Wanderbird.
Farther down the boardwalk, I came to one sign of revitalization of neighborhood, an empty lot being developed by a group into an urban garden.  It was here that I decided to turn around and head back on the road to Nathan's and the metro line, passing the Brooklyn Cyclone's baseball stadium on the way.
Nathan's was a pretty packed place for what it was.  Inside were an ordering counter a la McDonald's, a couple tables to eat at, and a small counter to stand at and eat some of the way around.  There was a good amount of seating outside though, which I chose to do.
The dog, like the Coney Island ideal itself I suppose, was not exactly all that I was expecting it to be.  The dog itself was good, and had the snap of a dog that was grilled rather than boiled.  It was topped with a melted cheddar sauce.  However, the chili, among other things, had beans in it.  While most chilies do, yes, coney dogs in Michigan (and by now I've eaten them at nearly 40 places I can recall) almost never have beans.  Might sound like a minor nitpick, but I can't stand them.  Luckily they were easy enough to pick out.  Short of it, I've had better.
I walked over to the restrooms to wash my hands afterword and was greeted by 2 firemen walking out saying that someone had apparently lock himself in there earlier, but seemed to be gone now (?).  On top of that, there was a very specific sign posted on the men's room door, making it seem even weirder.
Getting back to the metro station, I stopped at the Coney Island museum across the street, which was closed though the gift shop was open.  The person working told me about a burlesque show, but it wasn't happening until the next night, and I was leaving tomorrow morning.  So climbing the stair to the boarding area, I traded up Coney Island and headed back for one more night on Manhattan island.