With the newly constructed Line 6 bridge of the Chongqing subway going straight into the center of the city, we had an easy ride to the prime location for Chongqing's New Year's celebration. Although celebrations were happening in bars and homes all over the city, nothing would compare with Jiefangbei.
From the newly opened subway station, we made our way to Hongyadong, which, put simply, is a mall built up the side of a cliff. However, it seems so much more impressive than that when one first visits. Although newly constructed, it incorporates 10-11 floors of mock-traditional Chinese architecture and has floors dedicated to crafts, foods, and sculptures, with the top floors on Jiefangbei's level being bars and restaurants topped off with an oddly-placed pirate ship.
It's a place that deserves its own post in the near future.
Cliff's Bar was where we were heading until midnight neared. Inside we found several coworkers already drinking a bottle of cheap tequila and playing pool. Despite being full, not too much was happening at Cliff's or anywhere else inside of Hongyadong. So for the next couple hours we avoided the massive crowds outside as midnight approached.
The quick walk from Hongyadong to the center of Jiefangbei brought us into a nearly impenetrable crowd of people. People's Liberation Monument, a clock tower in the middle of pedestrian mall was the focal point of the celebration. Thousands and thousands of people gathered around it, most with balloons waiting for the strike of twelve.
Being foreigners, a rare site in China, but even moreso in Chongqing, we got a lot of looks and hellos and picture requests as we fought our way in the direction of the clock tower. After losing some of our people to the masses, we found a comfortable spot and waited the 15 or so more minutes.
Every five minutes, a loud roar rang out from the crowd. All this commotion was despite the fact that you could barely see the minute hands and the giant screens all around were still showing bank commercials instead of changing to a countdown for just 10 minutes of the year.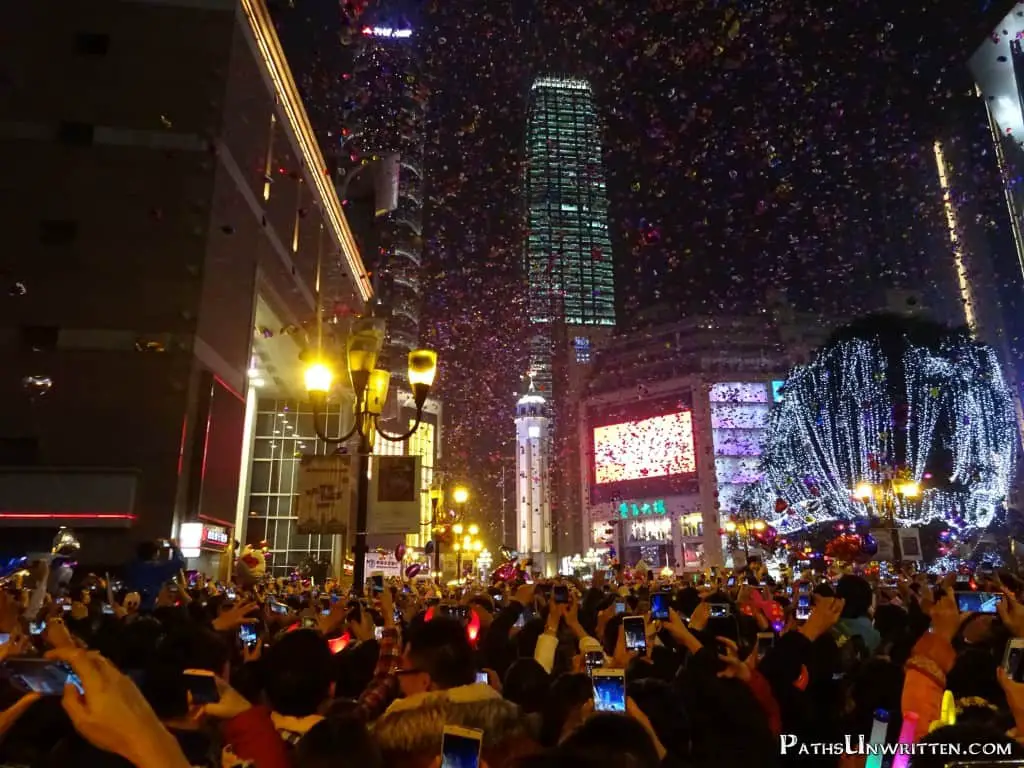 When the clock finally struck midnight, a deep cheer echoed through the valley of buildings. Everyone let their balloons go into the sky, filling the faint darkness with seemingly millions of points of shining color drifting up into the starless night. Seeing them all slowly rise was quite a sight to behold, but you have to wonder where they'd all end up as someone's garbage problem to deal with.
No less than 2 minutes after midnight, there was a current of people pushing away from the clock tower. Since Jiefangbei is a peninsula, and all the subways had shut down an hour earlier, there was only one direction out, and if we didn't go with the flow of the crowd, we be likely to be trampled over, as happened in Shanghai.
Once we had all gathered back in Hongyadong at Cliff's Bar, we would be there a while. Taxis were nearly impossible to get out due to the sheer amount of people. One girl in our group left at 2am to try and ended up back around 3 with no luck. So, we rode out the time at Cliff's until 5am, when most of us parted ways. Some to sleep, some to other bars, and a few of us to watch the sunrise on a cold rooftop.