<
p style="text-align: center;">"The moon you felt,
it has no side
that's dark like hell
or safe from light."
– Tom DeLonge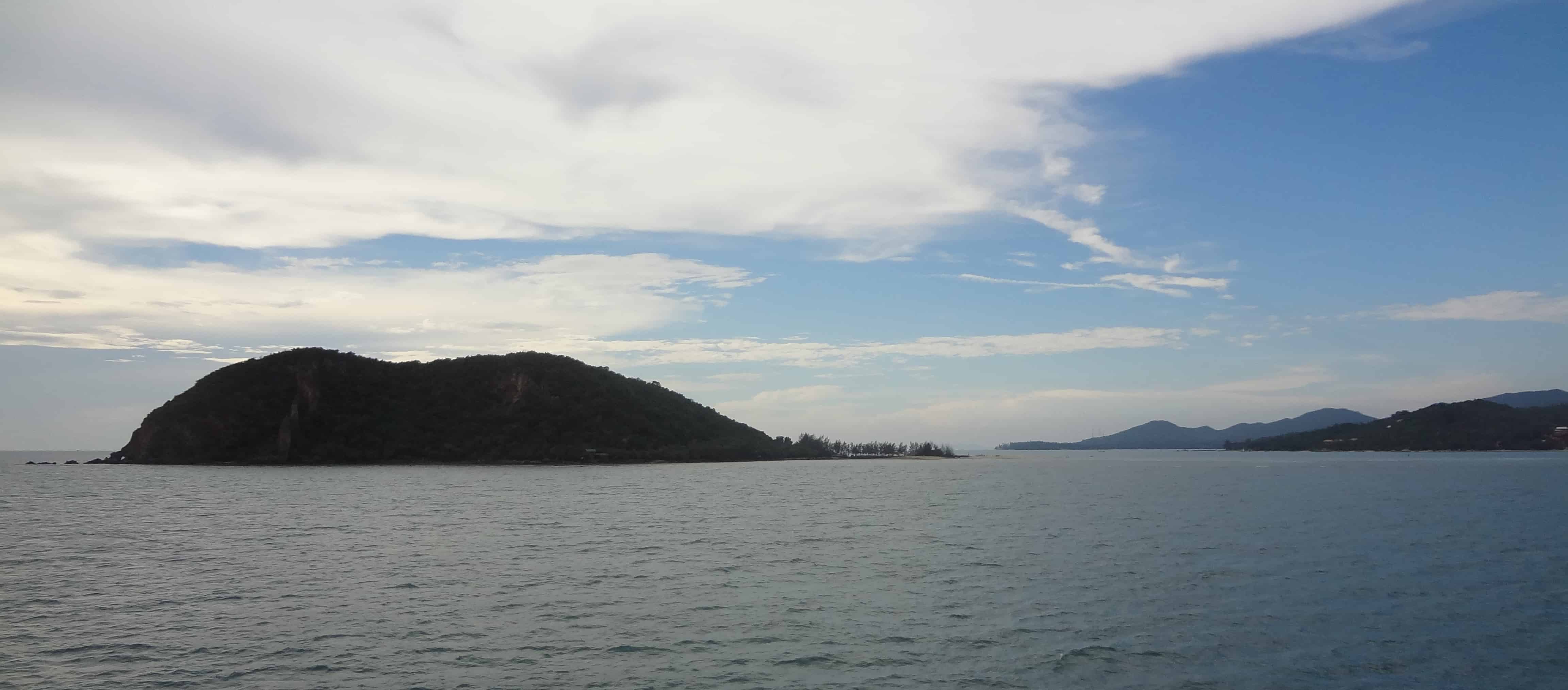 "Cry for the moon" is, if I correctly understood a Thai coworker trying to explain it to me, a proverb expressing the sadness of a man longing for a woman (the moon) or something else impossible.  Of course, I've also noticed that my student Thai speakers of English often tend to confuse cry and pray.  Given this picture from which I first learned the proverb, I would presume it might have been intended to mean pray.
This picture I see everyday outside of the elevator on my classroom's floor ran through my mind on the ride from Khao Sok back to Surat Thani, the way to Koh Phangan.  Though I didn't know how I'd get there at the time, the whole experience would certainly live up to its international notoriety.
I got dropped off in Surat Thani at a travel agency right in the middle of town.  Given that the Full Moon Party was happening that night, it was loaded with people booking boats to the island.  It also meant that there was no shortage of spots.  For 600 baht, I got on a fully loaded bus to the Surat Thani port and then walked onto a very full ferry to the island.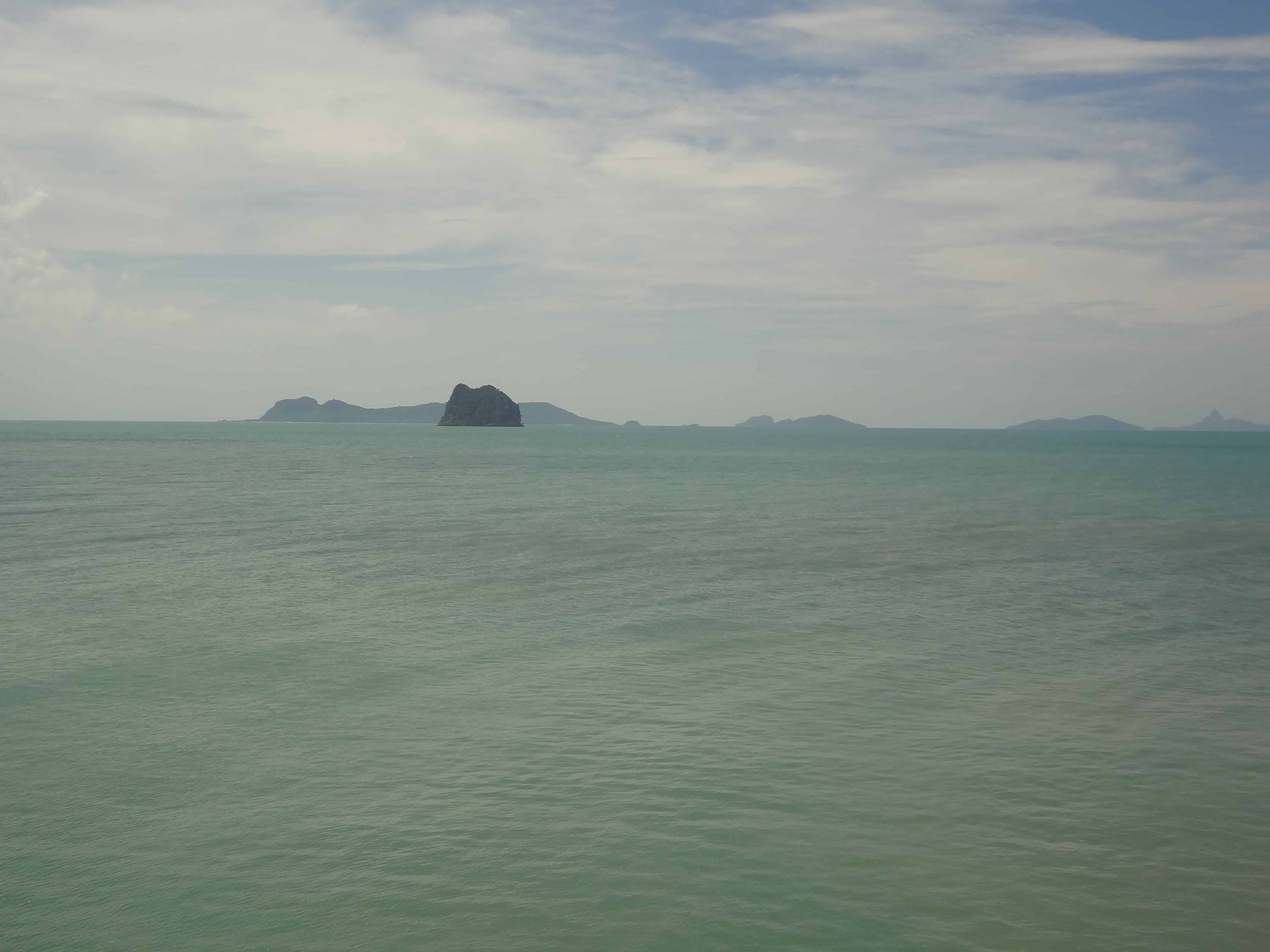 The ferry had nearly every type of traveler I could possibly imagine on it.  Plenty of backpackers, Western families, Thai families, Thai groups of friends, Asian backpackers, and even a couple groups of Latin American backpackers, something that I'd never seen before.  Still the ride, along with the boats jacked-up miniature convenience store proved fairly uninteresting.  Most of my time was spent reclined on my backpack reading a good travelogue, Lost Cities of China, Central Asia, & India.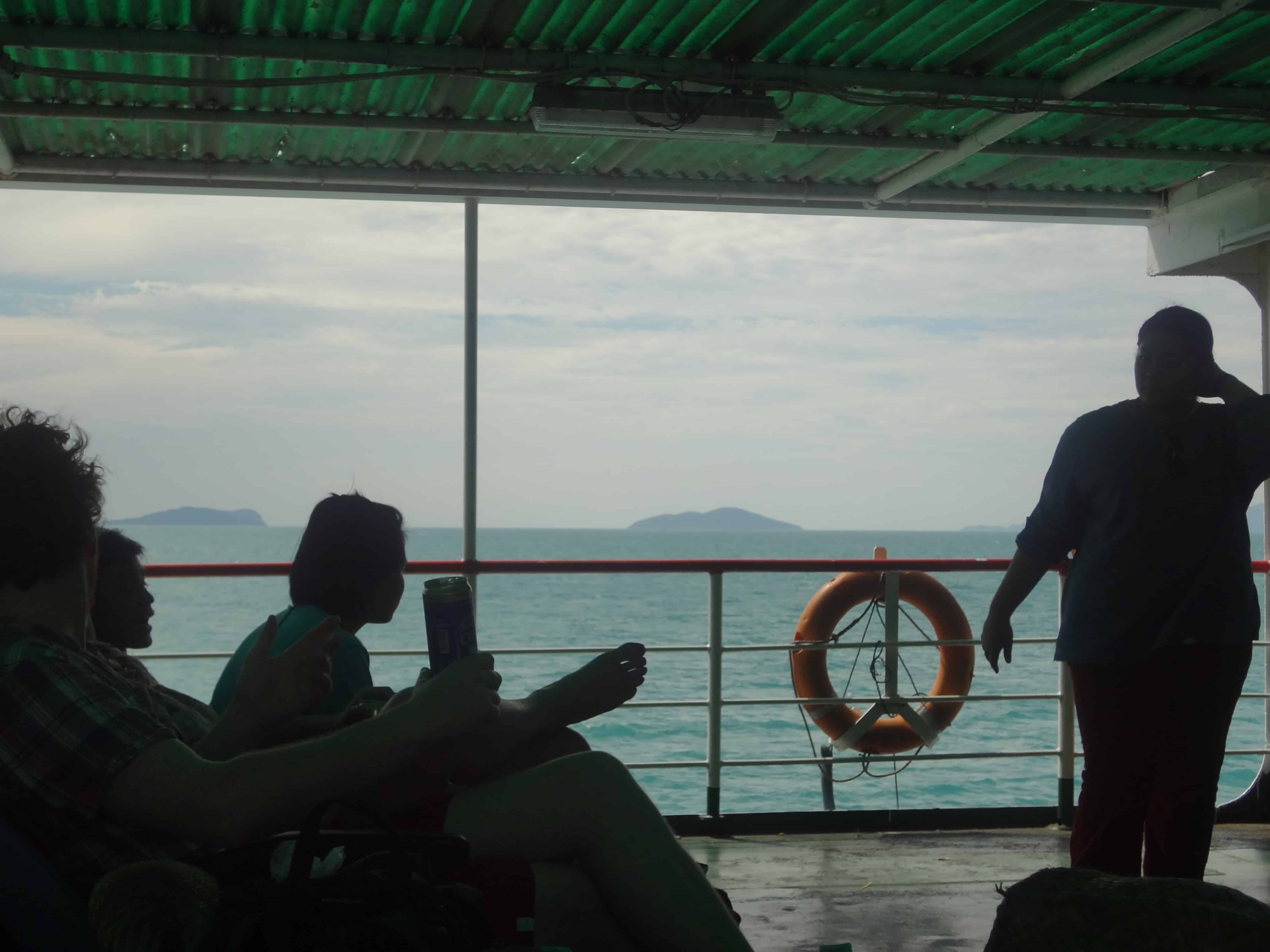 Once at the docks of Thong Sala, the entire area became inundated with backpackers as confused as if they had just stepped off of their first plane in a foreign country.  Some were worried that there would be no way available to Haad Rin, the town on the southern tip of the island where the Full Moon Party was located.  Others just figured the Full Moon Party happened right where we were.
Within five minutes of getting off the boat, I was in a songthaew heading south for 100 baht.  The amount of people who exited prior to getting to Haad Rin surprised me, since most were also there for the Full Moon Party.  It took a little bit of asking on my part to find the hostel I had booked for the time there.  As I've said numerous times before, I'm not a fan of booking ahead f time.  The last time I tried in Surin, I ended up booking a room 7 hours away.
This time, I was certain that the Lazy House Hostel was actually on Koh Phangan, but it was much more expensive than most places.  The initial night was 1250 baht, more than anything I've paid for a room before or since in Asia (including Singapore), and the following 2 nights were 750 baht.  And this was for a 20-bed dorm, not the slightest bit private.
Though I had a pleasant enough experience there, the only real gripe I had about it was the way they advertise their restaurant and bar.  I arrived expecting them to be a place to hang out at the actual hostel.  Instead they were a short walk around the block.  The actual Lazy House Hostel was just stairwell leading into several rooms stuffed full of dorm beds.
When I walked in to drop my things off at my room, most of the beds were filled with sleeping backpackers.  Even though it was late afternoon, this was understandable.  The nights leading up to the Full Moon Party are widely said to be almost as wild as the party itself.  So, careful not to make too much noise, I locked the important things (wallet, passport, computer) in a small locker with my own padlock and stuck a few hundred baht into the one pocket my board shorts had.
The town of Haad Rin is exactly what you would expect for a town set up around a party frequented mainly by foreigners.  Every building has a shop or a restaurant selling something geared toward the partygoers.  Lots of brightly colored clothes, bars, useless trinkets, and surprisingly more medical centers than I have seen in towns of similar sizes made up the illogical tangle of streets.  It was what I would expect, but it was still different from anyplace I had been before.
Despite the fact that the sun was going down within a couple hours of when I hit the street, the town was less alive than what I would have figured.  After walking a couple blocks, I realized why.  Every bar was filled to the brim.  I imagined the rest were on the beach.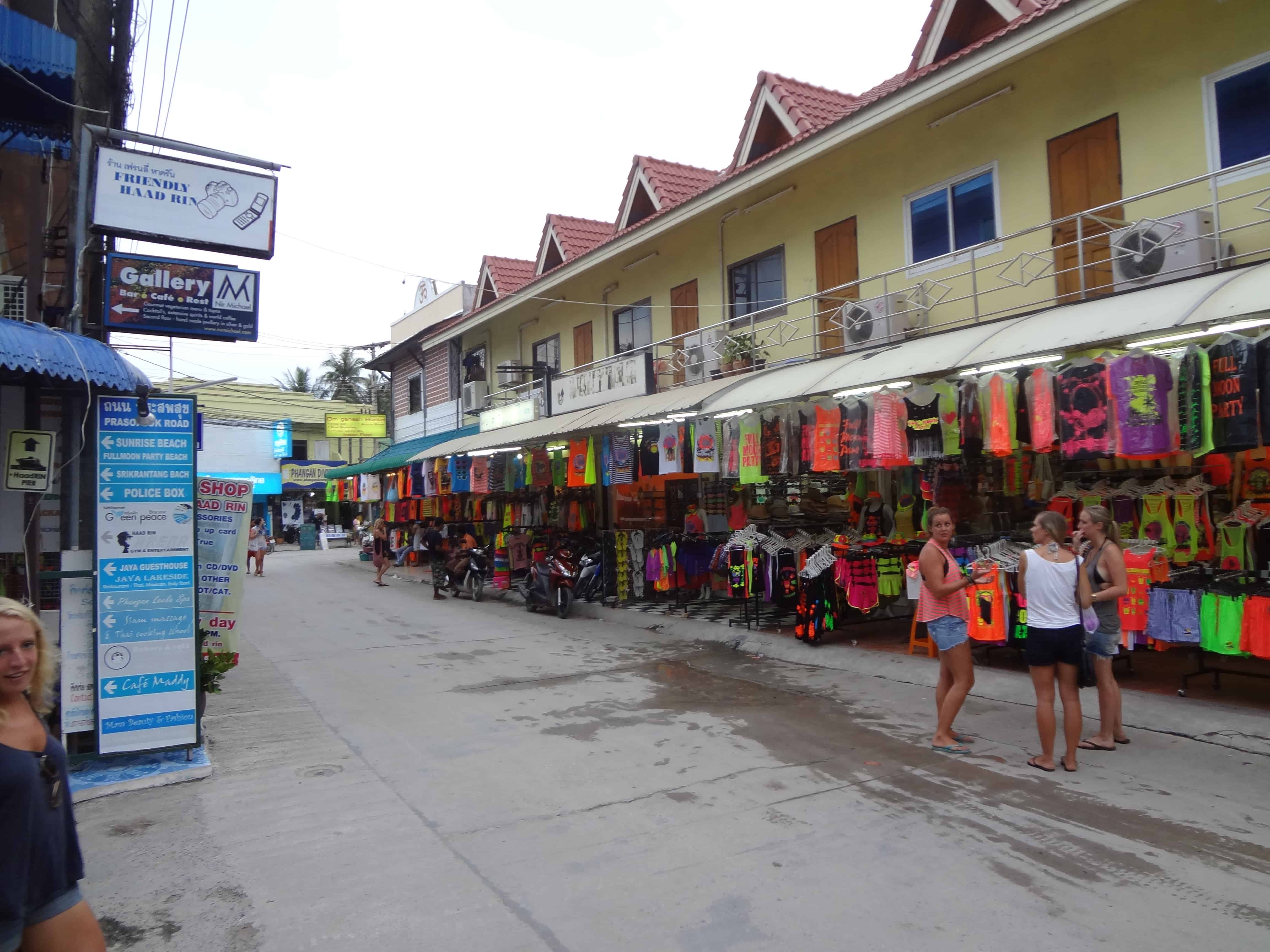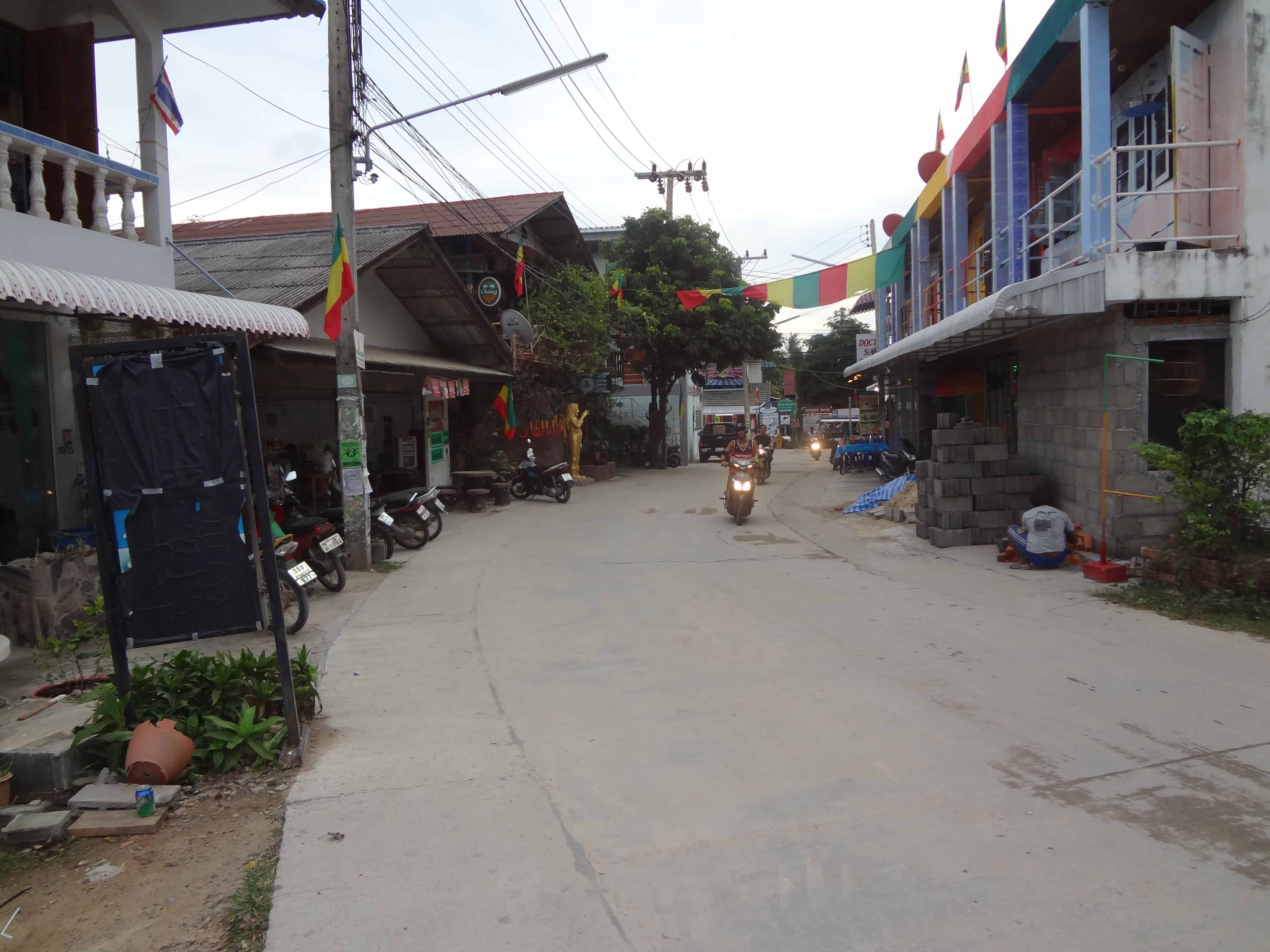 Because I was staying at the Lazy House Hostel, I got a complementary dinner at one of their restaurants.  It also included a free vodka bucket with my choice of mixer.
So, with that began the night of the Full Moon Party.
You wouldn't think it would be easy to pass an entire night on 0.5 km stretch of beach.  Or, at least I wouldn't think so.  But then again I know people who can just do nothing on a beach for days on end.  This ended up being quite easy to let the time go by though, as there was so much going on.
And the party lived up to most of the lore I had heard about it.  Of course there was plenty of drinking and dancing on the beach.  Fire dancers burned their artwork into the night air.  Drunken backpackers tripped and burned themselves on a propane-soaked rope passed off as a jump rope.  At the north end of the beach is "Mushroom Mountain", a rocky hill lined with rock-carved stairs leading to bars selling their "magic shakes".
Along the beach and a few meters out in the water were many people having sex in the ocean.  More often than not, they were surrounded by the dozens urinating their night away in the ocean.  Not that anyone cared.
More than anything, this all provided an amazing opportunity for people watching while strolling down the beach with the occasional beer in hand.  Throughout the night I got some fantastic pictures using a Sony WX9 I had bought specifically for night shots.  Come sun-up, I was feeling quite content, maybe even a little proud, that I had made it through the night unscathed, reasonably coherent, and had not suffered the all-too-common fate of having something stolen.
Then, around 7am, as I was reveling in this feeling and watching the sunrise over the eastern ocean, it happened.  With a beer on one side of me in the sand and my camera in its case on the other, I stood up to talk to a British guy who struck a conversation.  30 seconds later, I turned back around and the camera was gone.
Thankfully I had synced all of the pictures from Khao Sok before heading out to the beach, but that was still an entire night of amazing pictures gone.  This was just as big a let down as when I lost it after the trek in Chiang Mai.  On top of that, I couldn't get another worthwhile digital camera until I returned to Surat Thani, meaning that last picture in the hostel is the final picture I was getting off of Koh Phangan.
Thankfully I had booked two extra "recovery days" after the Full Moon party itself, though those ended up being very similar to the first night.  Still, the little town at the southern tip of the island had delivered on its unspoken promises.  Immense parties and island romances abounded through the small breaks of quiet days.  Still, come the end of my reservations, it was most certainly time to move on.