<
p style="text-align:center;">"Let us keep the dance of rain
our fathers kept
and tread our dreams
beneath the jungle sky."
– Arna Bontemps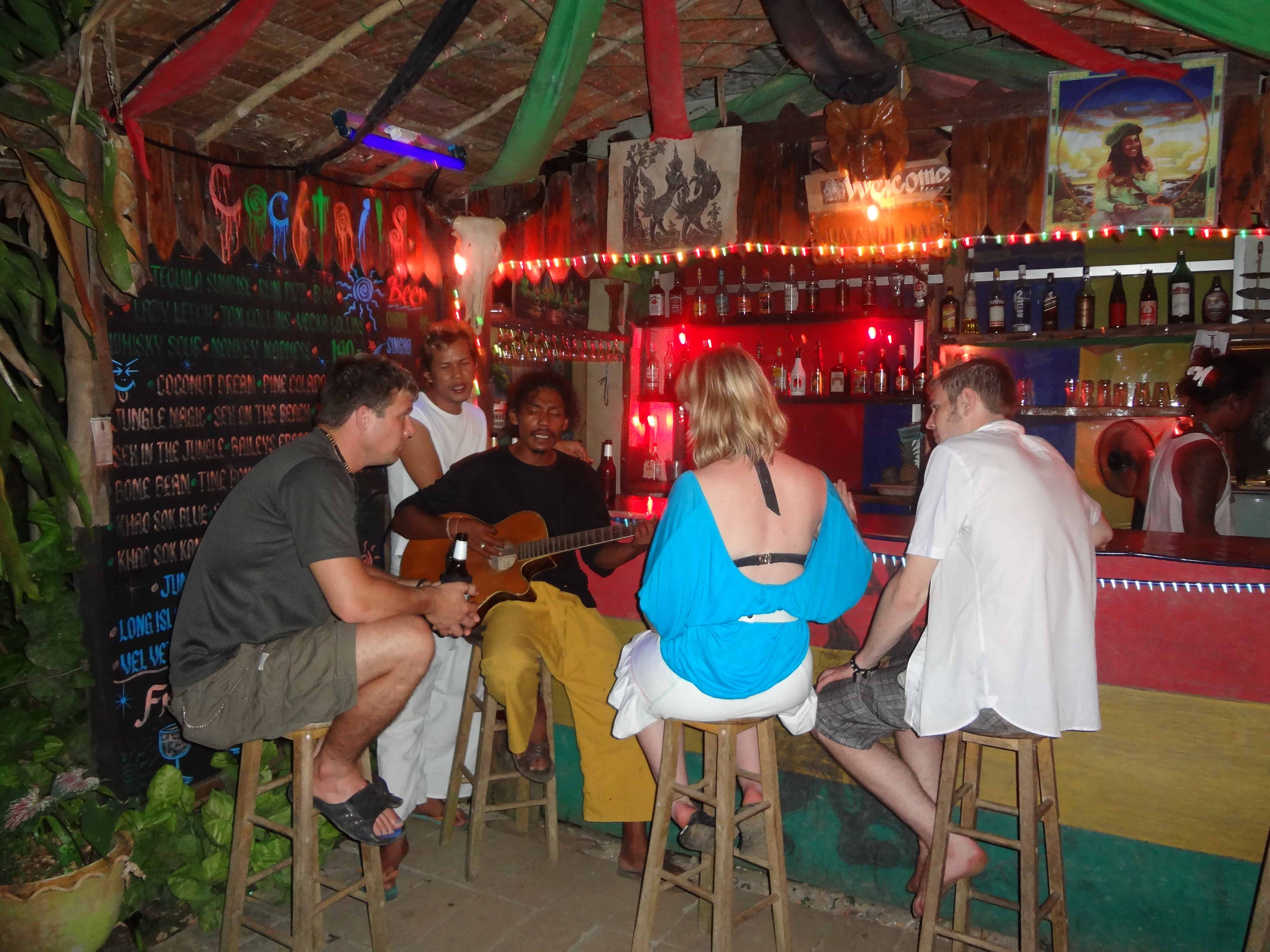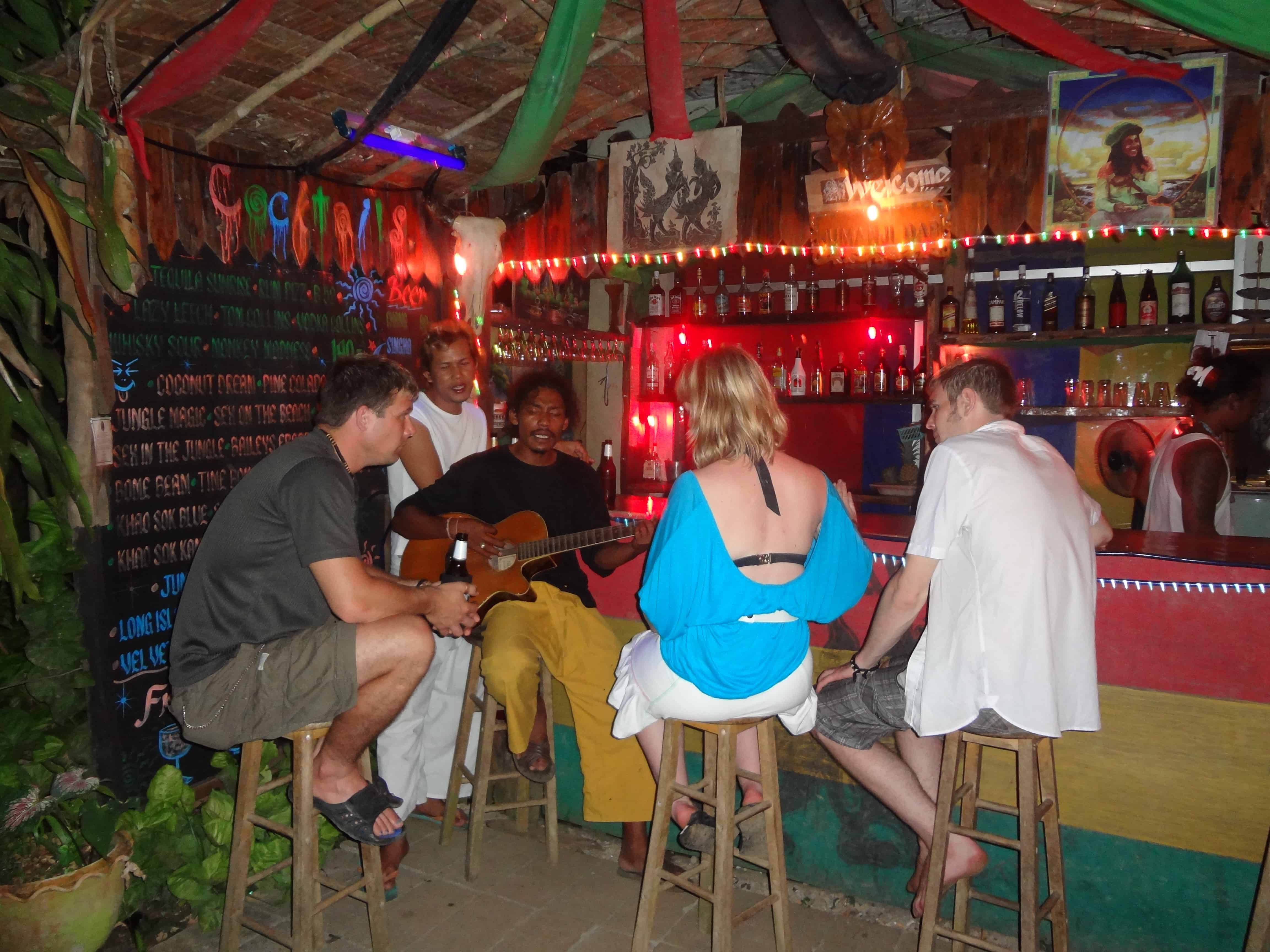 Would I have figured a small group of buildings at the entrance of a Thailand national park would have a night culture?  No.  Did it?  I was surprised.
After a couple beers over dinner with the English couple at Our Jungle House, we parted ways and I began heading back down the side road to the park entrance.  Despite the main road leading up to the park being where most food and lodging was, it was along this side road that most of the entertainment options seemed to be located.
Many of the guesthouses seemed completely devoid of people.  This is understandable, considering it was the hottest time of the year here.  But even some of these still had their lounge areas open, lit, and blasting their reggae music.  Again, I still have not figured out the Thai fascination with reggae music.
I went into one, drawn by the eerily artificial colored lights shining through the otherwise blackened jungle.  Inside was a bohemian refuge full of hammocks, floor cushions, and colored light fixtures.  It was populated solely by a Burmese bartender and a dog, which I was later told did not belong to the place.
The bartender was quick to react when I walked in, turning on some Thai island reggae and then engaging me in English.  He was a university student studying English who was working here on an academic break.  He gladly explained to me all the details of the island band he had put on the TV, despite the fact I hadn't asked.  But, he was a pleasant kid to talk to, and I got the feeling he was very happy for some company when he told me I was the first person he had seen there in several hours.  As an added bonus, he seemed to genuinely enjoy speaking to me in English, a quality I don't find too often in the students I deal with in Thailand.
Leaving him behind after a while (though not the dog, as he followed me for some ways) I came to a bonfire on the side of the road.  This wasn't at a guesthouse or a bar, but just a random shack with 4 people outside talking and playing guitar.  They waved me in, handed me a beer and motioned for me to sit down on a bench next to the fire.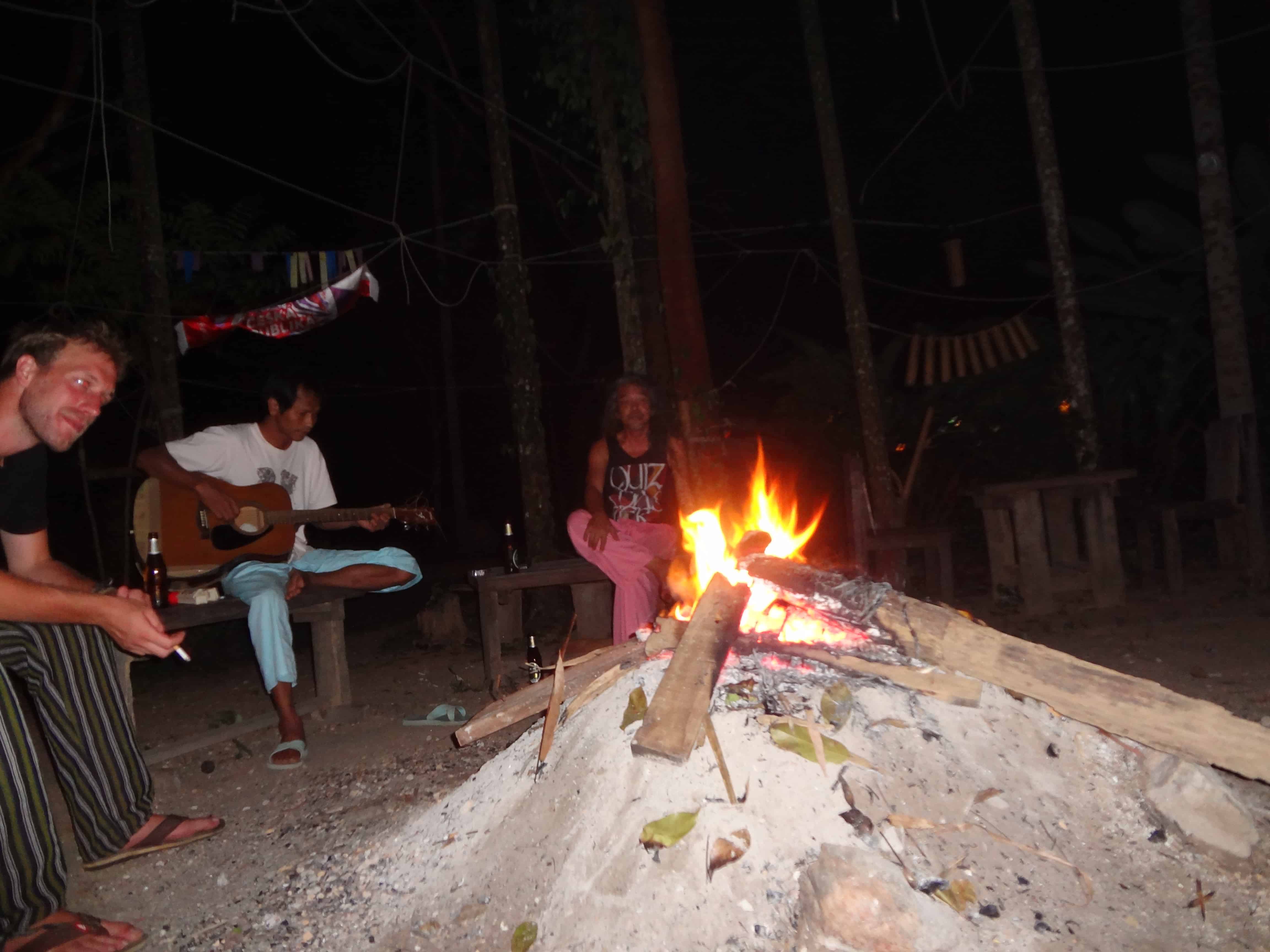 To my left were 2 Thai guys playing guitar and singing, an American guy from California, and a German girl no older than me who said she was travelling through Thailand with her 2 children.  To my right was a large pile of dirty nails.  No one knew why they were there.
After a few Thai songs on the guitar, California guy took the guitar and started playing some classic rock or oldies, not that there is actually any difference.  Still our Thai hosts knew his songs and started to sing along.
During this time, a dog had strayed into the bonfire area from the surrounding blackness.  I immediately noticed it wasn't the friendly mutt from the other place.  Underneath an empty bench across the fire from me, a female dog was sleeping.
In the next couple minutes, we all got to witness what would essentially be considered dog rape.  The new dog wrestled her to onto her back and proceeded to mount her.  Her whelps were obvious, though when I stood up to try and shout away the male dog, one of the Thais told me to stop.  Heeding his warning on local dogs, I sat back down.   Soon after the male dog was gone.
The German girl left before both California and I, but as the fire began to die down, we all started to go our separate ways.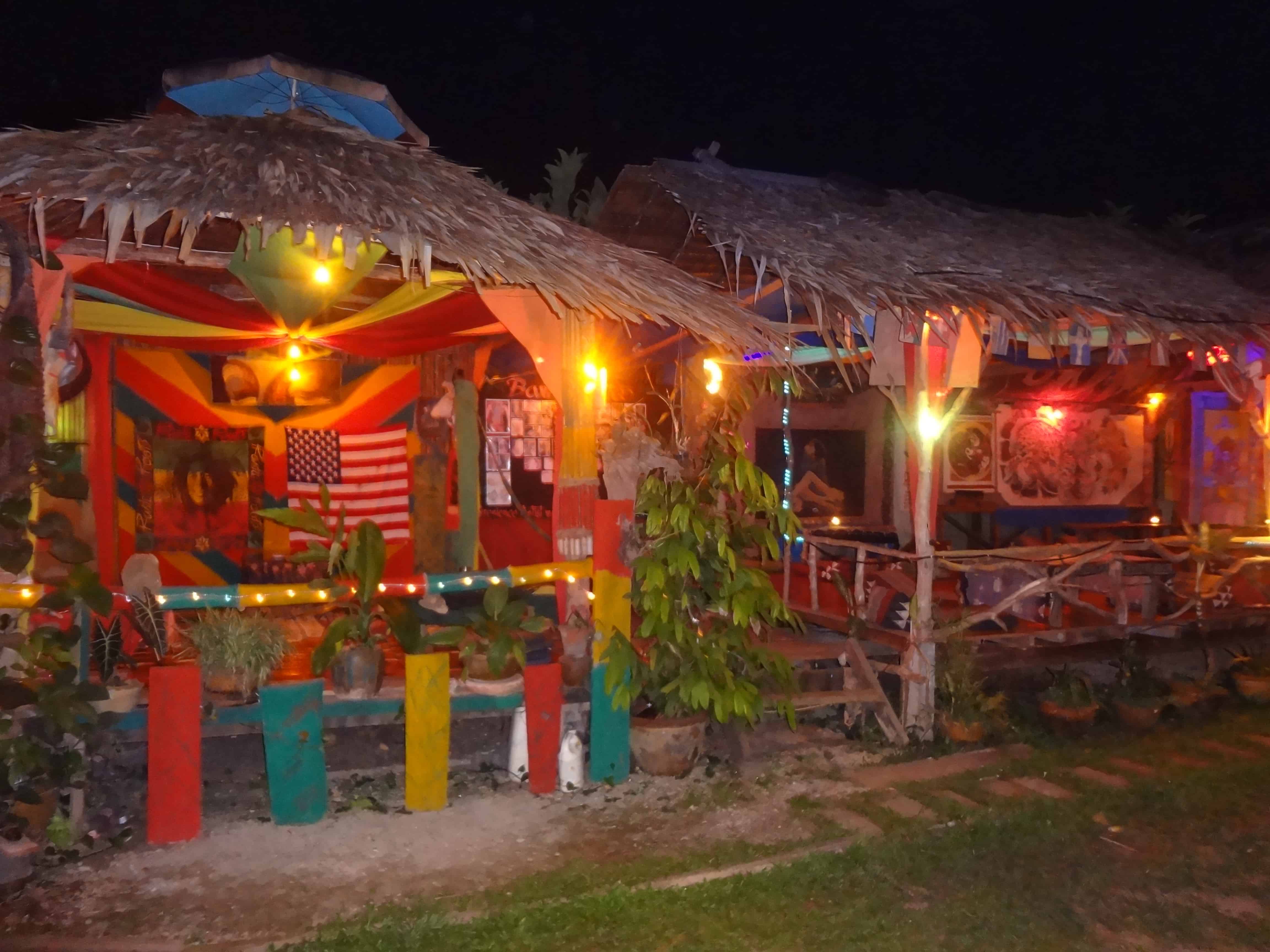 It was only a little further down the road until it intersected with the main road on which the village and the main entrance to the park stand.  At this intersection is another Bohemian-Reggae lot, which stands empty during the day.  However, as I found out when I got there, this is the most happening locale in the area come nightfall.
This reggae bar is run by the local bamboo tattoo artist.  After his explanation of the entire process and his history with it, I was actually intrigued.  Not enough to agree to a tattoo at the moment and place, but enough to promise him that, should I desire a bamboo tattoo, I'd come back there to get it done.
His bar though was much more than it appeared during the day.  In a very short while, it was filled up with foreigners, of whom I was the only American.  It seems a common trend in the more remote locations I head to:  Germans, British and Australians seem to be the most common nationalities I run into.  Americans seems scarce in comparison.
One of the more interesting groups was a bachelor party from Denmark.  They were apparently attending a wedding someplace nearby, though nobody in the party could seem to give me a definite location.  I began to doubt they even knew where they actually were.
Our host soon began playing guitar to everyone based on requests while a friend of his started to give random patrons fire-dancing lessons.  It would be something I was sure to come across on Koh Phangan in the next few days, but it was interesting to see the minute intricacies of how it was done as he navigated a blonde Danish girl through the steps.
As the night wound down there, the rest of the village strip was silent.  Leaving the Rastas and the Danish and the jungle-soi dogs behind, I went back to my tree-house bungalow for the night before heading back in some yet unknown manner to Koh Phangan's legendary Full Moon Party by way of Surat Thani.