The word is out there about Luang Prabang. UNESCO town. Beautiful architecture. Stunning riverside landscape and temples galore. The morning alms procession by the local monks that is a must-see. All this was on my mind as I tried to exit my guest house at 5:30 in the morning.
Problem.
I couldn't. I was locked in.
But this was my only morning in Luang Prabang and I didn't intend to miss sunrise in the city. So, I needed to break out of this door. Despite the fact that I wouldn't be able lock the doors back up, I squeezed by them and gates and made my way out into the town.
One thing you don't realize about Luang Prabang by looking at it on a map is that the central, preserved area is quite dense with trees and buildings, particularly around the riverside. This made it hard to find an access to the river. But when I did, it led straight down a stairway to where the two rivers meet.
Just in time for sunrise, the river was perfectly calm and reflected the sky and smoothed mountains as the sun rose overtop them. Local fishermen prepared their long-tail boats and began to cast their nets out for their morning catch in the mighty Mekong.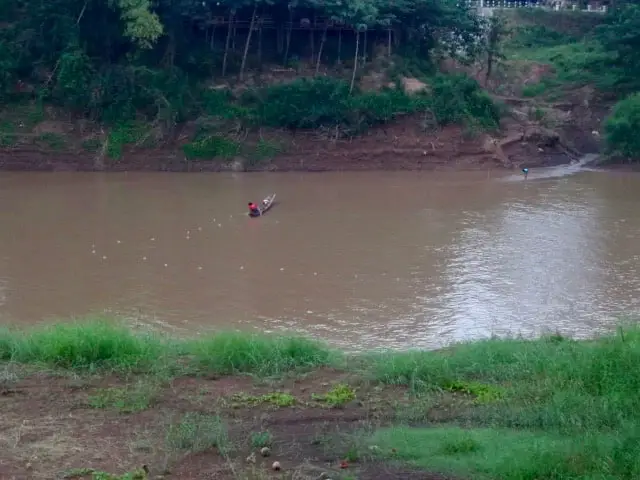 Once the sun had properly risen, I made my way back up to the streets. Now all of this boastworthy architecture was in view. And while Luang Prabang's temples are very beautiful and abundant, they are also immensely reminiscent of any Thai temple I had ever seen. I can completely understand how people can find Luang Prabang's temples breathtaking if it is one of their first stops in South East Asia, but for me, despite their gilding and extra luster, it was unfortunately more of the same.
The non-temple buildings of central Luang Prabang provided a much better highlight. An obvious blend of colonial European architecture, which I could only associate with Penang or Melaka at the time, combined with ancestral teak houses I had seen in northern Thailand. While many of the buildings were one style or the other, a good many of them combined these two styles for something quite new and unique.
Despite all I had read about the many temples having their morning march for alms, it was not until almost 7am that I saw my first prismatic orange monk, despite having been in several temples already. A small band of less than 10 young boys walked barefoot through the quiet streets in their characteristic orange robes. Locales and some foreigners knelt down to their right side to give them money and other offerings.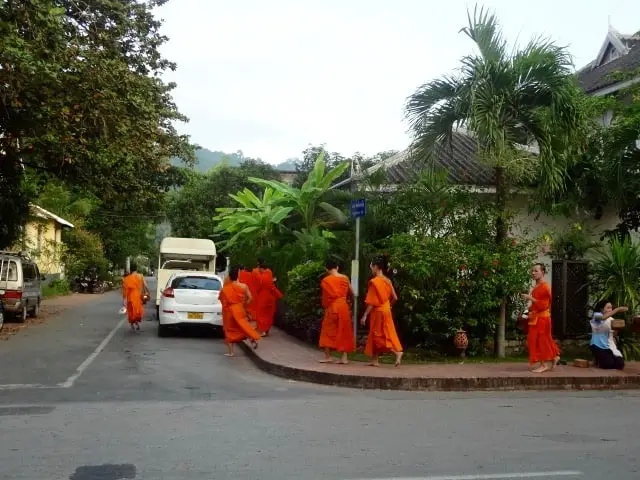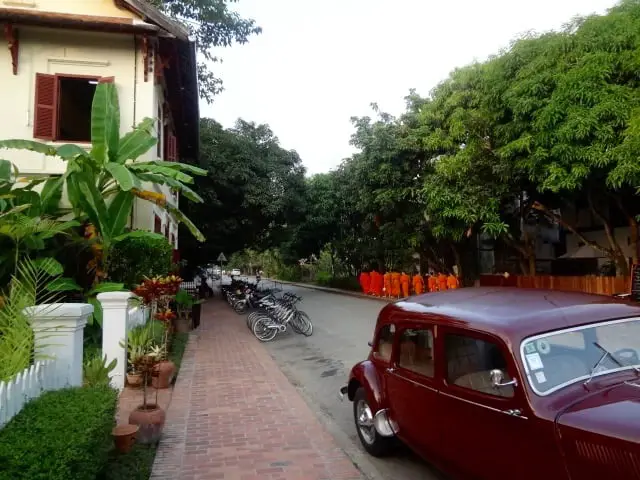 Maybe I didn't give it enough time, but Luang Prabang did not wow me as it has with so many others. By the time I got back to that ajar guest house door, it had already been opened for business. I quickly gathered my things and was off to the Luang Prabang bus station.