When staying long periods away from home, lodging that provides simple pleasures can make all the difference. A few hotels this year had that a little something extra that made them stand out.

These are my favorite hotels of 2019.
It's a welcome sentiment when certain stays away from home can make themselves more enjoyable than expected. Throughout the year, I've tried to take notice of this whenever possible. There are, of course, some times where a hotel is simply a place to sleep and really nothing more. Then, some places provide something a little extra — something that may help you in further appreciating the experience.
That something might be a fantastic restaurant. It might be a notable history or atmosphere. Or it might simply be kind hosts. This isn't necessarily a list of the fanciest or most luxurious hotels of the year, but those ones that had a quality about them which made them stand out from the rest.
Honorable Mention: Champasak Palace Hotel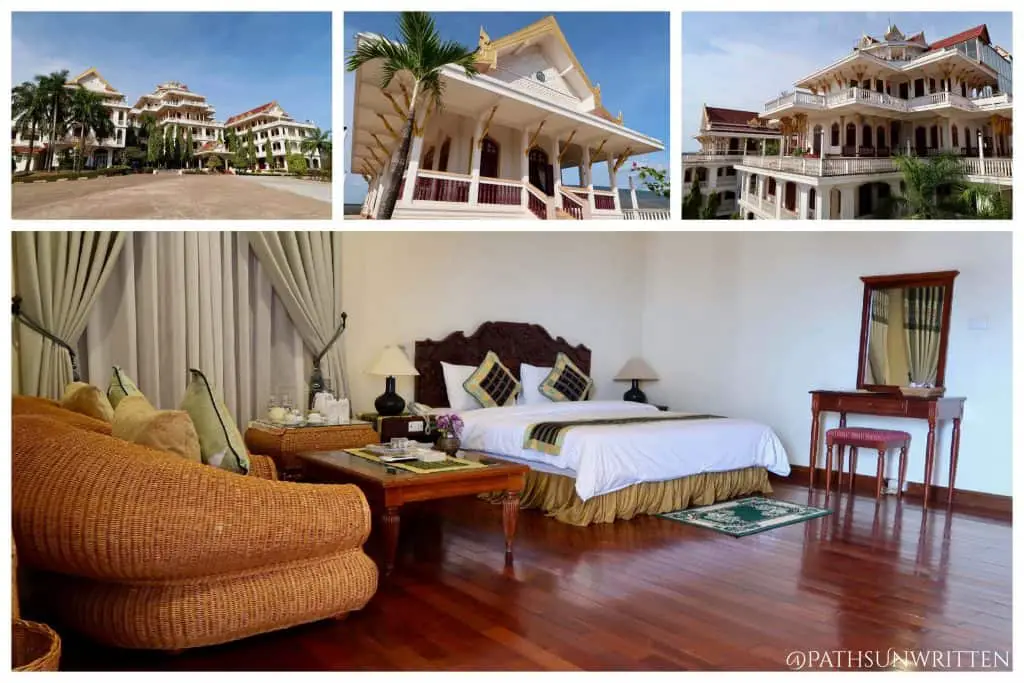 The Champasak Palace Hotel is true to its namesake; it was built to be the palace of the royal government — specifically the Prince of Champasak — but left unfinished after Laos' communist revolution. I passed on the opportunity to stay there on several previous visits to Pakse, however, decided this time to give it a go for a single night before heading to Champasak Town.
The only reason this doesn't place on the actual Top 10 list is that the hotel was effectively torn apart for renovations during my visit. Due to this, it was essentially empty and none of the facilities, restaurants, etc. were available. The room, however, was exceptionally comfortable and the entire premises provide a great view of the surrounding region, including the entire cityscape of Pakse and the distant Lingaparvata (Phou Khao) mountain.
10) QOO Hotel | Buriram, Thailand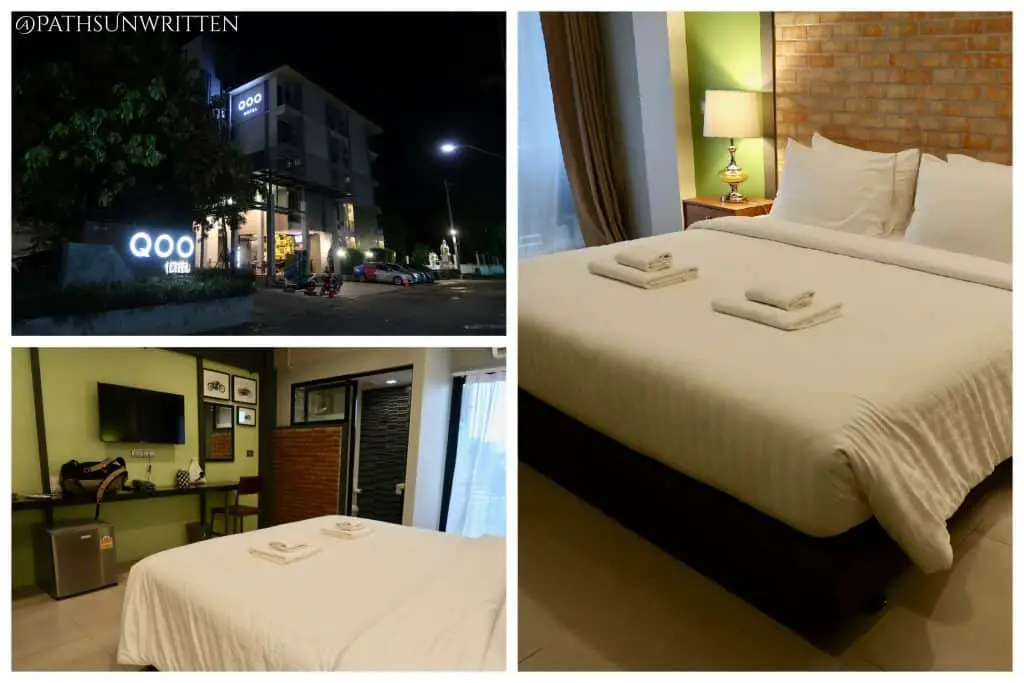 Buriram does not place high on most tourist itineraries in Thailand. However, on my two recent trips to the provincial capital, the QOO Hotel provided a friendly, comfortable, and convenient base to explore both Buriram city and province. The decor was quirky and welcoming, with a peculiar theme of bikes and motorcycles throughout. And, perhaps most importantly, the air conditioning worked extremely well.
The local convenience factor was not to be overlooked either. QOO Hotel is directly across from the Buriram bus station, as well as J&D Car and Motorbike Rental, who I have rented a car from on a couple of occasions and would also recommend. This made changing arriving, checking in, and leaving Buriram all extremely simple, regardless of how I was coming or going.
9) Mr. House Italian Restaurant and Resort | Bueng Kan, Thailand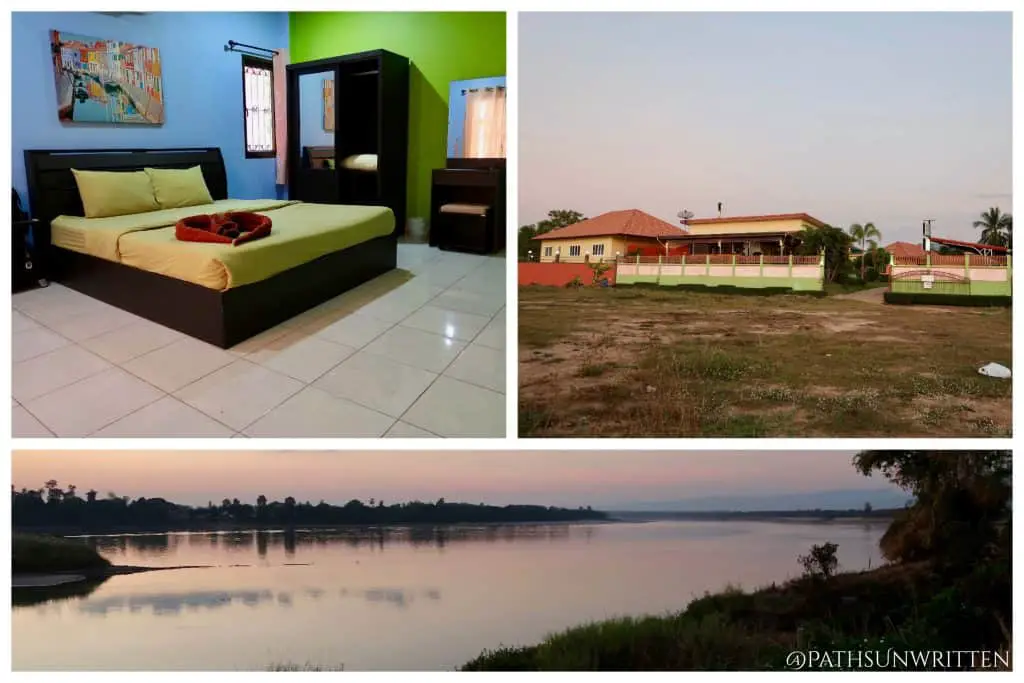 Bueng Kan Province is not a remote corner of Thailand, but rather THE remote corner of Thailand. The province was only created in 2011 when it was carved off of Nong Khai Province, which had previously run nearly the entire northern border with Laos along the Mekong River. Even the capital city of the province is little more than an extended intersection squeezed between the road and the river.
That said, the thought of one of the province's periphery towns containing a resort AND an authentic Italian restaurant and pizzeria—color me astonished. The Mr. House Resort in Phan Khat (pop. ~8000) is tucked back alongside a picturesque stretch of the Mekong River and is home to the top-rated restaurant in Bueng Kan Province (according to TripAdvisor). The hotel was comfortable, its hosts friendly, and the food outstanding.
8) Nakorn Cafe Guest House | Champasak Town, Laos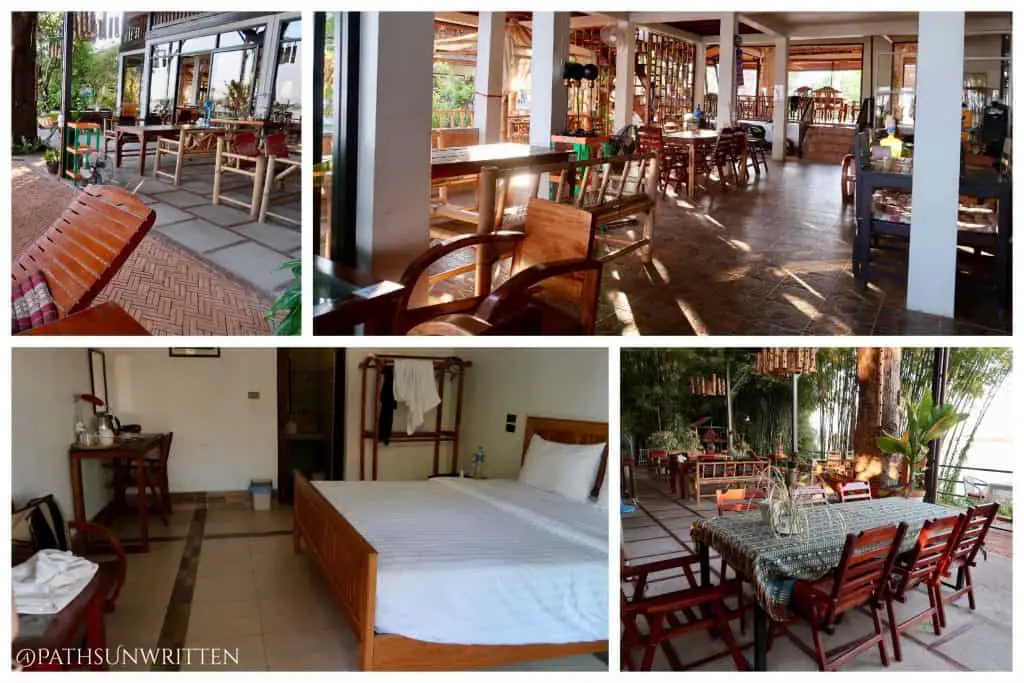 For a town its size, Champasak has a good selection of home-grown guesthouses. For my stay near the ancient city and the Khmer ruins of Vat Phou, I opted for the Nakorn Cafe Guest House and was not disappointed. It's centrally located along the west bank of the Mekong River and the main road of Champasak Town.
Outside a small building of rooms, the Nakorn Cafe is home to an open-air restaurant overlooking Champasak's tranquil stretch of the Mekong. It was here I ended up spending most of my time working. The owner, Jack, was extremely helpful with some obscure information about the ruins I was seeking out, particularly Vat Tomo, which I would have otherwise had a much more difficult time finding.
7) Kinnon Deluxe Hostel & Coworking Cafe | Bangkok, Thailand
For a few years now, coworking spaces have been taking off around Thailand and many other areas in Southeast Asia. I've even made use of a few of them, particularly in Chiang Mai. A more recent development, however, has been the advent of co-living and co-working spaces. When I had to pass a couple of days in Bangkok, but also needed a convenient space to work, I thought this might be worth a try.
The Kinnon Deluxe Hostel didn't turn out to be quite what I was expecting, however, it provided everything I needed. Perhaps it was the time I was there (Bangkok in summer), but the place was nearly deserted. Meanwhile, the working space on the second floor, while relatively comfortable, was too crowded and without enough space or plugs. Consequently, I ended up working at the hostel's cafe on the ground floor.
That said, the facilities of Kinnon Deluxe were spotless, comfortable, and the air-conditioning ice-cold — providing a very welcome blast of cold air in your face after walking through the hot and humid streets of Bangkok.
6) The Explorers Guesthouse | Kuala Lumpur, Malaysia
My side trip to Kuala Lumpur was unplanned, however, The Explorer Guesthouse was located in exactly the neighborhood of KL I hoped to be—nearby Chinatown and the Central Market. This area is undoubtedly popular with tourists, but for good reason. It's a lively area to walk around with plenty of great food and sights.
Upon first arriving, it was extremely early morning, and I wasn't able to check into my private room. So, I got a few hours' sleep in the dorms, which were more comfortable than I would've expected (or perhaps just more tired than I realized). The private rooms still had a shared bathroom on each floor, but were otherwise clean and spacious. Meanwhile, the common area was the highlight of the Explorer's Guesthouse. There were regularly movies playing around a cozy tv area and other quieter areas for people to eat, talk, or work.
5) Thisal Guesthouse | Polonnaruwa, Sri Lanka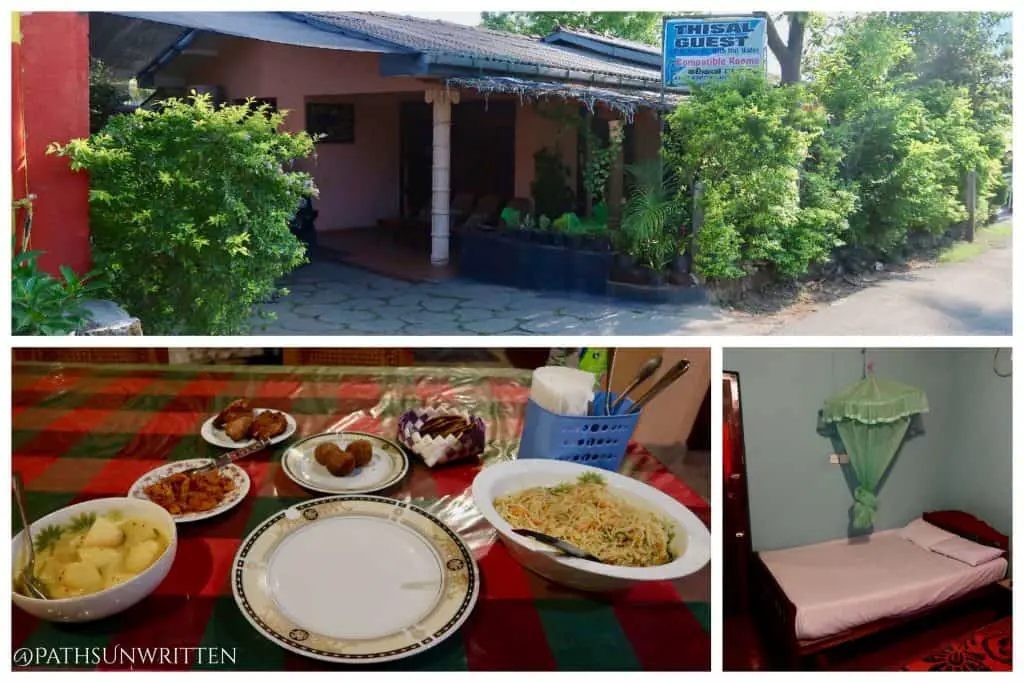 The Thisal Guesthouse left a lasting impression on me. Located only a block from the museum and the gates of Polonnaruwa's ancient city, the guesthouse provides a great base from which to explore. They rent out 2 or 3 other private rooms, but the highlight for me was certainly the daily home-cooked meals — these were some of the best I had in my entire time in Sri Lanka.
On the morning of April 21, a series of explosions occurred around several cities on the Sri Lanka coast. I didn't understand the significance of this right away, but the host family at Thisal made it a point to keep me updated as soon as they heard any developments. They also urged me not to leave Polonnaruwa until more was known. Over the next few days, more news came and police presence increased in the popular tourist town, however, they did everything in their power to keep me apprised of the situation and make sure that I was safe.
Guests at Thisal are treated as members of the family, and Thisal embodies everything you could hope for in a homestay.
4) Hotel Shangri-La | Kathmandu, Nepal
Despite its legendary reputation, the term Shangri-La does not originate in the ancient mythology of Buddhism or even the Himalayas, but simply from the early 20th Century novel Lost Horizon by James Hilton. Now, Shangri-La is a term seen so often throughout Asia that it almost loses all meaning. It has been co-opted by China in an effort to promote a tourist town, and is also a multinational brand of luxury hotels. Kathmandu's Hotel Shangri-La, however, is not associated with this chain and is instead an independent venture found in the Nepal capital's namesake valley.
It was here that my sister's friend had chosen for her wedding ceremony, as her husband's family was centered in Nepal. The hotel ran with themes from Hilton – the author, not the hotel brand – naming its rooms and even its bar with elements from the cult novel. The hotel decor and atmosphere retains the feel of an early 20th Century establishments and ended up being an iconic welcome to Kathmandu.
3) El Greco Guesthouse | Koh Chang, Thailand
Raised on the docks on the far end of an island straddling the remote border of Cambodia and Thailand is not a place you'd think of finding a Greek restaurant. However, it was here where I was finally able to indulge in Greek food once again while staying in the "floating village" of Bang Bao.
The first floor of El Greco Guest House hosts the restaurant and friendly staff and the 4-room guesthouse is located on the second floor. The room came equipped with a double bed and mosquito net, desk, and small balcony looking out over the water and neighboring raised buildings. All of this is dominated by the mountains at the center of Ko Chang. While I would certainly recommend the guesthouse, it's worth staying in Bang Bao just for the restaurant.
2) Hotel Yapahuwa Paradise | Maho, Sri Lanka
Maho Junction and Yapahuwa are more stops on the way to somewhere else rather than a destination unto themselves. The local Yapahuwa train station is in the middle of the forest and the town itself has only a couple rooms for visitors to rent. However, just a couple kilometers down the road from the Yapahuwa Stone Fortress archaeology site is the Hotel Yapahuwa Paradise and its neighbor/partner/extension (?) of the Ayurveda Paradise Maho.
The Hotel Yapahuwa Paradise offers a menagerie of rooms in both the main building, which was reminiscent of the haveli hotels I had stayed in India, and additional building lining a fanciful courtyard behind the main building. The resort was well-kept with friendly staff and a great pool (which I regrettably didn't use).
Just a few steps away from the pool is the bar and restaurant which were available from early morning into later evening hours.
1) Railay Bay Resort and Spa | Railay Beach, Thailand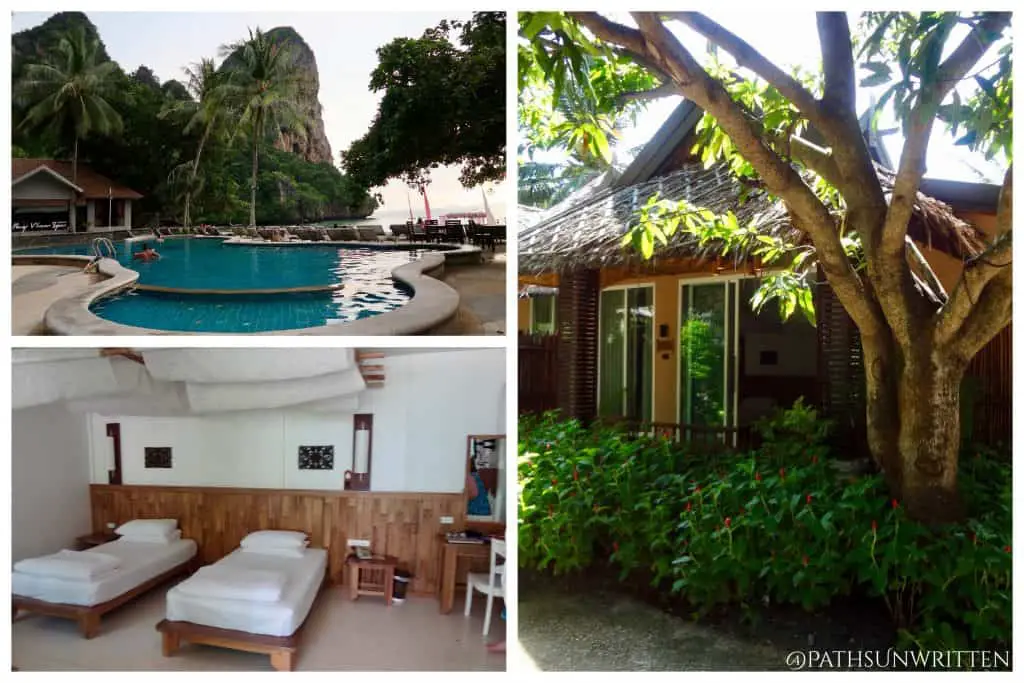 This was my second time staying at the Railay Bay Resort, the first being in 2013 when another family member was visiting. The Railay Bay Resort – and Railay Beach in general – impressed me enough the first time around that it seemed the perfect place to introduce my visiting sister to Thailand beaches on a limited schedule before we left for Nepal.
The resort stretches the gap between Railay West and East beaches and is filled with cottages for guests to rent. The main grounds of the resort, including the pool, restaurant, and spa are located along the scenic Railay West beach, providing surreal views for sunset framed by the karst cliffs which seclude Railay from the rest of mainland Krabi.
What qualities make a hotel stay stand out to you? Are there any must-haves? Let me know your best hotel from the past year below!