The next morning, or early afternoon rather, on Christmas Eve, everyone began to awaken.  The plan today was Erawan, a national park near Kanchanaburi internationally known for it 7-level waterfall.
Sarah was the only one who had been here before, and that had been a few years back.  Still, she served as our guide, though not necessarily by choice.  More so because she ended up with the most powerful scooter of the 8 we rented.  And while I was able to keep up with her speed most of the way, my scooter's fuel efficiency was lacking and had to fill up before we even reached the park, while she wasn't even at half a tank.
The ride from Kanchanaburi to Erawan (named after the 3-headed white elephant Hindu deity) is actually almost as impressive as the park itself.  It took us near 1.5 hours, but there were some impressive curiosities along the way.  I would have loved to stop and photograph or check some out, but I had to keep time with the rest of the group.
So, when we finally made it to Erawan, we found out that it was closing early.  Early as in we wouldn't be able to get to the entire park.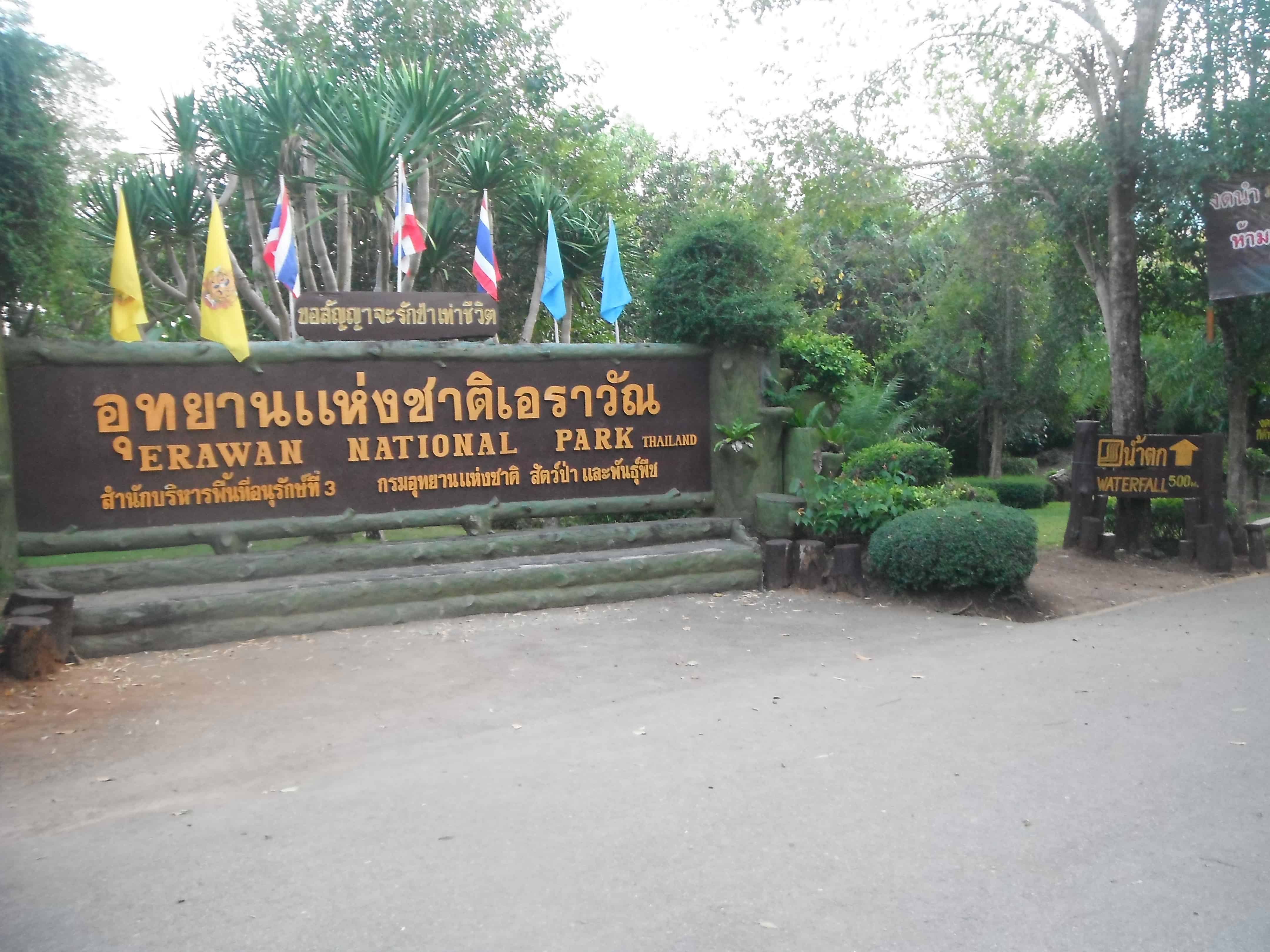 Craig, Sarah and I rushed ahead to try and get as far as we could before the park closed.  The others were more interested in swimming in the waterfalls as quickly as they could.  The 3 of us made it to the 5th level waterfall, after a series of uphill paths and wooden stairs.  Unfortunately, there was actually a park ranger coming down from the top and making sure every person was out of each level.
After rushing down a level, we met up with the others at a very rocky waterfall that had carved out a rock slide.  I had passed up one of these on my Chiang Mai trek, and there was no way I wasn't going to try it here.
Of all the things to surprise me on this trip, this may have been the oddest: that there was actually a line for this slide.  In a remote western park in Thailand, on Christmas Eve, I was waiting in a line to go down a waterfall rock slide.  And, I was surrounded by people in Santa hats.
While waiting, we fell victim to the fish that populate these deep river pools.  A popular attraction in Thailand is the fish massage, where you stick your feet into a small tub and a swarm of fish the size of minnows starts eating all that foul foot funk. Take those fish, and let them grow in the wild, and that is what lives in these pools.  Through unseeable water, you would suddenly feel something nibbling lightly on your foot skin, and it is a bit unsettling.
Finally the ranger came down and chased us out.  We got a quick dip in at a couple more falls below before he got there, but none were quite as good as the rock slide.
The park is a beautiful place with much more to offer than just the waterfall path, and I wish we would have had more time there.  There are cabins and places to stay for travellers as well, something that I may try out if I end up going back to Kanchanaburi anytime soon.
Once we were all back to our bikes, it was around 5, meaning this time of year, the bugs were coming out.  Knowing better from my drive back to Nang Rong, I bought some aviator sunglasses for the ride back.  And they barely came off the whole ride back, as long as I could see just a little.  And, sure enough, I had to wipe them of dead bug carcasses periodically.
Sarah and I went out for a while after we got back, followed by Megan and Morgan.  We made it a point to hit up the infamous 10 baht drink sand that Sarah raved about. But, no one stayed out too late that night.