500-year-old temple ruins were discovered buried under Chiang Mai's Buddhist temple Wat Yang Guang.
Fast Facts

Name: Wat Yang Kuang

Where: Chiang Mai, Thailand

Location: 18.775800, 98.989021

What to do: View newly-discovered 500 year-old ruins underneath a quiet, modern temple.

Getting there: The temple is in a local neighborhood walking distance from Chiang Mai's Old City.

Cost: Free


Chiang Mai is one of those cities in Thailand where its ancient past is left crumbling alongside modern resorts being built. It's a tangible history often left to its own fate, but still receiving daily reverence and offerings from local patrons. At one of these unsung temples in the southern outskirts of Chiang Mai, recent renovations uncovered a previously unknown history buried under its modern structures.
The Story of Wat Yang Kuang Temple
Passing by Wat Yang Kuang, you wouldn't think too much of it. It lies in Haiya, a neighborhood in the southern part of the city outside which is off the radar of most tourists, who tend to stick to the Old City, the riverside, and Nimman neighborhoods.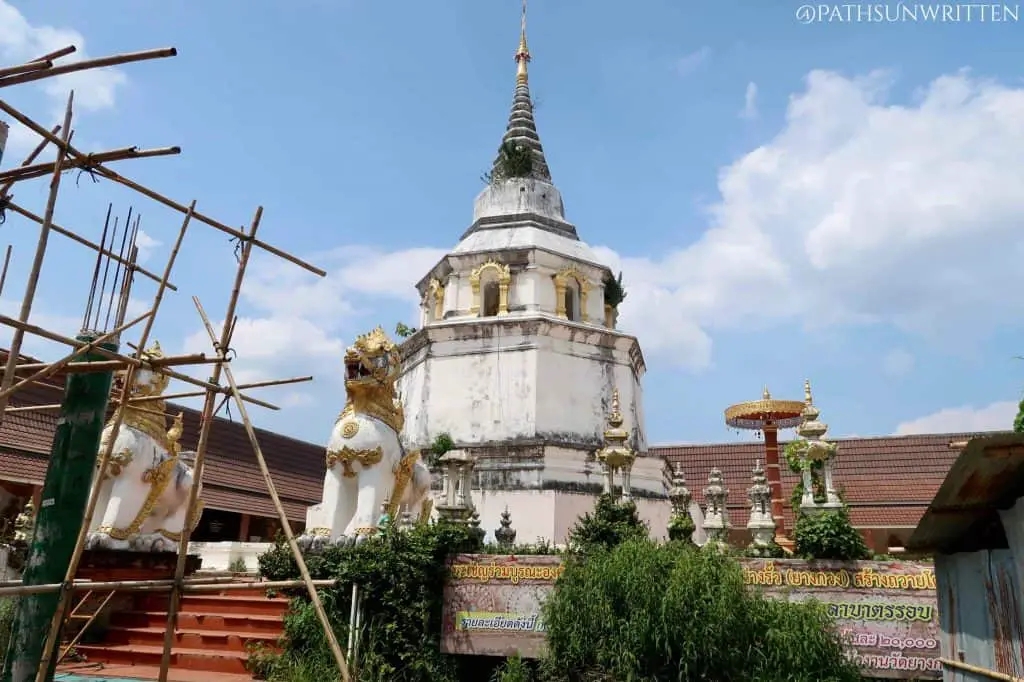 Chiang Mai is home to hundreds of Buddhist temples. In fact, the city has the highest concentration of these wats of anyplace in Thailand. And, while many of them are massive tourist draws due to a unique design or their visible history (including dozens in ruins), most are passed by daily by tourists and locals alike. Wat Yang Kuang (sometimes written as Wat Yang Guang) is one of the less remarkable temples, despite its history going back nearly 700 years.
While there are no written records dating the temple's origin, Wat Yang Guang is thought to be a location where King Mangrai rested while scouting the Chiang Mai Valley for a location to build his new capital, which would become Chiang Mai. During this time, Lanna continued on and refined its traditional Chiang Saen art style (also called Phra Singha style), which culminated in the Phra Saen Swae Buddha image. This massive cast bronze statue was housed at Wat Yang Kuang, where it would eventually be rediscovered, and is now housed in the Chiang Mai National Museum as its centerpiece exhibit.
Two centuries later, Chiang Mai and the Lanna Kingdom had fallen under the control of the Burmese Toungoo dynasty. During this period of Burmese occupation of Chiang Mai, Wat Yang Kuang was abandoned.
After a series of military campaigns led by King Kawila, Chiang Mai began an era of reconstruction under the Thonburi Kingdom's (Bangkok's) sphere of influence. During this period, new settlers from the Burmese city of Kengtung began rebuilding the Wat Yang Kuang, even naming it after Ban Na Yang Kuang, a town near Kengtung. This is why the temple features several Burmese design elements (maroon color, chinthe statues) today.
In 2006, Wat Yang Kuang began renovations to commemorate the 60th anniversary of the coronation of King Bhumibol Adulyadej (King Rama IX). These renovations led to the discovery of Wat Yang Kuang's buried ruins in 2017. In that time, the surrounding ubosot was deconstructed and excavated by the Fine Arts Department. As of 2019, a new ubosot is being constructed over the excavated foundations of the centuries-old temple.
Visiting Wat Yang Kuang Temple
The first visit I made to Wat Yang Kuang was soon after reading an article on the discovery of 500-year-old ruins beneath the existing temple, albeit the article was over a year old at the time. During this visit, I didn't bring a camera, but made it a point to stop in to see what, if any, ruins were actually dug up and now visible.
When I pulled into the parking lot, I was surprised to see the temple grounds literally torn apart and still under construction. Considering this important archaeological find occurred in 2017, 2 years prior, I expected to see some completion in terms of preservation of the finds, not a construction debris and building materials strewn about the entire temple grounds.
The dug-up ruins are those of an ubosot, the primary hall of worship in a Thai Buddhist temple. On my first visit, the excavated pit around these ruins was muddied by rains at the time. During subsequent visits, it was easier to gain get a closer view at the excavated temple ruins. Several layers of worn brick foundations are visible beneath ground level, although they are surrounded by a newly-built concrete foundation in order to build a new ubosot.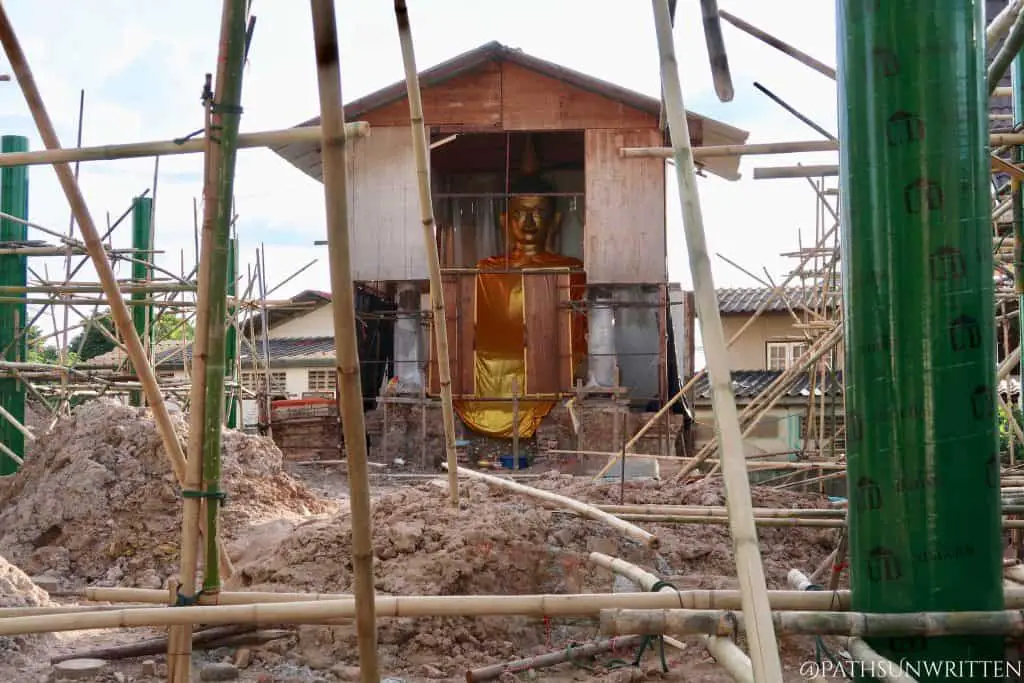 During this period, the ubosot's main Buddha image was boarded off in a protective casing to spare it any damage from the construction.
At the base of this Buddha image is the most interesting part of the find. Here, colorful inlaid decorations and bas-reliefs adorn the bottom of the statue. At the time of each of my visits, these ornate ruins were not under the same protection as the Buddha image itself. They were instead very dirtied by the surrounding dirt and left to further damage from the elements.
As of September 2019, the metal frame for the new construction had been erected over the excavation site.
How to Get to Wat Yang Kuang Temple
The best place to start is Chiang Mai Gate (Pratu Chiang Mai) on the southeastern side of the Old City. From the gate, you will see the enduring ruins of Chiang Khong stupa wedged tightly between two modern shops.
Next to this is a street corner branching into Nantaram Road and Wualai Road. Turn left on to Nantaram Road and then stay on the left as it splits into Suriyawong Alley.
You'll know you're on the right road when you begin passing several other large ruined stupas on the east side of the road. After the largest of these (part of Wat That Klang), there will be a flat-topped brick gate on the west side of the road. This is the traditional entrance to Wat Yang Kuang. The entrance for cars and other vehicles is a couple meters further.
Fast Facts
bas-relief
An art style where surface material is removed to create an elevated image. It differs from a relief in that its features are shallower than the items it depicts.
Bhumibol Adulyadej (King Rama IX)
King of Thailand from 1946-2016.
Chiang Mai
City in northern Thailand and historic capital of the Lanna Kingdom founded by King Mangrai in 1293.
Kawila
Lanna prince who led successful campaigns against Burmese domination, liberating Chiang Saen. He led the rebuilding of Chiang Mai after becoming governor of Lampang under the Rattanakosin Kingdom.
Kengteng
City in northeastern Myanmar which was historically part of the Lanna Kingdom.
Lanna Kingdom
Thai kingdom based in northern Thailand and northwestern Laos. Its capitals included Chiang Rai, Wiang Kum Kam, and Chiang Mai.
Mangrai
Final ruler of the Ngoenyang Kingdom (Chiang Saen) and founder of the Lanna Kingdom from 1291-1311 who established Wiang Kum Kam in 1286 and its successor Chiang Mai in 1293.
Thonburi Kingdom
The historic successor of the Ayutthaya Kingdom founded in 1767 in modern Bangkok. It was succeeded by the Rattanakosin Kingdom in 1782.
Toungoo dynasty
The ruling dynasty of Myanmar from 1510–1752. It waged wars with and conquered several surrounding kingdoms, including Siam, Lanna, and Lan Xang.
ubosot
The primary hall of worship in a Buddhist temple.
Wat Yang Guang
Temple in Chiang Mai where 500-year-old ruins were discovered under the existing buildings.
Sources