Archaeological travel guide to the ruins and ancient temples of Doi Suthep — a sacred mountain in Thailand's Chiang Mai revered by the region's native cultures, including the Lawa, Hariphunchai Kingdom, and Lanna Kingdom.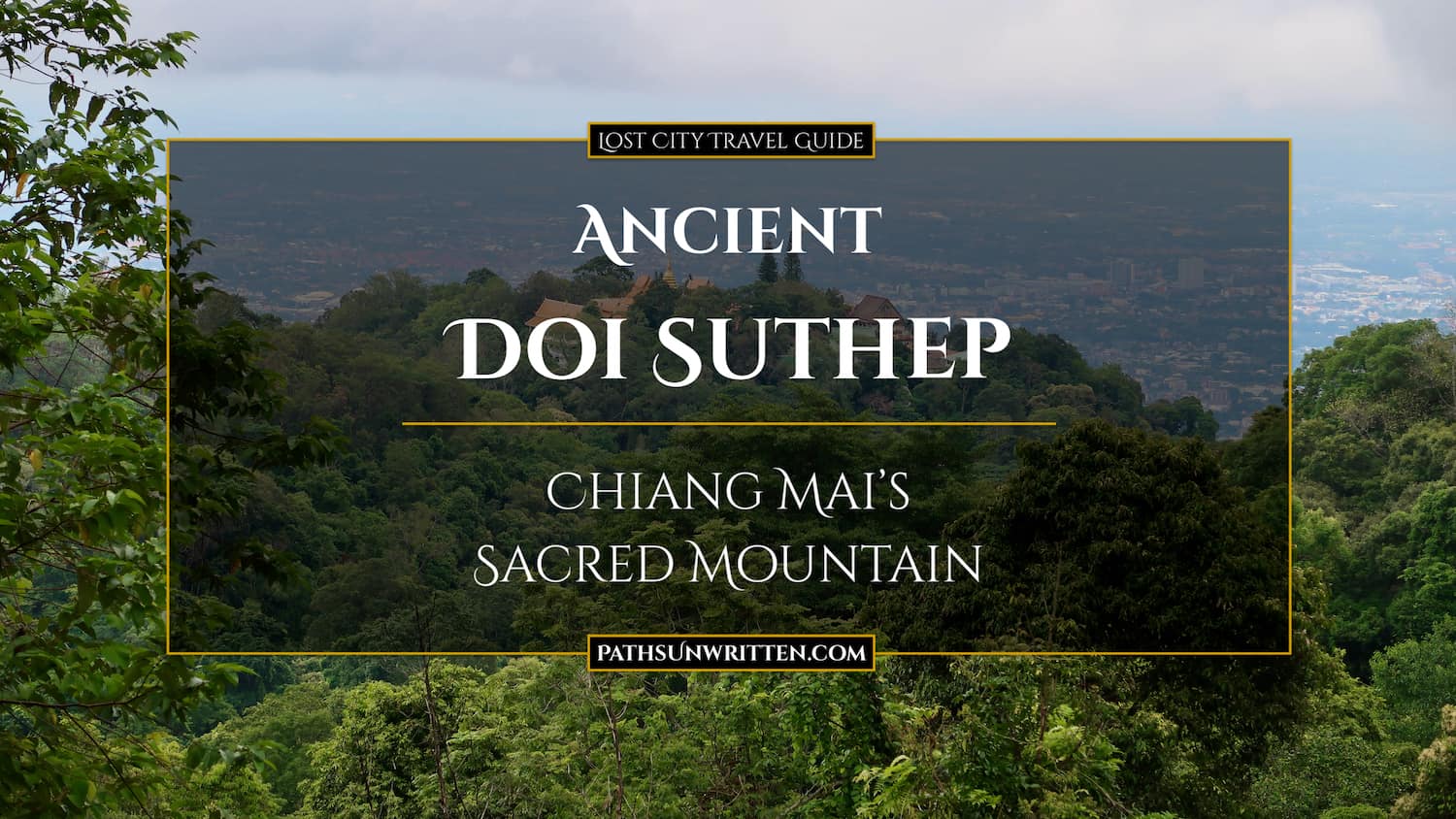 Doi Suthep is a name familiar to any traveller in Northern Thailand, be they Thai or foreign. The mountain has been tied intertwined with the history of Chiang Mai, playiing host to some of it most important religious sites and now serving ass it's largest tourist draw.
Here, we'll examine the long history of Doi Suthep, how its attractions tie into the local culture and legends, and how you can visit them for yourself.
The Story of Ancient Doi Suthep
Doi Suthep Mountain has played a central role in all the cultures that have inhabited northern Thailand throughout the region's recorded history. Although it is neither the tallest nor the monumental mountain in the area, Doi Suthep's presence has become a revered part of the northern identity, both in Chiang Mai and all the cities that preceded it.
The Geography of Doi Suthep Mountain
Doi Suthep is a part of the Thongchai Range, one of the series of distant foothills such as the Daen Lao Range that branch off of the southeastern Himalaya Mountains. These mountains have hsitorically formed the natural border between Thailand and Myanmar.
These hills in the Daen Lao and Thongchai Ranges are home to the highest peaks in Thailand, including Doi Chiang Dao (2,175 m) and Doi Inthanon (2,565 m). While not quite reaching these heights, Doi Suthep, and its neighboring twin peak, Doi Pui, stand at 1676 m and 1685 m, respectively.
These mountain highlands host a notably more temperate climate than the rest of Thailand, or even the valleys below them. For this reason, they are used by locals to grow crops that would not otherwise be possible in the tropical climate of the country.
Doi Suthep is also the main source of water west of the Ping River. As noted by Chiang Mai's founder, King Mangrai (albeit, during his 2nd attempt to establish a city in the area after Wiang Kum Kam failed, the plane between Doi Suthep and the Ping River is inclined in a way that all water flows downhill toward the Ping River, providing a reliable and predictable water source.
Wasuthep and the Lawa Mythos
Main Article: Cultural Profile: Lawa, Thailand's First Settlers
If there were one pre-Lanna figure to know in northern Thailand, it would be Wasuthep (also spelled Vasuthep or Sudeva). An argument could be made for Queen Camadevi (also Chamthewi) of Hariphunchai, but her story is more closely tied to the city of Lamphun. Wasuthep, according to legend, brought civilization to the entire region.
Accounts vary on many details, whether stemming from Hariphunchai records, early Lanna records, or latter Lanna records, however, all agree that Wasuthep was a Lawa, and that the Lawa were to original inhabitants of Thailand — more notably here, of the Ping River Valley.
Wasuthep was born to 2 Lawa parents, who depending on the source were either cannibals or animal spirits. During his lifetime, he retreated to a cave somewhere high in the mountain, then called Ucchupabbata (Pali for "Sugarcane Mountain"). 
After meditating in this cave for an unspecified amount of time, Wasuthep descended from the mountains in order to bring culture to his people. He founded the Lawa City of Wiang Misankorn (Wiang Chet Lin) and the Dvaravati city of Hariphunchai (modern Lamphun), for which he sought an enlightened leader. Wasuthep invited the princess of Lavo (modern Lopburi) to rule this city, bringing with her the high culture of the Dvaravati civilization.
Wiang Chet Lin and the Lawa Cities
Main article: Wiang Chet Lin, Ancient Chiang Mai's Lost City of the Lawa
While the legends featuring Wasuthep, the Lawa, and their interactions with Doi Suthep are one thing, archaeological evidence does exist of walled cities in the Ping River Valley that were indeed inhabited by the Lawa people. They were contemporaneous with Hariphunchai, and in Hariphunchai records, were both friend and enemy at different points.
Hariphunchai Buddhist votive tablets and temple architecture have been found in and around the Lawa cities, most notably in the ruins of Wat Ku Din Khao, which is located just outside the walls of Wiang Chet Lin in the modern Chiang Mai Zoo. This suggests they at some points in their histories, the Lawa and Hariphunchai Mons worked together in shared construction efforts and religious rituals.
However, at other times, particularly in the Hariphunchai legends, the Lawa people were portrayed as uncultured indigenous people who warred with the rulers of Hariphunchai. Through these efforts, as related in the Hariphunchai point of view, the Lawa were routinely defeated and eventually disbanded from their cities around modern Chiang Mai.
By the time the Lanna Thais arrived in the area, the three Lawa cities were abandoned. The Lawa themselves formed an alliance with the Lanna king Mangrai, and helped defeat the ruling Hariphunchai king.
Later, the abandoned Lawa cities were co-opted by the Lanna Kingdom at various points throughout their history. Mangrai used the Lawa cities Wiang Nopburi (at the site of modern Wat Chiang Man) as a base from which to begin building Chiang Mai. Wiang Suan Dok was gifted to the monk Sumanathera by King Kuena, where half of the monk's Buddha relic was enshrined at Wat Suan Dok. Wiang Chet Lin was fortified and used as a base from which to attack Chiang Mai during a Lanna royal dispute. 
Doi Suthep in the Hariphunchai Period
Main article: Ancient Lamphun: The Enduring Kingdom of Hariphunchai
While the Lawa may have initially controlled the Ping River Valley north of Hariphunchai, eventually the entire area would fall under the control of this Dvaravati city-state, and would remain so for at least 500 years. This area included Doi Suthep and its neighboring peak, Doi Pui. 
Sitting atop Doi Pui is one of the most ancient temples in Northern Thailand, San Ku. This Hariphunchai Buddhist temple, which is relatively distant from their capital, demonstrates the revered status that the mountain held in their culture. 
Doi Suthep in the Lanna Period
Main article: Cultural Profile, Lanna, Heirs of Northern Thailand
As the region was taken over by the new Thai rulers in Chiang Mai, they allowed Hariphunchai (Lamphun) to retain its status as a center of Buddhism and adopted many of the existing Hariphunchai Buddhist traditions. Doi Suthep also retained its status as a religious pilgrimage site, although it is unclear if the Lanna Thais were actively using (or even knew of) the San Ku temple.
An archaeologist from Chiang Mai University, Surapol Damrikul believes so and suggests that this was the intended destination of the Buddha Relic now enshrined in Wat Phrathat Doi Suthep. 
This relic, and the Wat Phrathat Doi Suthep temple itself, stems from the Sri Lankan monk, Sumanathera. Sumanathera, who was originally based in Sukhothai, was welcomed by the Lanna King Kuena in 1368. Upon arriving in Chiang Mai and presenting a Buddha relic to the king, it is said to have miraculously split in two.
Kuena gifted the Lawa city of Wiang Suan Dok to Sumanathera, where the Lankawong school of Buddhism began to operate. In this temple at the core of this ancient Lawa city, Wat Suan Dok, one half of this relic was enshrined in the stupa. 
Kuena, meanwhile, sent the other half of the relic up an ancient pilgrimage trail toward the peaks of Doi Suthep upon an auspicious white elephant, named Phaya Kocha Woramongkol. Where the elephant rested and let out three trumpets, a rest temple today named Wat Pha Lat was later built. The elephant continued up the mountain, where it again stopped at the present site of Wat Phrathat Doi Suthep.
It was at this location the elephant died — an event the king took as a sign to erect a temple for the holy artifacts here. The temple was built in 1386, and later expanded in 1538 under the Lanna King Muang Ket Klao. In 1557, the temple's iconic Naga Staircase was added to ease access to the Phrathat stupa.
Doi Suthep in the Modern Period
Throughout the 1800s and 1900s, Doi Suthep and its namesake temple have remained an important pilgrimage location for people from all over Thailand. However, the biggest leap in the mountain's accessibility came in 19XX through the efforts of the monk Kruba Srivichai.
Srivichai was a monk originally from Lamphun who led the restoration and modernization efforts for many of the temples and other public works throughout northern Thailand. Perhaps the most important of these in the grand scheme of things was his leadership role in the road that now ascends Doi Suthep Mountain. 
Prior to this road, the only real means of reaching the peaks of Doi Suthep, and by extension, Wat Phra That Doi Suthep, was the Monk's Trail, a hiking path up the mountain that is still active today.
With this new road, Doi Suthep operates not only as a pilgrimage location, but also as the biggest tourist draw of northern Thailand. 
Ancient Doi Suthep Atlas
Map of Ancient Doi Suthep
Wat Phra That Doi Suthep
Wat Phrathat Doi Suthep (วัดพระธาตุดอยสุเทพ) is the most famous temple in Chiang Mai and widely considered the most popular tourist attraction in Northern Thailand. Built on the historically sacred Doi Suthep Mountain in 1368, the temple houses a Buddha relic presented to the Lanna King Kuena.
During this staunchly Buddhist king's reign, he hosted the Sri Lankan monk Sumanathera, who brought with him a relic (shoulder bone) of the historic Buddha, Siddhartha Gautama. According to the popular legend, when presented to the King, this relic miraculously split in two.
Kuena enshrined one of these relics at Wat Suan Dok, and arranged for the other to be enshrined atop the revered Doi Suthep Mountain. This 2nd relic was escorted by an auspicious white elephant and guided up the mountain. When it reached the present location of Wat Doi Suthep, it let out 3 trumpets and died — signaling to Kuena that it was here he should build the new temple.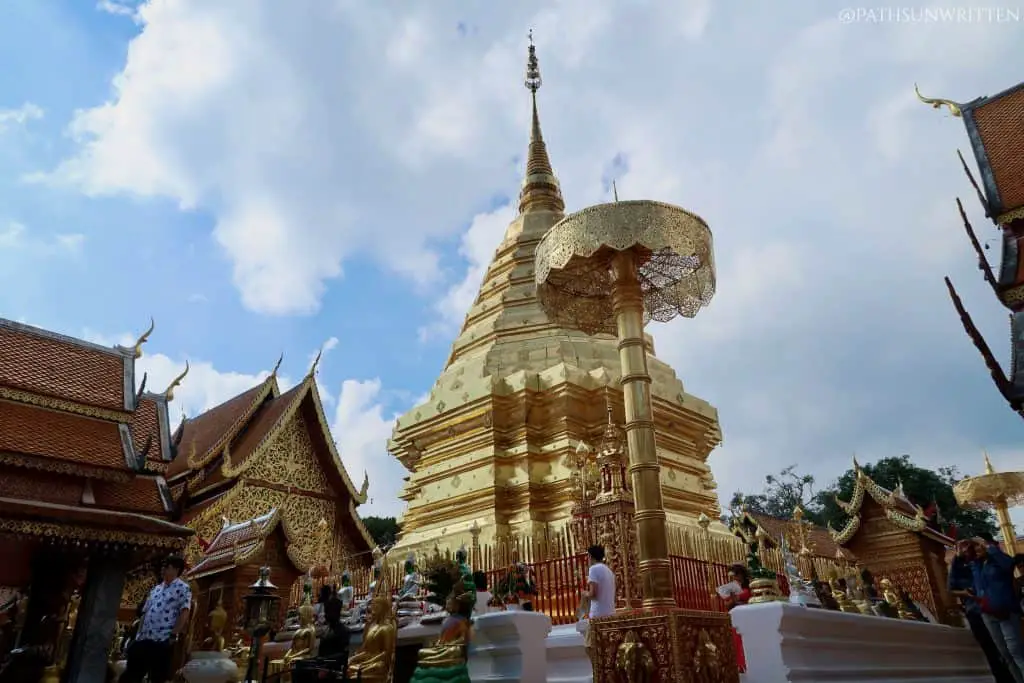 Since that time, Wat Prathat Doi Suthep has stood watch over the historic Lanna capital and become the most revered temple in Chiang Mai, easily surpassing its counterpart Wat Suan Dok in fame. The temple is easily seen from most parts of the city and is illuminated most nights, showing its golden chedi.
Admission to the temple is THB 30 (USD 1), with the option to take the traditional Naga stairway up to the temple or pay 20 baht (USD 0.70) for the more recent elevator. After trying out the elevator for the sake of the experience, I would recommend the stairs simply to avoid the long wait of the limited-capacity elevators.
Once at the main temple, either by way of the stairs or elevator, you'll be in the "External Area" as marked by maps of the temple, which encircles the inner temple, where the main stupa is located. This area is the general public gathering place consisting of informational displays, administrative buildings, gift shops, and the tourist viewpoint overlooking the city of Chiang Mai.
Branching off of the External Area are other temple facilities where the general public is not openly allowed. This includes the monks' residences, library, and other auxiliary buildings for the operation of the temple as a monastery Once, these auxiliary buildings even included a radio station, but this seems to have been abandoned as of my 2020 visit.
The External Area completely encloses the Internal Area, which is the main center of worship of Wat Phrathat Doi Suthep. This Internal Area may be accessed from several entrances around the temple, and requires that you remove your shoes and climb a handful of additional stairs to enter the central temple.
This inner temple is roughly square in shape, with the golden Phrathat stupa at the center. Surrounding the stupa are the cloisters — an inward-facing wall of Buddha images and paraphernalia entirely encircling the central stupa. It is within this central stupa (chedi) that the Buddha relic from Sumanathera is said to be enshrined, making it the holiest place in the temple.
While such a cloister is not an uncommon sight in Central Thai Buddhist temples, dating back to the Ayutthaya period, only a few of the most significant temples in Northern Thailand have them. Some of these include Wat Phrathat Lampang Luang in Lampang, Wat Phrathat Hariphunchai in Lamphun, and Wat Phrathat Chae Haeng in Nan.
Doi Suthep Village
At the base of Wat Phrathat Doi Suthep is a small tourist village lined with souvenir shops, small cafes, and generic Thai food stands. A little behind this tourist facade is a local village where these shopkeepers and their families reside. Although the entire area is not extremely large, it may be worth a casual stroll through. 
Bhubing Palace
GPS Coordinates: 18.80529, 98.90026
The Bhubing Palace (พระตำหนักภูพิงคราชนิเวศน์), also spelled Phuping Palace, is a royal residence and tourist attraction located slightly above Wat Doi Suthep . This residence has been used by the Thai royal family since the early 1960s to make regular visits to Chiang Mai and Wat Doi Suthep.
There is a long history of such visits, and a photo display of past royal appearances on Doi Suthep is on display at the brick pavilions located at the base of Wat Doi Suthep.
The Bhubing Palace hosts several quarters, including a royal residence built in Central Thai style, a guest residence for foreign state visitors, and expansive horticultural works. These beautiful landscaping feats include flower gardens, pons, and greenhouse — all of which are open to visitors. 
San Ku Ruins
GPS Coordinates: 18.81589, 98.89466
Main article: San Ku: Temple Ruins of Chiang Mai's Doi Suthep Mountain
Centuries before the Doi Suthep temple was consecrated, the San Ku temple (สันกู่) of Doi Pui served as the sacred mountain sanctuary of the Lawa people and Hariphunchai Kingdom in the valley below. In time, it was overshadowed by Chiang Mai's Wat Doi Suthep and then forgotten entirely until 1984.
San Ku is, in my opinion, the most interesting ancient site atop Doi Suthep, although it is technically on Doi Pui, Doi Suthep's connected twin mountain. This ruined temple predates Wat Phra That Doi Suthep by at least 500 years, and stems from the Hariphunchai Period — the precursor kingdom to the Thai Lanna Kingdom.
It is speculated by Surapol Damrikul, an archaeologist from Chiang Mai University, that San Ku was the original destination of King Kuena's white elephant. However, when the elephant died on the spot of the current Wat Doi Suthep, the temple was instead built there.
For an idea of how far that elephant still had to go, Wat Doi Suthep is 1050 m (3445 ft). The exact elevation of San Ku is not recorded, but topographic maps put the temple significantly higher at ~1564 meters (~5131 feet), very near the peak of Doi Pui.
Compared to its highly elaborate Lanna counterpart, Wat Doi Suthep, San Ku is quite basic in its design, consisting of an east-facing viharn and a single, detached principal stupa at the rear (west side). This same design would be echoed for centuries to come in both the Hariphunchai and Lanna Kingdoms.  
Adding to San Ku is undoubtedly its atmosphere. It sits on a stretch of road well past the tourist hotspots of Wat Doi Suthep and Bhubing Palace. At the time I visited, the entire forest was deserted and covered in a morning fog that made this particular ancient monument — one of the oldest in the entirety of Chiang Mai Province, and indeed all of Thailand — absolutely spectacular to visit.
Hermit's Cave or Tham Phra Ruesi (ถ้ำพระฤาษี)
GPS Coordinates: 18.80678, 98.91077
Hermit's Cave or Tham Phra Ruesi (ถ้ำพระฤาษี) is a small rocky overhang turned into a shrine honoring the Lawa hermit Wasuthep (also Sudeva), who meditated in a cave on Doi Suthep before descending the mountain to found Hariphunchai, Wiang Chet Lin, and introducing Buddhism to the region. 
Whether or not any of these events ever happened falls somewhere between research and speculation. To my knowledge, no artifacts have been found nor has archaeological research ever been conducted here. However, this has not prevented believers in the legend, both local and distant, from turning this attributed location into an active shrine to Wasuthep.
The pull off to access Tham Phra Ruesi is not clearly marked on the road, and you will almost certainly miss it if you're not looking. It is really just a dirt arch along one of the curves between Wat Doi Suthep and Bhubing Palace.
The cave itself requires a hike down (also back up) a long flight of wooden stairs. These can become very slippery and dangerous on even otherwise dry days, so please proceed with caution. And don't be discouraged when you don't find anything as you pass a first rock outcropping, the Hermit Cave is still a little further below.
When you arrive at the cave, you'll find a Shrine of Wauthep himself outside the cave along with a Thai Spirit House used for offerings to ancestors. Inside the small cave, there are mats for meditation, seeemingly indicating local or clergy may till engage in spiritual retreats to this spot.
Monk's Trail 
GPS Coordinates: 18.79761, 98.94217
The Doi Suthep Monk's Trail is a pilgrimage route the was used to reach Wat Phrathat Doi Suthep in the many centuries before Kruba Srivichai began work on the modern road that ascends the mountain. It begins in a hidden corner of the Chiang Mai University Campus and leads to Wat Pha Lat.
The Monks Trail is actually an official park marked by the city of Chiang Mai and begins by straddling the southwestern edge of the Chiang Mai Zoo. It continues on leading past ruins, waterfalls, and unique jungle mountain environments.
The first part of the trail is quite rocky, though relatively level as it passes through winding grasses and small, rocky waterfalls. As it continues upward, the trail is quite gradual in its slope, eventually coming to a cleared section where you'll find the ruins of another pre-Lanna temple, Wat Sam Yot. 
This is either the halfway mark or the quarter-way mark, depending on how you look at it.
Once you pass Wat Sam Yot, the trail becomes more difficult. Both the incline and the vegetation increase, making for a slightly harder uphill climb. However, this is still considered a casual hike by most residents in Chiang Mai.
As you come into view of another clearing with a waterfall and notable structures integrating Buddhist religious imagery, it's a sure sign that you're reaching Wat Pha Lat — which marks either the end of the Monks Trail or the halfway point up the mountain. 
Wat Pha Lat (วัดผาลาด)
GPS Coordinates: 18.79938, 98.9342
Wat Pha Lat is an ancient but living temple tucked away in the Doi Suthep forest and built to overlook a waterfall. As far as the settings of Lanna temples go, there are none more atmospheric in Chiang Mai. 
Wat Pha Lat was established, according to the legend of Wat Phrathat Doi Suthep, where King Kuena's white elephant stopped his journey up the mountain and trumpeted three times. This sign led to Wat Pha Lat being built as a rest stop for pilgrims on the way to Wat Doi Suthep.
With this reputation, Wat Pha Lat has endured for nearly 500 years, undergoing occasional renovations, but doing its best to maintain the setting that sets it apart from other Chiang Mai temples.
Wat Sam Yot Monk's Trail Ruins (วัดสามยอด)
Wat Sam Yot (วัดสามยอด) is a ruined temple passed by the Monks Trail on the way to Wat Pha Lat. It sits roughly 450 meters from the beginning of the trail or 400 meters below Wat Pha Lat, placing it roughly halfway to the more recent temple, and a quarter way up the mountain to Wat Phrathat Doi Suthep. 
Little remains of Wat Sam Yot other than its brick foundations. There is no stupa (chedi) or intact buildings. The bricks that make up the base of the chedi are larger and rougher than the bricks commonly found in Lanna temple construction. Similar large, porous laterite blocks are also found at San Ku (above) and the base of Wat Ku Din Khao (Wiang Chet Lin), suggesting this temple dates from the earlier Hariphunchai Period, several centuries before the Lanna Kingdom.
There is no on-site information regarding Wat Sam Yot, and the only outside info that I was able to find was via online discussion groups and an article on the Chiang Mai University website. However, there were signs of recent excavation at the time I visited. A recently dug excavation pit was nearby the brick stairway leading into the temple. Hopefully, this is indicative of ongoing research that will be published at a later date. 
Kruba Srivichai Monument
GPS Coordinates: 18.8128, 98.94609
As Huay Kaew road begins to ascend Doi Suthep Mountain, there is a small corner shrine dedicated to Kruba Srivichai (ครูบาศรีวิชัย), a famous monk and abbot of Wat Ban Pang who studied in Lamphun. Khruba Srivichai was an influential community leader responsible for many of the region's public works constructions and temple restorations in the early 20th Century CE, including the road up Doi Suthep in Chiang Mai. 
While this shrine is not as gaudy as the massive statue of the monk overlooking the roadside at Wat Doi Ti in Lamphun, it is still an active place where locals actively pay tribute to Khruba Siwichai.
Visiting Ancient Doi Suthep
My first ride up Doi Suthep was also my first true introduction to riding motorbikes, something that I would, unbeknownst at the time, continue doing for years to come in Thailand and other countries. 
So, it probably wasn't the smartest idea to rent and ride a motorbike up a mountainside when I had never ridden one before. The one time I tried riding a dirt bike at my cousin's house in Michigan's Upper Peninsula (only a few months before, no less), it turned out pretty disastrously with me essentially falling over in a field — and the dirt bike then falling on top of me.
Starting out in Chiang Mai's Old City, I was lucky enough to have a few deserted alleys to practice the basics first before going out on the road. But very quickly, I needed gas. This meant going out onto the divided parkway along the moat that surrounds the center city. This did more than give me a crash course in how it works, I got the unexpected thrill of weaving in and out of traffic in the busiest part of town in a country that has no regard for lanes or traffic rules.
Once filled up, I continued on to the northwest toward Doi Suthep Mountain. Huay Kaew Road, the street leading to the mountain is highly commercialized with many lanes of traffic, also went past the Chiang Mai University and the city zoo. Luckily it wasn't too busy at this time of day. 
While never exceedingly steep, much of the road up Doi Suthep's slope consisted of zig-zags to the left and right. And left turns were not easy for a beginner like myself to make. Combined with driving on the left side of the road, as you are turning left, past oncoming traffic that will many times come from out of sight. It can sometimes be an intimidating experience.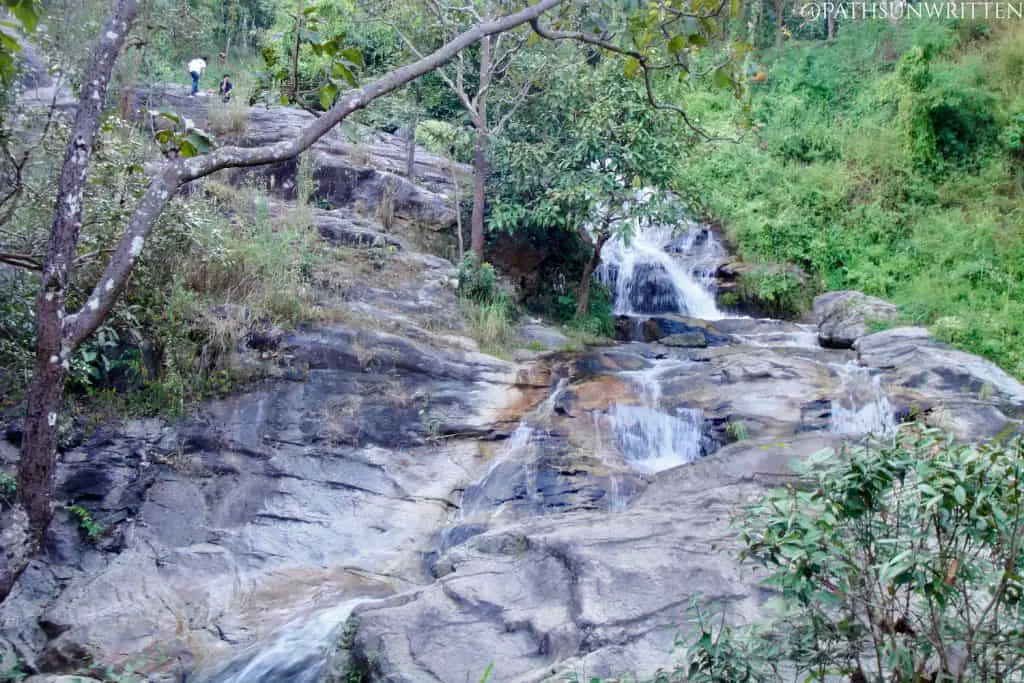 About a quarter the way up, there is a small park with a trail along with a small series of waterfalls. These face right down the mountain toward Chiang Mai, giving a nice look of the whole city itself. The waterfalls, though, are something to see, as they are so shallow and running over the sides, oftentimes just glazing the rocks rather than seeming like an actual river.
A little way farther was a section of the mountainside which the edge had given way, taking a piece of the road and railing along with it. It seemed too close to the edge to pose any danger to drivers, but it was still a long way down.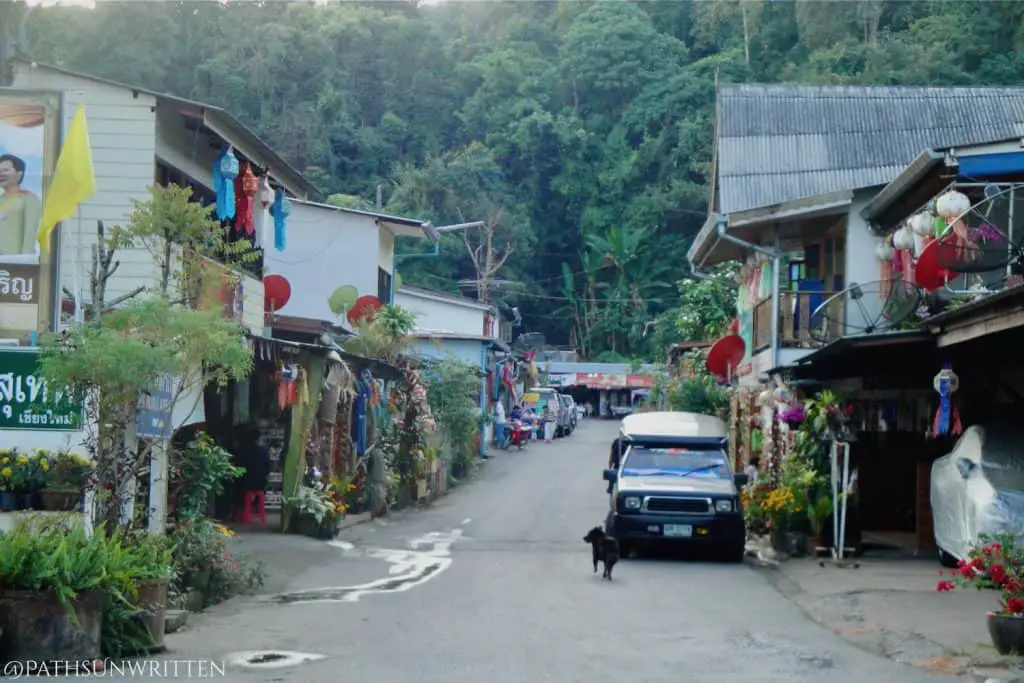 Once at the entrance to Wat Phrathat Doi Suthep, I was very surprised to actually find a functioning village. It made sense, as there were so many stands and small tourist shops, that they would settle here rather than commute from somewhere else. Still, seeing an actual village stuffed into what was essentially a parking lot for the tourist attraction was unexpected.
There are two ways up to Wat Doi Suthep. The first is the stairway. 
The first third of the stairway is stuffed with stands selling food and drinks to temple offerings to baseball hats made out of old beer cans. Aside from getting a freshly squeezed passion fruit juice there, this is mostly unremarkable.
The rest of the stairs are bordered by a fantastically ornate naga handrail. At the bottom are several nagas exploding out of the main naga's mouth. This main naga's body then makes up the whole rail in exquisitely detailed texture and colors.
The stairs are many, but the temple at the top is certainly worth the climb. Wat Phrathat Doi Suthep is the first temple that I had been to with a mandatory "donation" before you could enter. 
The grounds of the temple are made of lustrous tiles which must need a good amount of maintenance to stay as pristine as they are. I did come across a monk and 2 nuns throughout the complex who were actually mopping the wat floor.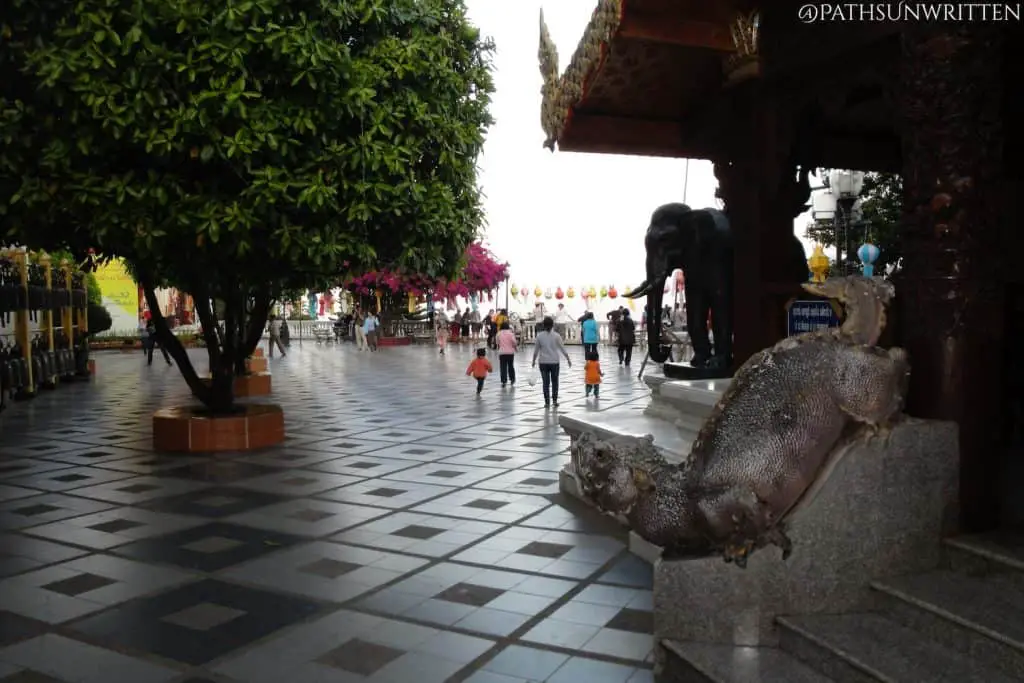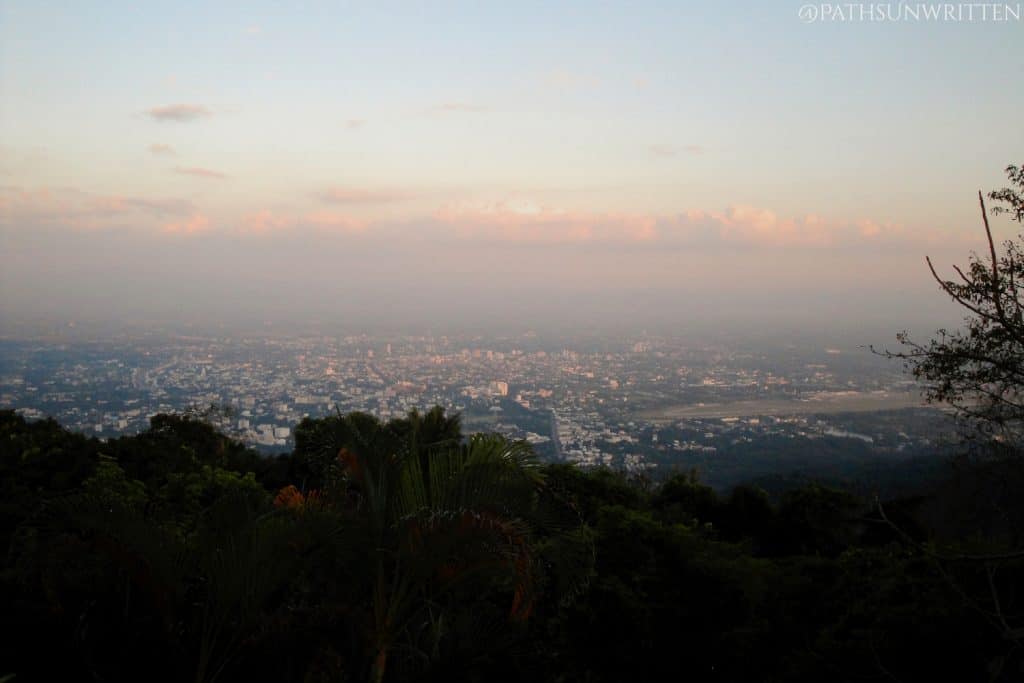 As had quickly become my habit, I walked around the outside of the main shrine rather than heading straight in from the entrance. The first thing you immediately come to on the right is an open area leading to a railed ledge looking over the side of the mountain. This was the most crowded area of the temple, with people posing for pictures at every free spot, taking up space that people who actually wanted to enjoy the view could be using.
The sun was beginning to set at this point, giving the city below a very pink hue. Off to the right of the ledge was a large pillar of smoke coming from what had to be a significantly sized flame.
Working further around the central shrine was a series of bells and a building of some sort that was still being constructed.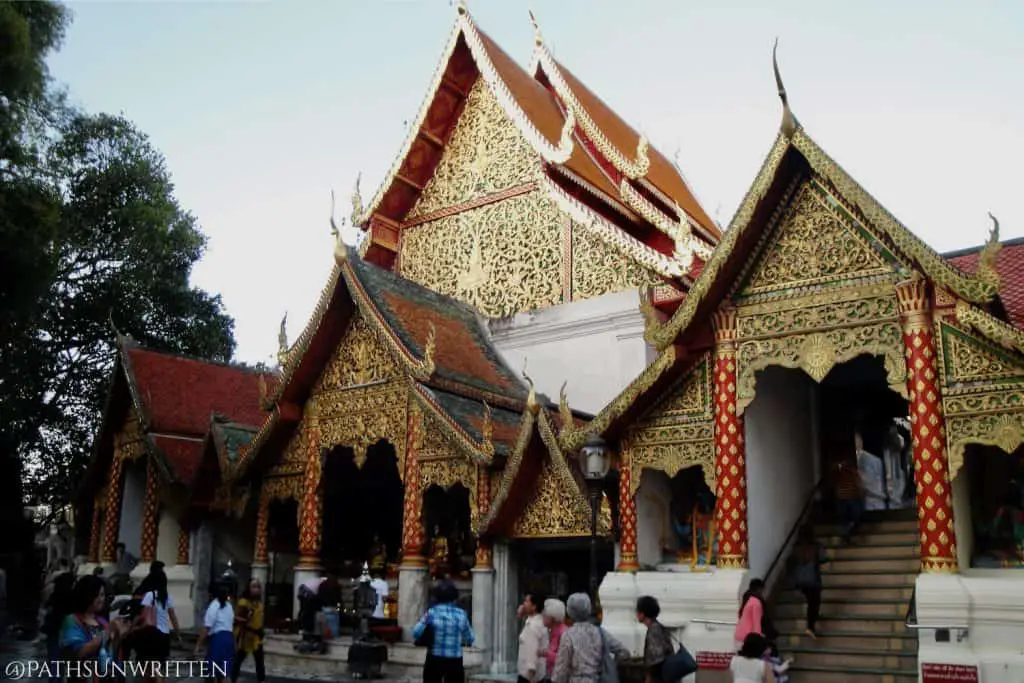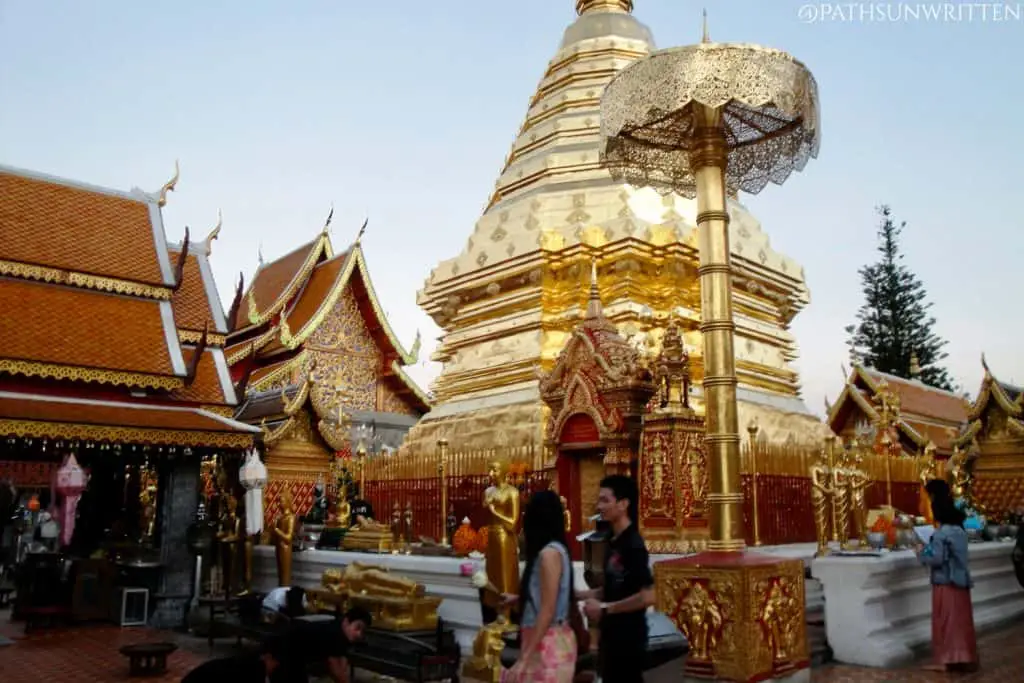 Finally coming back to the entrance, I removed my shoes at the stairs to the main shrine and went in. Inside were dozens, maybe upward of 100, idols of the Buddha. It's curious that, for a religion in which doing away with material possessions is one of the founding tenants, so many of these temples are filled with some of the most ornate architecture and treasures in the country. Of course, all of these sculptures and items certainly add to the beauty of the temples, though at times it seems a bit in excess given that aspect of Buddhism.
In the middle of the central temple was a large, angular, golden-colored stupa (chedi in Thai) surrounded by many different forms of Buddhas. Reclining, meditating, and standing with a cautionary gesture among them.
Unfortunately, in my brilliant planning to be atop Wat Doi Suthep for sunset, I had overlooked that meant I would have to drive back in the dark. Down a mountain. This proved a much less enjoyable experience than riding up. And much slower experience, as well, as I was rarely using the engine at all, and was certainly wearing down the breaks.
---
Of course, this was only a trip up the mountain to see the main attractions at Wat Phrathat Doi Suthep. It can easily be made into a full-day trip if seeing all the sites mentioned above. And there are plenty of other roads and natural sights to see throughout the Doi Suthep-Doi Pui National Park as well.
How to Get to Ancient Doi Suthep
Doi Suthep mountain dominates the western Chaing Mai landscape and is impossible to miss from nearly any vantage point in the city. However, to reach the main attractions of Doi Suthep, you will need to approach it from Huay Kaew Road (Route 1004), which begins at the northwest corner of Chiang Mai's Old City (Hua-Lin Corner Fort). 
Huay Kaew Road runs straight and flat (usually with considerable traffic) for approximately 3 km. In this stretch, it passes Maya Mall, Chiang Mai University, and Chiang Mai Zoo. After the zoo, the slope will begin to get steeper and the road will curve into Sri Wichai Alley (still Route 1004), which is marked by a shrine to Kruba Si Wichai on the south side of the road.
If driving yourself from this point, it is wise to use caution going on the winding road slowly and carefully. The drive from Siwichai Monument to the Wat Doi Suthep temple should take between 20-30 minutes on a motorbike.
If you wish to visit the temple without driving, the best bet is to find the songthaew stop near the entrance to Chiang Mai Zoo. Here, there is usually a gathering of Chiang Mai's red pickup trucks waiting to take passengers for a trip up the mountain. 
Fast Facts
Fast Facts

Name: Doi Suthep

Where: Chiang Mai, Thailand

Location: 18.80507, 98.92157

What to do: Doi Suthep is a popular destination for bikers, hikers, tourists, and religious pilgrims.

Getting there: There are regularly running vans and red trucks going to Wat Doi Suthep temple. FOr other destinations, private transport may be needed

Cost: XXX YYY / ZZZ USD
Glossary
chedi
Thai word meaning "stupa"
Chiang Mai
City in northern Thailand and historic capital of the Lanna Kingdom founded by King Mangrai in 1296.
Doi Suthep (ดอยสุเทพ)
Revered mountain on the western edge of Chiang Mai. The mountain peak has been used by both the Hariphunchai and Lanna Kingdoms to house sacred Buddhist relic temples.
Dvaravati
Mon-Burmese ethnic group based in modern Nakhon Pathom, Thailand. Responsible for the introduction of Buddhism (Theravada sect) to Thailand.
Hariphunchai
Ancient name of Lamphun, Thailand and the historic capital of the Dvaravati Hariphunchai Kingdom.
Hariphunchai Kingdom
Dvaravati kingdom in northern Thailand (c. 750 – 1292 CE) centered in the modern town of Lamphun. Eventually conquered by the Lanna Kingdom.
Kuena
Lanna king from 1355-1385 CE. He expanded the Lanna domain to its largest extent and founded the Lankawong school of Buddhism in Lanna.
Lamphun
City in northern Thailand and the historic capital of the Hariphunchai Kingdom.
Lankawong
A sect of Theravada Buddhism based on Sri Lankan teachings.
Lanna Kingdom
Thai kingdom based in northern Thailand and northwestern Laos. Its capitals included Chiang Rai, Wiang Kum Kam, and Chiang Mai.
Lawa
Ethnic minority group who constructed three walled cities in the Chiang Mai valley: Wiang Nopburi, Wiang Ched Lin, and Wiang Suan Dok. They are also referenced in historic writings as Lua, Milukku, Tamilla, and La.
Mangrai
Final ruler of the Ngoenyang Kingdom (Chiang Saen) and founder of the Lanna Kingdom from 1291-1311 who established Wiang Kum Kam in 1286 and its successor Chiang Mai in 1293.
Mon
Ethnic group originating in Myanmar who established the first civilizations in modern Thailand. The Mon kingdoms in Thailand are collectively referred to at Dvaravati.
naga
Mythological serpents in Hindu-Buddhist tradition said to possess divine powers.
phra that
Common term in Thai temple names meaning "Buddha relic", referencing the temple supposedly housing a relic of the historical Buddha, Siddhartha Gautama. Also spelled "phrathat".
San Ku
Ruined Buddhist temple atop Doi Pui dating from the Hariphunchai Period.
stupa
Buddhist monument used to enshrine sacred relics or memorialize important figures. Its dome, bell, or otherwise tower-like appearance is an architectural representation of Mount Meru, the cosmic mountain said to represent the structure of the universe in Hindu-Buddhist cosmology.
Sukhothai
City in central-northern Thailand and abandoned capital of the Sukhothai Kingdom.
Sukhothai Kingdom
Thai kingdom based in central-northern Thailand, after the overthrow of Khmer rules. Its capital was the city of Sukhothai, which was later conquered and absorbed by the Ayutthaya Empire.
Sumanathera
Sri Lankan monk who resided in Sukhothai before being invited to Chiang Mai by King Kuena, He gifted the Lanna King a Buddha relic which is now housed at Wat Suan Dok and Wat Phra That Doi Suthep.
viharn
The main worship hall in a Buddhist temple.
Wasuthep
Fabled Lawa hermit monk who is said to have founded Wiang Misankorn and Hariphunchai, and invited Camadevi to rule Hariphunchai.
wat
Thai word meaning "temple"
Wat Phra That Doi Suthep
Sacred mountaintop temple in Chiang Mai, Thailand which is said to house a Buddha relic brought by the Sri Lanka Monk Sumanathera.
Wat Phra That Hariphunchai Worawiharn
The central temple of Lamphun founded by the Hariphunchai king Athitayarat in the 1150s CE to enshrine relics supposedly originatting from Siddhartha's ancient visit to northern Thailand.
Wat Suan Dok
"Flower Garden Temple", a historic temple west of Chiang Mai built to by King Kue Na to house the Buddhist Relic from the Sri Lankan monk Sumanathera.
wiang
Lanna Thai word for "walled city"
Wiang Chet Lin
Fortification built by Lanna King Sam Fangkaen over the ruins of Wiang Misankorn.
Wiang Misankorn
Lawa city at the base of Doi Suthep founded before the Hariphunchai Period. Later renovated into Wiang Chet Lin during the Lanna Period.
Wiang Kum Kam
The first city established by the Lanna Kingdom in the Chiang Mai valley. Abandoned after successive years of flooding to establish Chiang Mai.
Wiang Nopburi
Abandoned Lawa walled city used as a based from which to build Chiang Mai. Located in the northwest corner of Chiang Mai's Old City in the current location of Wat Chiang Man.
Wiang Suan Dok
Abandoned Lawa walled city used by Lanna royalty as a garden. In 1371, Wat Suan Dok was established in the center of Wiang Suan Dok.
Wilangka
Legendary ruler of the Lawa people who waged war on Hariphunchai with 80,000 men after being rejected by Camadevi.
Sources 
"Ancient City in the Protohistoric Era" display. Chiang Mai National Museum, Chiang Mai, Thailand.
Damrikul, Surapol. "San-Ku Archaeological Site, Doi Pui Hill: Sacred Site of Wasuthep Hermit." Journal of Fine Arts, vol. 5, no. 1, 2014, http://cmuir.cmu.ac.th/jspui/handle/6653943832/65062.
Grabowsky, Volker. An Early Thai Census: Translation and Analysis. Institute of Population Studies, Chulalongkorn University, 1993.
"History of Northern Thailand: Hariphunchai Region" display. Chiang Mai National Museum, Chiang Mai, Thailand.
"Lua: Wiang Jed Lin Native Group" display. Chiang Mai National Museum, Chiang Mai, Thailand.
"Notable Cities and Communities of the Lan Na Kingdom: Wiang Ched Rin." E-Lanna, Chiang Mai University, http://www.sri.cmu.ac.th/~elanna/elanna_eng/public_html/cities/city4.html.
Pongpandecha, Narong and Ken Taylor. "Interpretation of the Cultural Landscape and Heritage Values of "Mae Koong Bok Village", Tambon Sanklang, San Patong District, Chiang Mai, Thailand." Suthiparithat Journal, 93rd ed., vol. 30, Dhurakij Pundit University, Bangkok, Thailand, 2016.
Stratton, Carol, and Miriam McNair. Scott. Buddhist Sculpture of Northern Thailand. Buppha Press, 2004.
Swearer, Donald K., and Sommai Premchit. The Legend of Queen Cāma: Bodhiraṃsis Cāmadevīvaṃsa, Translation and Commentary. State University of New York Press, 1998.
Wichien, Aroonrut. "Lawa (Lua) : A Study from Palm-Leaf Manuscripts and Stone Inscriptions." Kyoto University, 2012. https://www.academia.edu/6206063/Lawa_Lua_A_Study_from_Palm-Leaf_Manuscripts_and_Stone_Inscriptions.
Williams, Benjamin. "Wiang Chet Lin: Ancient Chiang Mai's Lost City of the Lawa." Paths Unwritten, 7 Feb. 2020, https://pathsunwritten.com/chiangmai-wiang-chetlin/.
Williams, Benjamin. "Wiang Suan Dok: Ancient Chiang Mai's Holy Outer City." Paths Unwritten, 22 July 2019, https://pathsunwritten.com/suan-dok-chiang-mai/.
สันกู่. (n.d.). Retrieved June 20, 2020, from http://www.sri.cmu.ac.th/~demo/index.php/site/historic_detail/id/17.
"วัดสามยอบ (วัดสามยอด)." Edited by Social Research Institute Chiang Mai University, ข้อมูลโบราณสถาน, Chiang Mai University, www.sri.cmu.ac.th/~demo/index.php/site/historic_detail/id/14?fbclid=IwAR1rSwNU8v1o_H5oRXikbUBEukq3naq4ldhzYEEDas-2FSL0Ju__xqCijOU. (Translated version).