When I returned to Bangkok in late 2012, I found a note in the pocket of a jacket I had brought from the US.  I don't know when it was from, but the written message was 'moving forward'.    I tried to apply it as much as possible, trying to accept, among many other things, the fact that for the time being, Bangkok was my home now.
However, the concept of home has been slightly fading day upon day over the last 6 years.  Of course there is always Grand Rapids, the city where I grew up, but I have little desire to return there other than to see my family.  In practice, when most people ask where I am from, I say Chicago for no other reason than it's the closest major city to Michigan, a place that few people know.  But still, after 2 years, the longest time I've spent in one place in the last 6 years, Bangkok is, I suppose, the closest thing I have to a home now.
And despite the fact that I do like living there, it's certainly not a place I intend to spend the rest of my life, unlike so many other foreigners I know there.  Not when there's so much more to see.  2013 was a year spent in waiting.  Every day was a countdown until when I would not necessarily leave Bangkok, but when I could leave.  And it finally came, setting me out on the road again.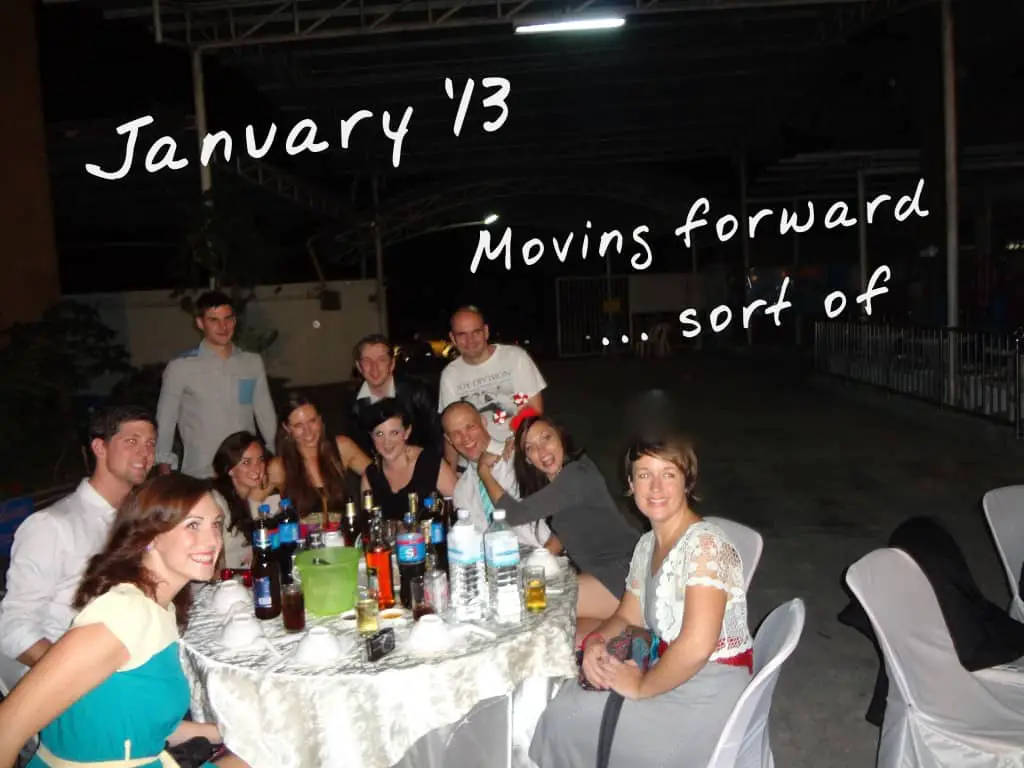 This year began with me falsely trying to convince myself that I had moved forward from deaths of two of the most important people in my life.  Russell Williams, my father and Jeff Alexander, my best friend of 10 years, both of whom died within a month of one another in late 2012.  With a new year, a new trip to Ko Tao, a new skill in scuba diving, I tried to tell myself I was moving forward, but I hadn't yet.
It was the constantly changing circle of friends that I had in Bangkok that kept me going strong.  Whether it was the outrageous group antics of coworkers at the school Christmas party, the buddy day trip to Ko Kret, or the crowd of regulars at the Overstay, I was working on my way toward moving forward.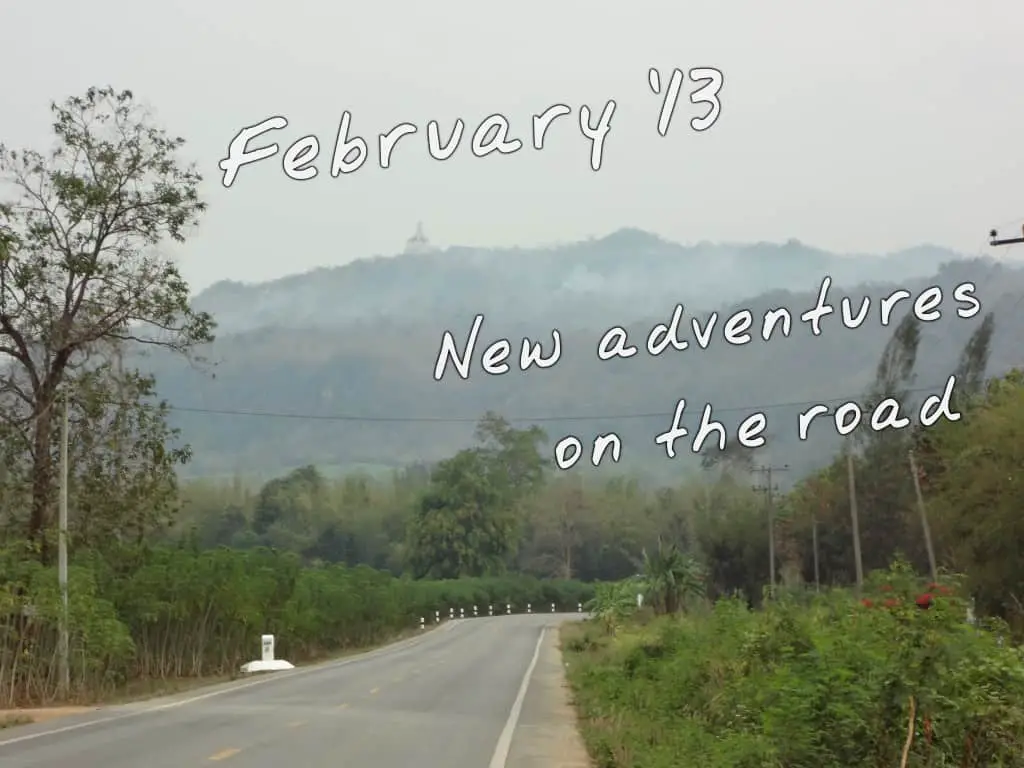 Here's when I began to feel like myself again.  My curiosities in archaeology and random travel resurfaced and I was off to discover things I had only wondered about before.
Over a year after my initial stint to Kanchanaburi, I returned a third time for the kind of adventure I hadn't been on for a long time.  In July 2012, on the outer reaches of the Death Railway, I had seen a mountaintop temple.  An enormous one.  No one could identify it and I could not find any information about it on the Internet.
The solution?  I rented a motorbike and spent 3 days cycling around the Western Thailand frontier looking for it.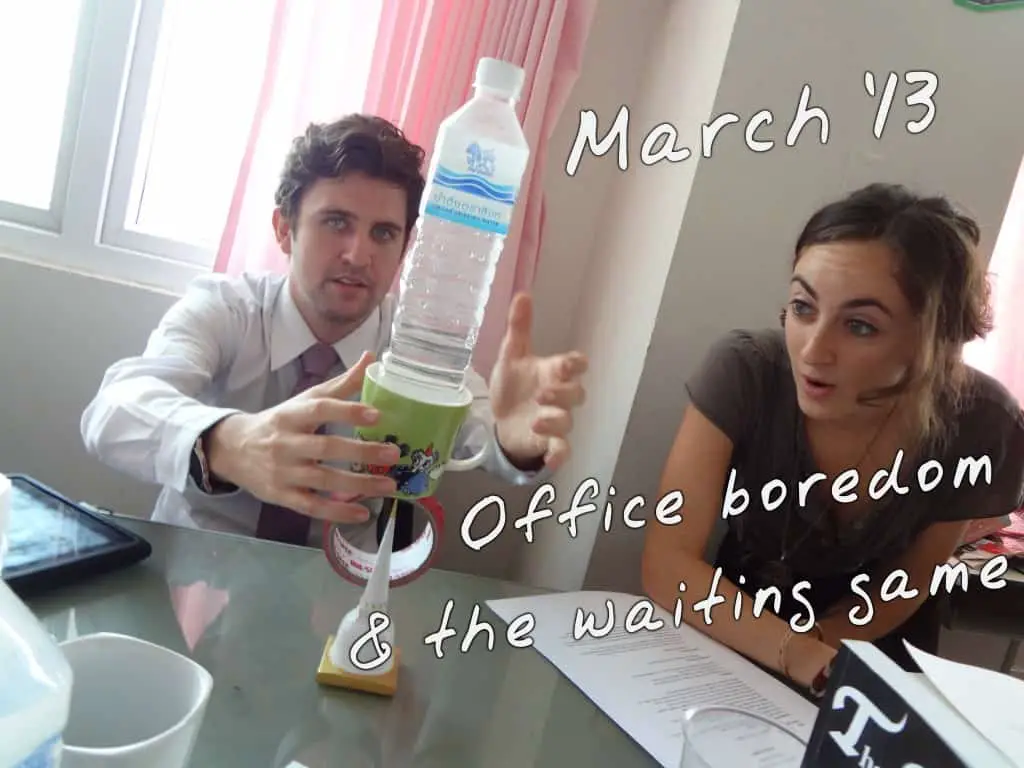 At work, this year's March was very different than the year before when we had to make up for time lost during the 2011 floods. This year, the students were all gone in March and we spent the entire month in the office waiting for the semester to end, more of our friends to leave once again, and the school trip where we all embarked on an exceptionally long bus ride to the Golden Triangle together.
At the end of the month, Morgan from our ATI group left to travel a bit before returning to the U.S., leaving Bobby and I the last standing in a foreign country.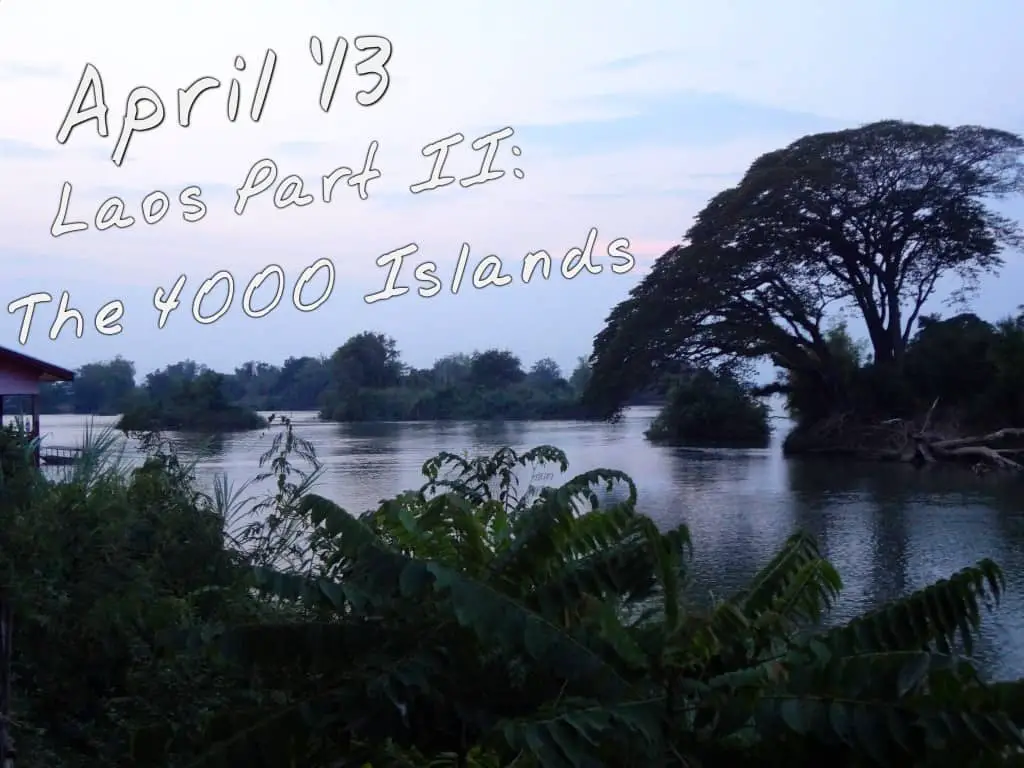 Thailand's New Year, Songkran, came again and once again I was fleeing the country.  Returning to Laos, which is I think still my favorite country so far, I was introduced to Champasak Province.  The city of Pakse.  The 4000 Islands archipelago in the Mekong River.  The Lost Cities of Preah Vihear and Vat Phou. This region is very high on my favorites list.
Although, because Laos culture is an offshoot of Thai culture, they also celebrate a version of Songkran, which I got to participate in in Pakse.  Scaled down, it was actually very fun.  Not so much when I flew back to Bangkok, got out of the taxi next to my apartment in my regular clothes and backpack, and was squirted by a small boy with his sister about to throw a bucket of water on me . . .
In May, only 2 weeks into the new school year, my lucky streak, as my mom likes to think of it, continued when I was walking back from work.  And then a car hit me.
Not a pleasant experience.
Bobby once again proved himself a great friend when he showed up at the hospital at a moment's notice.  Although after only 2 days off from work, despite the doctor's recommendation of a whole week off, I was bored out of my mind sitting in my apartment and returned to the job.
A little over a week later, convincing myself that I was better, I jumped a van to Ayutthaya and saw some great things, but exhausted and strained myself more than I expected to.  Apparently I wasn't quite as healed as I thought.
June and July were work months with few breaks in the routine.  I used the time to apply for and received a new, extra large passport from the U.S. Embassy in Bangkok full of empty pages for new destinations.
The one exception to break up the monotony of Bangkok was a trip past Kanchanaburi to the remote border town of Sangkhlaburi.  The big draw here was the old 'sunken temple' of the town.  With the former town relocated and a dam built downstream, this remaining Buddhist wat was then left to the rising waters.
I was surprised to see it was on a sliver of land above water at this tail end of the hot and dry season.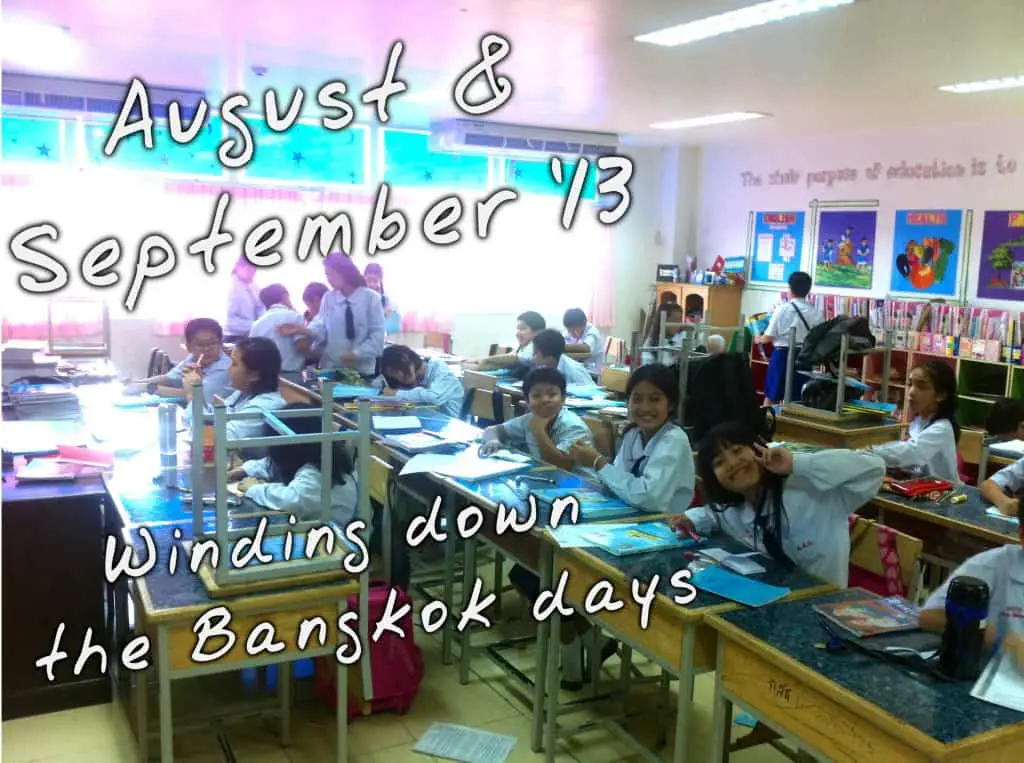 August began the slow countdown to when I would leave the English teaching job.  I told my bosses that I would not be returning for the upcoming semester.  There was not a lot of point in doing short weekend trips when I'd have all the time I wanted in just a few weeks.
Afterward, telling my students and Jum, my Thai teaching partner, would be much more difficult.  In a later conversation, when asking about what my plans were when I left, Jum said something that has stuck with me.   She told me how she was envious of the kind of life I have and that maybe in her next life she would be born in a better situation.  It was with such a sad sentiment that she said it and it's really endured with me in appreciating how lucky I am to be able to live how I do.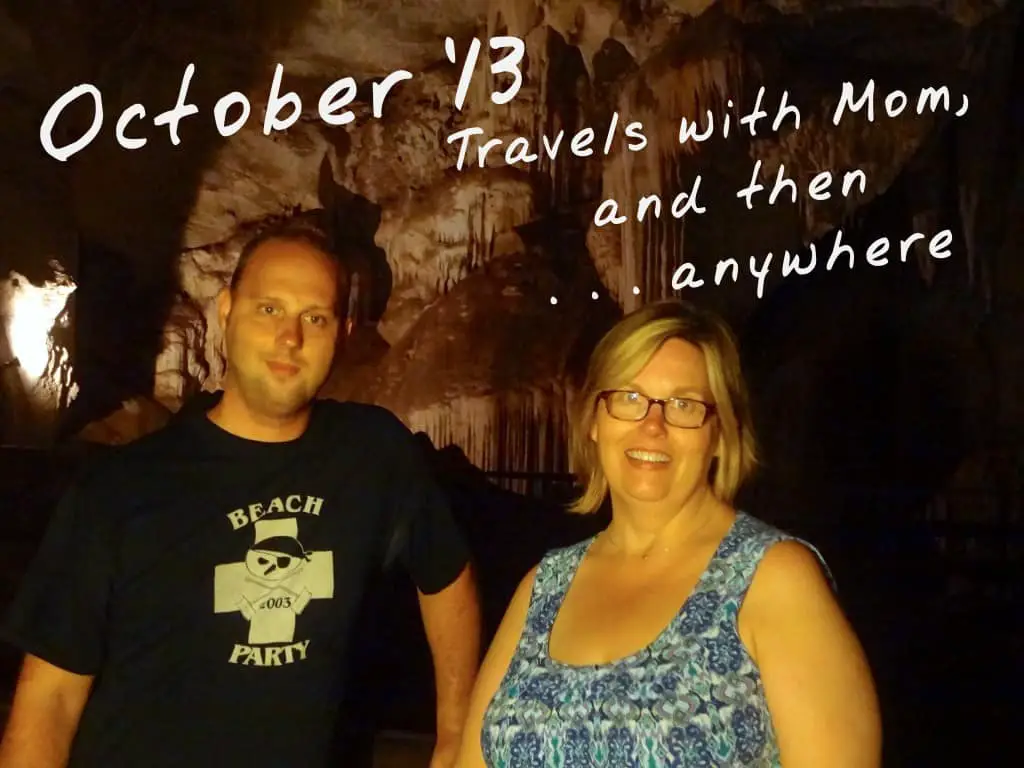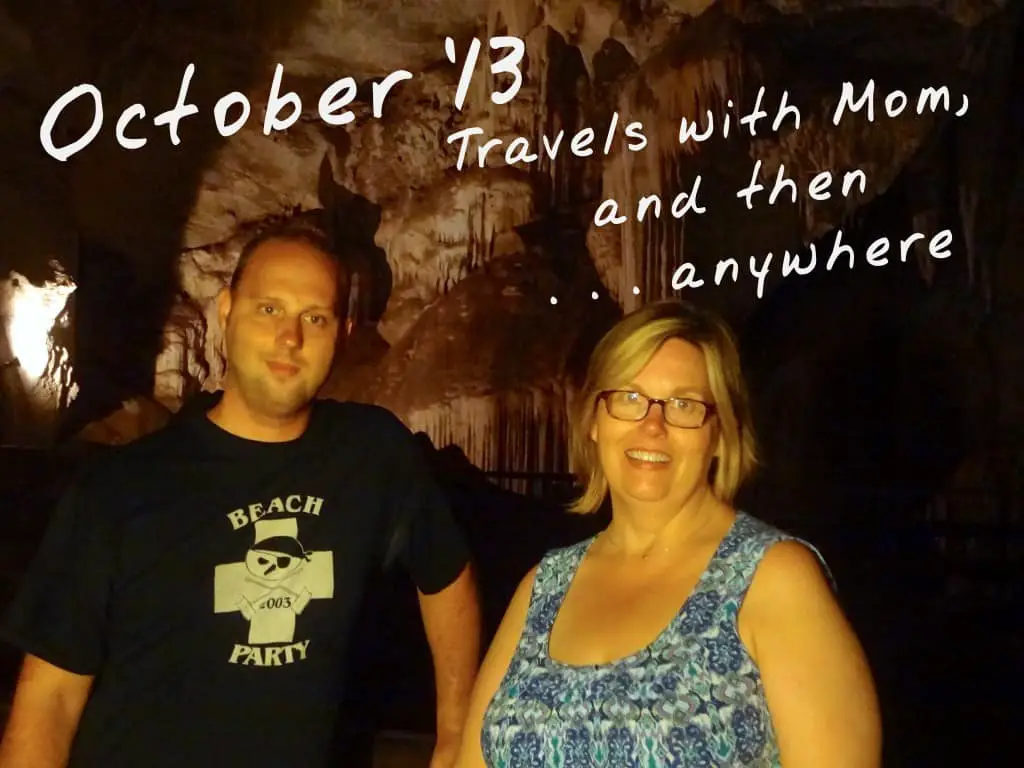 October was a month of whizzing about.  Just a couple days after packing up my desk at the school, my mother arrived in Bangkok around midnight.  Nearly a year since seeing each other, and certainly not under the best of circumstances, it was fantastic to have her in Thailand bringing a bit of welcomed familiarity to what would soon become an entire unfamiliar path in my life.
We flew to Railay Beach for some relaxing downtime and then back to the Centara Grand in Bangkok for the rest of the time she was there.  Along the way there were some interesting sights to see together.
After that, it was complete freedom.  I could go anywhere I wanted to go and do almost anything I wanted to do.  First thing, though, it was off to Laos for a new visa.  Stopping on the way back, I tried my hand for a second year camping out at the Naga Fireball festival.  Still saw nothing.
The rest of the month, I spent living out the last of my days in my Bangkok apartment and trying to sort out the inexplicable amount of stuff accumulated after only 2 years.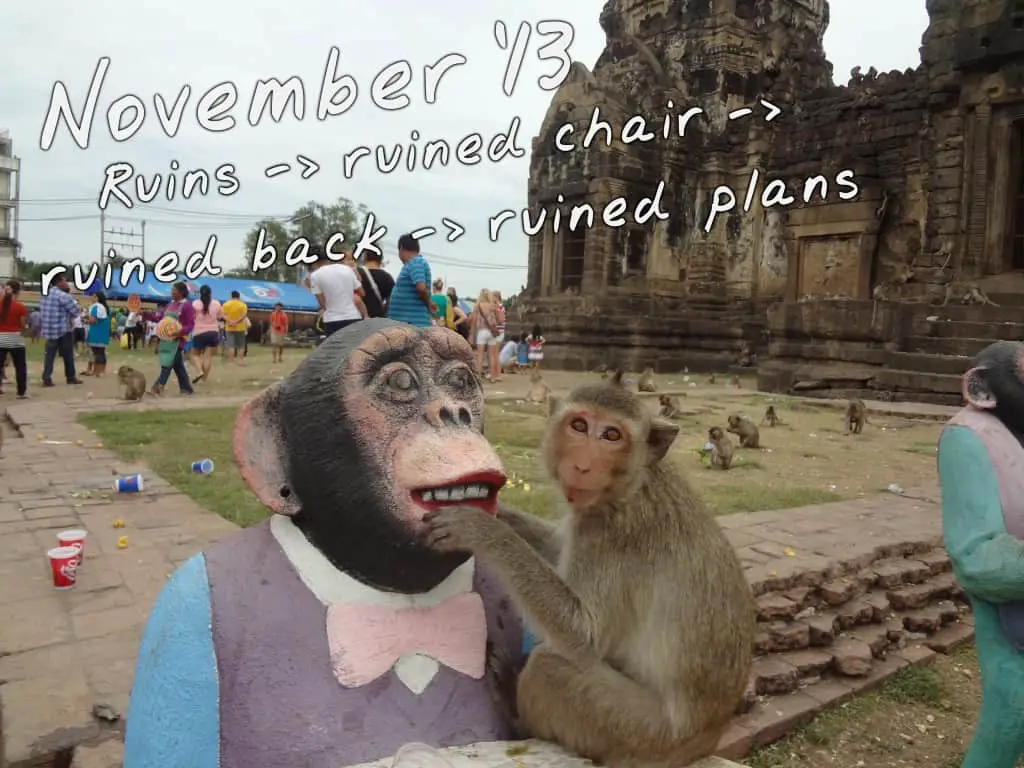 At the beginning of November, I made a temporary home of the Overstay.  Sure, I might have slept on the sofa a couple times after parties, but It was strange actually staying there for the first time after just living vicariously though other travellers I met at the bar there.
After everything was stored and shipped away, I was off to Ratchaburi for the Lost City of Khu Bua, a major center of Thailand's Dvaravati culture.  It also coincided with the river festival of Loi Krathong.
Hopping back through Bangkok, I arrived in Lopburi, one of Thailand's oldest towns.  From there I was going to continue north on a grand tour of several of Thailand's archaeological sites.  However, a small chair collapsing on me ruined that.  I don't know what it did to me, it greatly reawakened painful nerve damage from a herniated disc several years ago.
Instead of moving on north, I stayed face down in bed, the only semi-comfortable way to lay.  I was literally unable to move for about 3 days.  A angry email, couple confrontations and about $100 in hospital expenses later, and I wouldn't even receive an acknowledgement from the Noom Guest House, much less an apology.
I think I am justifiably a bit bitter about it.
The second I had enough painkillers and thought I could maybe manage to sit, I was on the train back to the Overstay in Bangkok to recover in someplace familiar.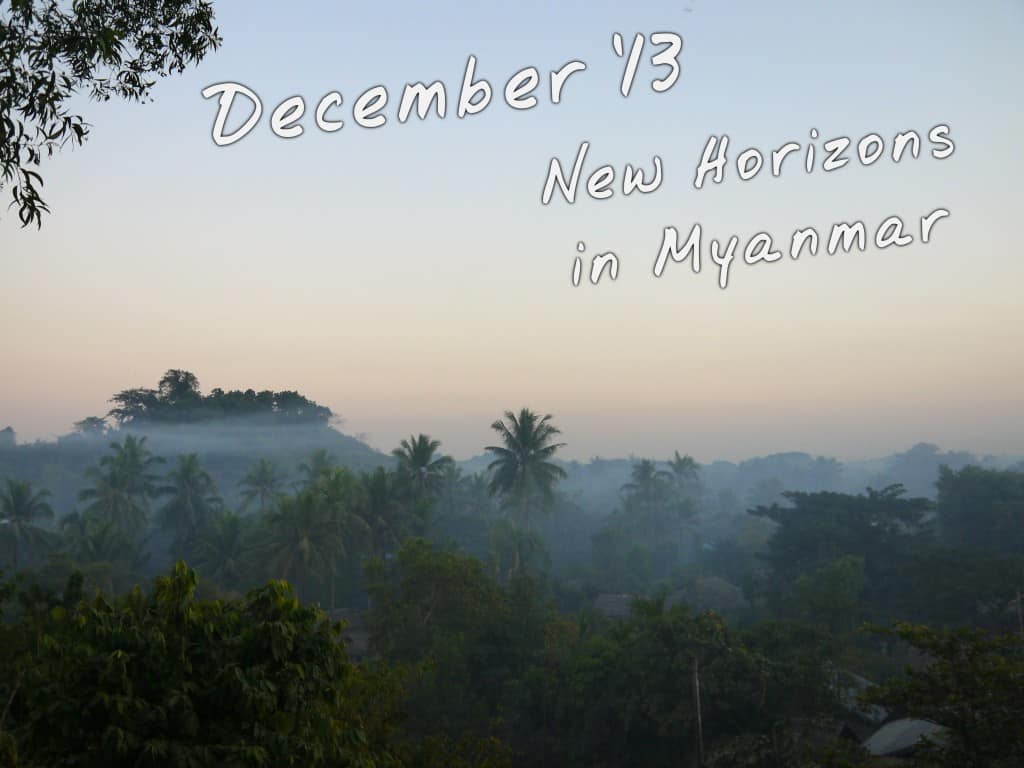 With my weeks of travelling to the north of Thailand effectively cancelled, I spent the first part of December back at the Overstay hoping I'd be getting better.  I had a visa to Myanmar taking up space in my passport and I intended to use it soon.
With questionable progress on my lower leg and foot, I again strapped on the backpack and was off to my first new country in over a year.  Myanmar has been interesting and is certainly different from other places I've travelled.  One I got past the constant spitting, I began to truly appreciate the raw foreignness of it and scope out the Lost Cities of Bagan and Mrauk U, among others.
All in all, it's a great introduction to the year of 2014, of moving forward to unbound possibilities for travel, for life, or really for anything.