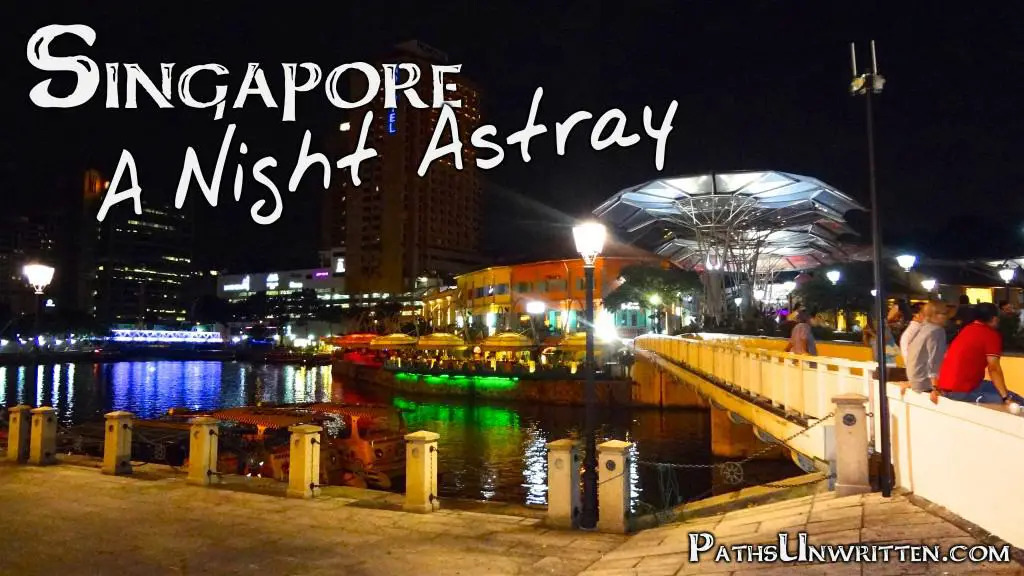 While the central business district, AKA the citadel of the Singaporean city-state had been in view all afternoon, I was out of time and wouldn't have the opportunity to go there.  I had arranged to meet my friend, Trang, in Chinatown around 21:00.  Not wanting to hold her up on her already hectic schedule, I was on a subway train at the base of the Marina Bay Sands and heading toward Chinatown.
Well-travelled and having a natural talent for languages, Trang is one of the most worldly people I have ever met.  When I had first met her, she spoke English with a perfectly honed American accent.  It had been over 2 years since I had last seen Trang in person on Mackinac Island in Michigan.   During that time, I was amazed to discover immediately upon speaking to her that she had developed a new British accent.
Trang led me through Chinatown to a Japanese restaurant she was fond of.  I had not had Japanese food in a long time.  Sure, there is 'sushi' for sale in Thailand.  But I hardly trust seafood in Bangkok, for lack of knowledge as to whether it comes from their rancid canals, much less their version of sushi.  Singapore on the other hand has stringent health requirements, so I made a gluttonous example of myself and ordered anything that sounded remotely good.
Over dinner we did a lot of great catching up.  Our ventures over the last couple years were all over the place.  She had been in Europe, back to the U.S., and spent a good deal of time in Peru as well.  Myself, well this entire blog is a record of what I had been doing during just a part of that time.  Still, just like everyone else I suppose, we seemed to be on paths in opposite directions.  She loves travel, but was using her experience to try and attain a more permanent, stable sort of job.  I was straying from that and doing whatever I can to prolong my ability to travel.
In an offshoot conversation, she mentioned that her then current (it might be different now) British accent was from having her English boss speaking to her in her earpiece at work everyday.
It turned out there was no way I could eat everything I ordered, and I couldn't take it with me, so Trang took whatever she wanted.  If she hadn't been so noticeably tired, I might have asked her to go out for a little while longer, but it was clear she needed to get home.  We parted ways and I was off into the Singapore night by myself.
Thailand, where I had been living the last 6 months, is horrible for beer drinkers.  Singapore is, in many ways, a western country transplanted into Asia.  And one side effect of this is that they actually embrace the idea of microbreweries and non-generic-pilsner beer.  A downside is that most alcohol is relatively expensive there.
Not far from where we had dinner was Brewerkz, one such microbrewery I had heard good things about.  It was located at Clarke Quay a historic riverside district that was dominated by brightly illuminated nighttime entertainment when I arrived.
Like all drinking establishments in Singapore, this one came with a higher than usual price tag.  Still, the beer sampler with a follow-up of not just a regular IPA, but their 'Xtra IPA' was worth it after 5 months of Thailand beer.
The Clarke Quay entertainment mall over the Singapore River was alive and hopping with people, colorful lights, and even water shows.  Among the restaurants and entertainment venues stood out an oddly familiar one:  Hooters.
Back in Michigan, Hooters had been a casual hangout for my Dad and I every now and then.  And while I have been a big fan of their 'Nearly World Famous' chicken wings, I do quite enjoy some of their other snacks like their fried pickles.  On top of that, this location had Miller Lite, an American beer not to different from all those Thai beers, but still worth a bottle for novelty's sake.  The downside?  It was S$11 (US$8.50).
On the street side of Clarke Quay was a line of taxis loading up.  As long as I was out in the city for my last night, I figured there was one place I had to check out.  I told the driver to bring me to the Raffles' Hotel, a historic hotel with the Long Bar, the original home of the Singapore Sling.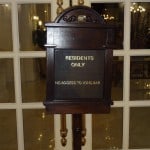 To my dismay, after the taxi had left, the main doors to the Hotel were closed and locked.  The sign on the door proclaimed "Residents Only".  I figured I didn't have anything to lose by knocking, and sure enough, one of the staff let me in and pointed me the way to the Long Bar.
The courtyard of the hotel was dark and dead, but immediately impressive.  It was just a cool place to see.  Despite the directions and the signs, the courtyard was big enough that it took me some time to find the Long Bar.  When I did, it was clearly on the verge of closing down.  The atmosphere was a sleepy formal.  Peanut shells dusted the floor.  The polished wooden bar was indeed long and dominated by the centerpiece painting of a reclined naked woman a la Kate Winslet from Titanic.
Some people were still there chatting and the bartender served me a drink without problem.  I'm not generally a fan of gin, but this one was pretty good.  For the price, it should have been.  Not counting a bottle of absinthe I bought many years ago, this is still my most expensive drink at nearly $30.
With the Singapore Sling finished and paid for, I made my way out to the darkened Singapore streets again.  All night, I had been seeing pedal rickshaws, much more so than I had ever seen in Bangkok, with its prevalence of aggressive tuk-tuks.  Having never taken one, I negotiated with a driver to take me back to Little India and the Prince of Wales Pub for $20.
While the driver was a Singaporean who seemed to speak minimal English, we still had a friendly chat and he proved to be an exceptionally jovial fellow.  At the end of the ride I thanked him and gave him an extra $20 tip.  With that I was back to my bed and leaving Singapore the next morning.
Although I would be leaving with a little more issue than I initially figured, by the end of the next day I was back home in Bangkok.