A year isolated in Thailand, exploring the country's lesser-known ancient cities from the Ayutthaya, Sukhothai, Lanna Kingdoms, and their predecessors.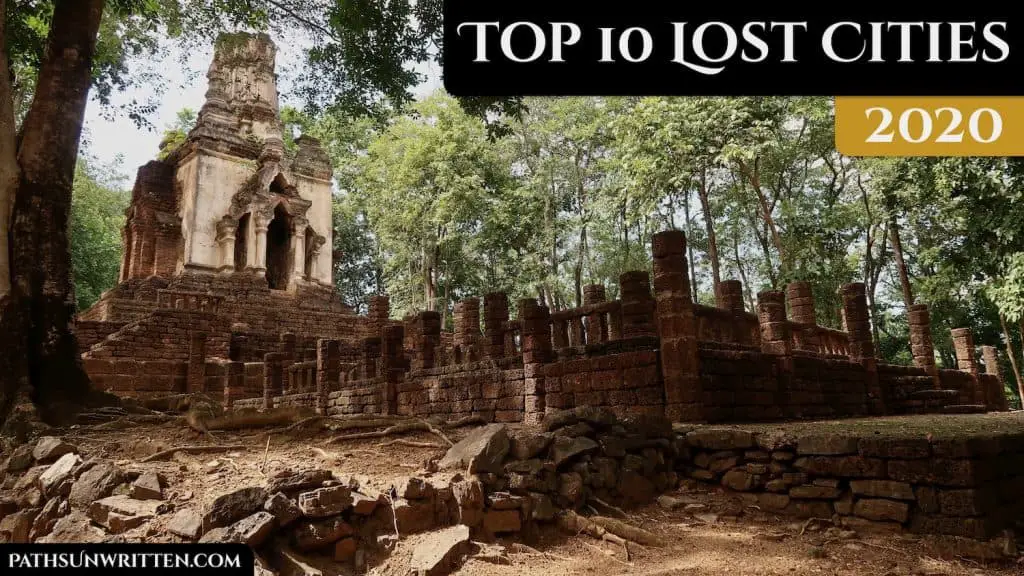 During 2020, Thailand became closed off to tourists like the rest of the world. However, those within the country were encouraged to travel domestically as the situation came under control and restrictions were lifted around June and July. I had not planned on being there past July, however, extenuating visa circumstances added an extra half year onto my stay. 
For the past 3 years, I've been working to map out, document, and photograph the ruins and historical sites in and around my temporary home in Chiang Mai and its associated Lanna Kingdom. I took this extended stay as an opportunity to expand this Lanna project to other cities in the country as well. Although in large and important cities like Ayutthaya and Sukhothai, which were on par with Chiang Mai, that was a bit more exhausting to do in a week what had taken me a year in Chiang Mai.
The ancient cities of Thailand tend to fall into one of three different categories —
Cities like Ayutthaya, Lopburi, and Chiang Mai, which have continued to thrive as a living city, placing important historic ruins in the middle of modern development
Cities like Muang Sing, Si Satchanalai, and Si Thep, which are preserved as isolated historical parks.
Cities like Wiang Lo, Wiang Tha Kan, and U Thong, which are remote enough that they didn't develop larger towns around them, but are not explicitly incorporated into a historical park, essentially leaving the ruins undisturbed and open into the modern day
Of course, there is often overlap in these, with cities like Ayutthaya and Sukhothai sectioning off areas of a modern town as a preserved historic park, or traces of a modern village in ancient cities like Khu Bua and Wiang Lo. 
In all, 2020 brought me to over 25 ancient cities scattered around Thailand. Of those, these are my favourite 10 (ish) —
Honorable Mention: Wiang Kalong | Chiang Rai, Thailand
Wiang Kalong was an unexpected find in my efforts to explore as much of the ancient Lanna Kingdom as possible. There are mentions in Chiang Mai literature of Wiang Kalong pottery a couple of blurbs about a local Wiang Kalong museum set up by monks, but none of these do the site justice.
Rather than a temple with a few collected artifacts and a collection of kilns, the site of Wiang Kalong is actually an entire fortified hilltop city. This is different from any other ancient walled city in Northern Thailand, all of which are otherwise built in river valleys. Visitors are free to walk around the extent of the ancient city, which had been extended at least once, and one of the more interesting parts is walking across the several layers of earthen walls that line the edge of the hilltop.
At the center of the oldest walled section is a temple complex along with a museum that displays all the historical information about the city. I was fortunate to be approached by an employee of the museum who opened up the locked doors and proceeded to explain much of the tie displays to me. She pointed out that Wiang Kalong was actually a city that predated Chiang Mai and the Lanna Kingdom and continued to be inhabited into the Lanna Period.
I'm still unsure if this means it was established by the Hariphunchai Kingdom (former rulers of Northern Thailand), the Ngoenyang Kingdom (Lanna's predecessor), or another group entirely. Hopefully, when I get the museum notes translated, I'll get some clearer answers.
10) Nakhon Pathom | Nakhon Pathom, Thailand
Nakhon Pathom is the "First City" of Thailand – AKA, that is the literal translation of its name. It was established by the Dvaravati, a culture that migrated from Myanmar and began establishing the earliest organized cities in Thailand. While there were earlier cities, it was here that the Dvaravati based themselves for further expansion into Central Thailand and Isaan.
Nakhon Pathom holds the distinction of being the largest Dvaravati city in history, with its city moat expanded to almost double the city's size. It also held several monumental structures, the remains of which can still be seen tucked behind the suburban sprawl in the city today. However, at some point in its history, Nakhon Pathom became eclipsed in importance by Lopburi further to the northeast. This was likely in part to the expansion of Angkor into the area, when most Dvaravati cities were integrated into the Khmer Empire as a kind of vassal state called the Lavo Kingdom.
Nakhon Pathom today is essentially a highway town on the major route leading west out of Bangkok. The town receives many visitors for the Phra Pathom Chedi, one of the ancient Dvaravati stupas that had been consistently renovated and expanded since its rediscovery in the 1800s, however, most of these may be locals or tourists on day trips from Bangkok. There are very few options for travellers who are seeking to stay and explore the city, and no reliable means of getting around within the city. At one point, I took a Grab car (the Thai equivalent of Uber) to one of the ruins outside the city, but there was no option to go back into the city so I ended up hitching back a ride on local semi truck-turned-bus.
9) Khu Bua | Ratchaburi, Thailand
Khu Bua is another of the Dvaravati cities that sprung out from the early Mon cultural centers at Nakhon Pathom and U Thong and served as a port city near the ancient coast of the Gulf of Thailand. The city has a roughly rectangular shape that can still be seen in the remnants of a moat.
A collection of small, ruined brick stupas are still scattered around Khu Bua, as well as the large Wat Khlong Suwankhiri (Monument 18), a design which would be seen in similar larger constructions in later Dvaravati cities. These can still be visited, although you'll need your own transportation to get around, as they are largely spread out and the nearby city of Ratchaburi is not conducive to solo travellers using public transportation.
The area around Khu Bua served as outposts for all subsequent cultures who controlled the area, namely the Khmer and Ayutthaya Empires who inhabited nearby Ratchaburi. A number of Dvaravati relics unearthed in Khu Bua are now housed at the Ratchaburi National Museum as well as a small community museum located at Wat Khu Bua in the ancient city.
8) Muang Sing | Kanchanaburi, Thailand
Muang Sing (Prasat Muang Sing Historical Park) is a walled Khmer city that stands curiously along the far western frontier of Angkorian territory, approximately 20 km from modern Kanchanaburi city and only 30 km from the Myanmar border. It also stands out to me personally as one of the first complete ancient cities I visited in Thailand, and got the chance to return to twice this year.
While there is evidence of prior habitation, including the foundations of a Dvaravati city, Muang Sing as it appears now was one of the later periods of the Khmer Empire. It bears the Bayon architecture style started by Jayavarman VII during his period of massive expansion in the 12th Century CE.
The centerpiece of this 12th Century CE city is Monument 1, a Khmer Buddhist temple meant to honor Avalokiteshvara, the prophesied future Buddha. The temple has noticeable similarities to arogayasalas, the standardized Khmer hospital temples that can be found throughout northeastern Thailand. 
However, Muang Sing's standout feature to me is the intact and formidable laterite wall that still surrounds the entire site — the only Khmer city in Thailand to still have this. 
7) Si Satchanalai | Sukhothai, Thailand 
Si Satchalanai is often called the sister city of Sukhothai. Both the cities began as outposts of the Khmer Empire in Northern Thailand and both gained their independence around the same time. The Khmer section of Si Satchalanai is called Chaiya and is located on a defensible peninsula encircled almost entirely by a river. From the small piece of land, the new rulers of the city expanded out and built their walled citadel a little farther upstream.
Unlike Sukhothai, much of Si Satchalanai was built using laterite. This material is common in ancient Thai and Khmer Construction and is made from a natural clay that is left out in the sun to dry in the shape of bricks. The city walls as well as the bases and boundary walls of many monuments at Si Satchanalai are made from laterite. However, this does not mean that the monuments at Si Satchanalai are rough or any less impressive than those found at Sukhothai.
That said, Si Satchalanai is much less accessible than its sister city. There are no nearby towns from which you can walk or rent a motorbike, most visitors to Si Satchalanai end up doing it as part of a day trip from Sukhothai City. On top of that, while Sukhothai is located on a dry flat plain, Si Satchalanai is surrounded by dense jungle. This made many of the ruins outside the city walls more difficult to access as they were far back on forested trails and often populated by high numbers of mosquitoes and exceptionally large spiders.
6) Ayutthaya | Phra Nakhon Si Ayutthaya, Thailand
Ayutthaya is perhaps the most famous ancient city in Thailand as well as the capital of the precursor states that would evolve into modern Thailand. It's from this city that the modern Thai people get the majority of their culture, architecture, and traditions. Compared to its contemporary cities, such as Sukhothai and Chiang Mai, the monuments found in Ayutthaya ( even the ruined ones) are far larger and more impressive than their counterparts.
The core of the city is built on an island where three major rivers converge and join into the Chao Phraya river which continues to flow toward the Gulf of Thailand. As the Thai State and merged onto the world stage during the 1700s, Ayutthaya gained a reputation as a Venice of the East. It was a center for international trade, with trading outposts being set up by several countries ( including Japan, Portugal, and several others) just outside the city because no foreign establishments were allowed on the main island.
The Ayutthaya Kingdom, and its successors of Thonburi and Rattanakosin (Bangkok), lay in the cultural and population heartland of Thailand. Because of this, much of historic Ayutthaya has been built over by modern developments. In some areas, ruined stupas are squeezed into lots next to 7-Elevens, while in others, large sections of Thailand's ancient capital are sectioned off and preserved to see them free of modern incursion. This provides Ayutthaya with a blend of atmospheres for any taste an archaeological traveller might be looking for.
5) Wiang Lo | Phayao, Thailand
Wiang Lo is one of those towns that you would never go to, and likely not even hear of, without actively looking for it. This ancient town is hidden away in the mountain valleys of Phayao Province, about an hour's drive away from the provincial capital and ~50 km from a remote section of the Laos border. Its origins seem to date back to the early Phayao Kingdom, but was later absorbed into Chiang Mai's Lanna Kingdom along with Phayao. 
Ruins at Wiang Lo bear many similarities to what you would see in other, larger ruined cities in northern Thailand, although the city has one of the strangest city wall designs I've ever seen — it crosses a river and branches off into several protruding sections — likely originated as expansions from the original fortifications as the city grew.
There is a small town on the south bank of Wiang Lo today, and about half the town's ruins are located here along with a temple that houses many of the town's ancient artifacts and informational displays (all in Thai). Across the suspended pedestrian bridge is the other half of the city, surrounded by rice fields. The scenery surrounding Wiang Lo is fantastic and certainly made it one of the most beautiful excursions I made this year.
4) U Thong | Suphanburi, Thailand
U Thong the predecessor city to Nakhon Pathom, and seemingly where the Mon Dvaravati culture first gained its foothold into Thailand. This irregularly shaped moated city did not boast the grander Dvaravati construction that would be found in later cities like Nakhon Pathom, Lopburi, and Khu Bua. However, several of its more modest ruins are still scattered around the moated city and the surrounding area.
The modern town of U Thong, which occupies the ancient moated areas and the adjacent land, is well off any of the main travel routes through the country. There is very little information available on U Thong in English (or even Thai), something I hope to remedy with an upcoming article. 
Travellers can reach U Thong by Thailand's extensive bus network. However, for any visitors who do have an interest in this protohistoric city, it's highly advisable to travel there with your own transportation, as the cultural sites are very spaced out. And while these ruins are interesting, it is easily the U Thong National Museum that is the highlight of the city.
3) Phrae | Phrae, Thailand
Phrae also ranked highly in my Top Destinations list, and indeed this ancient walled city has more charm as a quiet modern town than it does sights of raw archaeological interest. The town today is still surrounded by its historical earthen wall in the shape of a conch and it hosts a handful of ruined stupas, all of which can easily be walked to within the Phrae Old City. However, the visible history on the town's surface is actually far more interesting the further back you go.
While Phrae is typically thought of as a Northern Thai town associated with the Lanna Kingdom, there have been several periods where it not a part of Lanna. This includes phases when Phrae was a vassal to Sukhothai, when it was nominally independent, or when it was administratively divided from Lanna by the Thai royal government.
While there are artifacts housed in a small temple museum at Wat Luang in the Old City, I'm disappointed that Phrae does not have a proper museum dedicated to its storied past. Nevertheless, as far as off-the-path, yet accessible ancient cities in Thailand go, Phrae is hard to beat.
2) Kamphaeng Phet | Kamphaeng Phet, Thailand
One of the major cities in the Sukhothai Kingdom, the history of Kamphaeng Phet is not as integrally tied into the Khmer Empire as its sister cities of Sukhothai and Si Satchanalai. Prior to its prosperity under Thai rule, there was a Dvaravati presence in the area, including a moated Dvaravati settlement about 15 km south. 
The ruins of Kamphaeng Phet are roughly divided into 3 areas, the walled city, the aranyik forest temples, and Nakhon Chum, an earlier settlement on the west bank of the Ping River. There are unmistakable ties to Sukhothai in the ruined temples, including their iconic lotus-bud stupa and slender-featured Buddha sculptures. And, like Si Satchanalai, the wall and sculptures at Kamphaeng Phet make abundant use of laterite. In fact, it's a bit unsettling seeing the laterite core of otherwise human-shaped statues that have had their stucco covering eroded away.
Although not a common tourist stop, Kamphaeng Phet is exceptionally pleasant. The town center is walkable, and the interior of the walled city hosts the ruined temples, the National Museum, and a university, preserving it in possibly the best example I've seen in a developed ancient walled city in Thailand. The only issue for visitors is that it may be a little difficult to get around without private transportation. There are no tourist facilities renting bicycles or motorbikes and taxis within the city are rare.
1) Sukhothai | Sukhothai, Thailand
Sukhothai is highly lauded as Thailand's first capital, the first emergence of the Thai identity and nation. While this can be true depending on a loose interpretation, there were already independent Thai kingdoms (Phayao and Nyoengang) in modern Thailand prior to the Thai inhabitants of Sukhothai (and Si Satchalanai) driving out the Khmer Empire and establishing their own kingdom. Additionally, Sukhothai was an entirely different political entity than Ayutthaya — one of three competing during the 14th Century, along with Ayutthaya and Lanna — only joining the Siamese state after conquest by Ayutthaya.
Because of its history as a Khmer outpost, a handful of Angkorian ruins can also be seen at Sukhothai, including the remains of their moated citadel to the north of the city. However, these are only a small part of the expansive ruined city — and while exploring, it quickly becomes clear just how lively the ancient city must have been during its prime.
My first visit to Sukhothai in 2012 was a memorable experience, but a single afternoon driving a motorbike from the next town over did not provide the chance to take in the entire city — and the museum was closed, something that seems to happen more than a simple streak of bad luck would allow. However, this time around I spent around a week staying within the old city and photographing over 200 individual ruins both within and outside the Sukhothai city wall.
The sheer amount of photographs and information from all these ancient sites is still taking time to sort through. However, I hope to have a comprehensive archaeological travel guides to all these cities in the style of Lamphun and Lampang in the forthcoming months. Chiang Mai city alone has at least 5 ancient walled cities, which I am about halfway through, so those will be the first to post in upcoming weeks.

Following that, I'd like to know what interests readers to hear about first —

– Large cities like Ayutthaya and Sukhothai?
– Smaller and lesser-known ruins like U Thong and Wiang Lo?
– Angkorian, Lanna, Ayutthayan, or Dvaravati cities?

Leave a comment and let me know and have a great new year exploring!