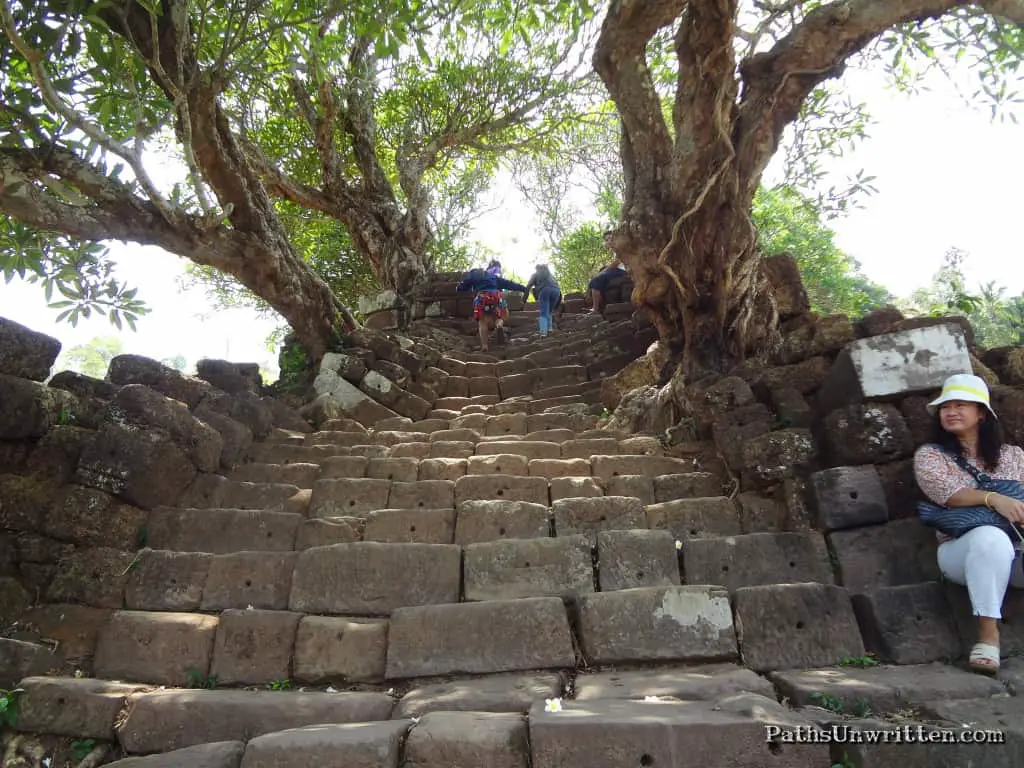 After a disappointing turn around by a military blockade in the disputed border region of Cambodia/Thailand on my way to try and see the ruins of Prasat Preah Vihear, I was aching to see something in the realm of Lost Cities. So, leaving Si Phan Don a day early and returning to Pakse in southern Laos, I was once again on the road heading toward the Cambodia border.
These ruins, a UNESCO World Heritage Site known collectively as the Champasack Cultural Landscape, but more commonly known as Wat Phou, lay just outside of Champasack, the capital of one of the three pre-European Lao kingdoms. Although driving through it, and even the Ancient City nearby, you would never suspect that.
Wat Phou seems to be one of the most ancient Khmer shrines. It houses a natural spring atop the terraces at the base of the mountain. And, the mountain itself is interpreted as a naturally-formed linga, the phallic symbol representing Shiva.
Since the fall of the Khmer Empire and the spread of Buddhism in the region, Wat Phou has since become an active Buddhist shrine, complete with at least 5 representations of Siddhartha Gautama around the main temple atop the terraces at the base of the mountain's cliffs.
These stairs leading up to the central temple are unleveled, eroded, and in odd states of disarray. Throw in the fact that they are immensely steep and not always wide enough for an entire foot, and care must certainly be taken when ascending to the shrine.
Although, once you reach the top, it is most certainly worth it.