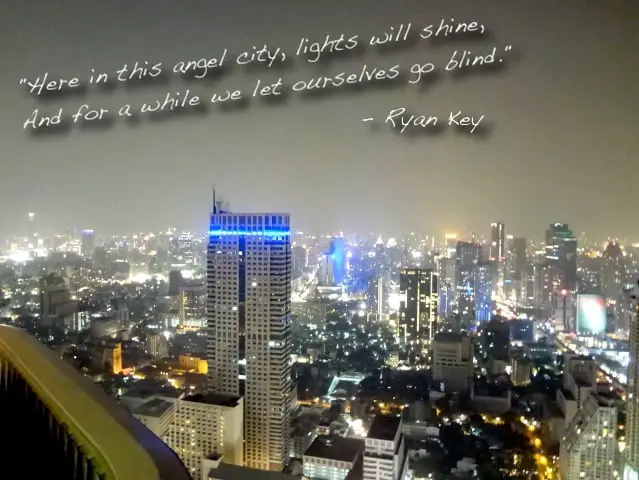 Bangkok, or Krung Thep in Thai, meaning 'City of Angels'.  I've been living here for a year and two months now.  Setting aside trips to Laos, Malaysia, Singapore, and the U.S. in that time, this is the longest I've stayed in one place in the last 5 years.  And, in all likelihood, I'll be here for a total of two years before I move on to somewhere completely new and unknown again.
I'm not entirely thrilled with the idea of staying so long in one place, but for now it makes the most sense.  Completely apart from the financial situation I need to be in before moving on indefinitely again, I do have a good thing going here at the moment.  Bangkok provides a fantastic center from which to explore all of SE Asia.  I enjoy my job, have a great circle of friends, and am never in want of something to do.
That said, this year began in a haze of wonderment.  I was living in a foreign city for the first time.  Working in a foreign city.  I still had little grasp on all the going-ons of everything around, despite having been in Thailand for 2 months.  This resulted in a lot of nights out, attempting to try something new everyday, and all the while trying to do the Photo-A–Day challenge on Facebook.
The Photo-A-Day didn't last too long.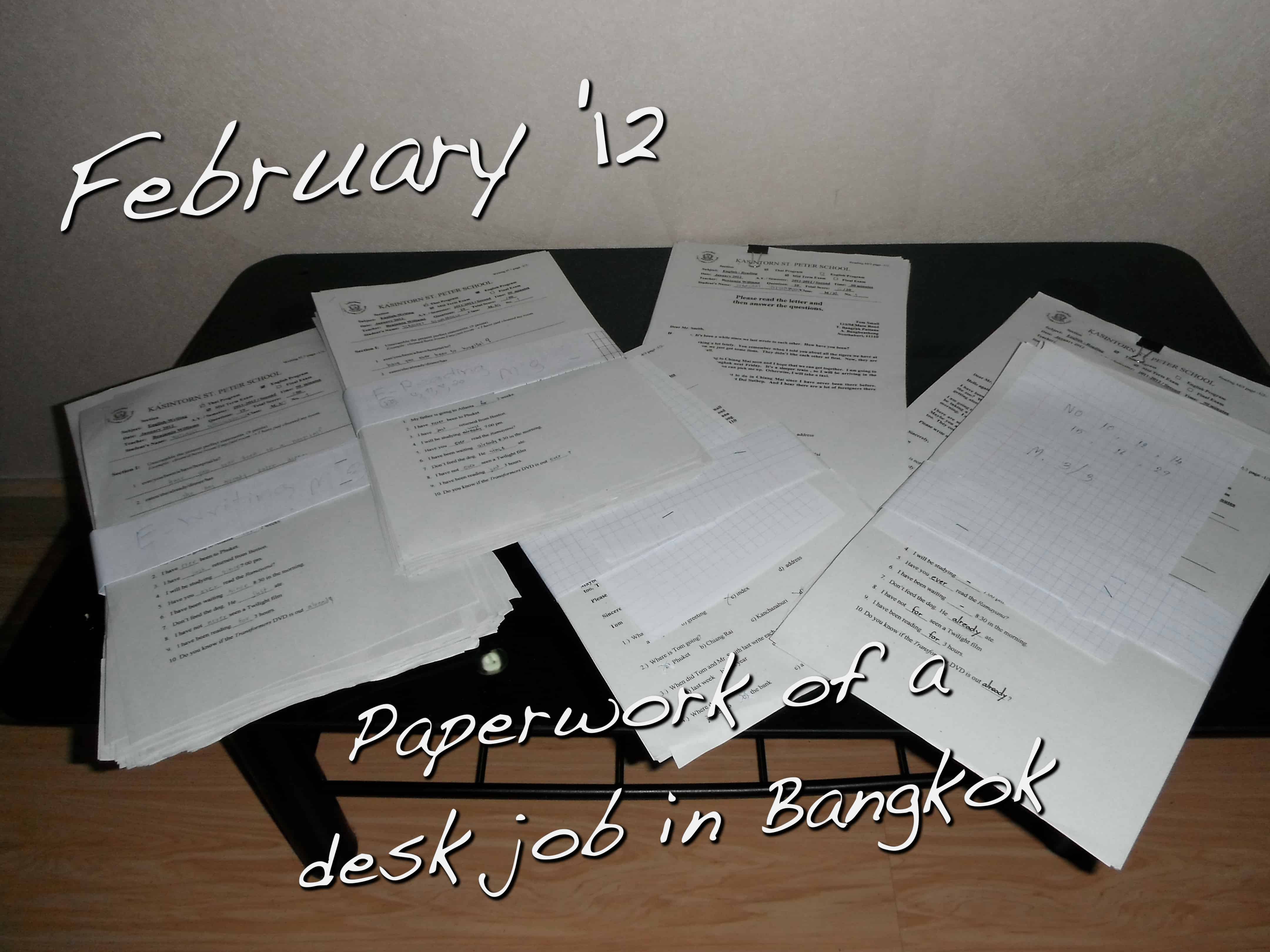 February was a quiet and low-key month. The chaos of being thrown into midterm exams without a clue was over. Final exams were the next month.  I had gotten more familiar with my new surroundings and was starting to settle into a bit of a routine. Not all that exciting and I needed something to break it up.
Enter the random weekend trip.  This time to Kanchanaburi.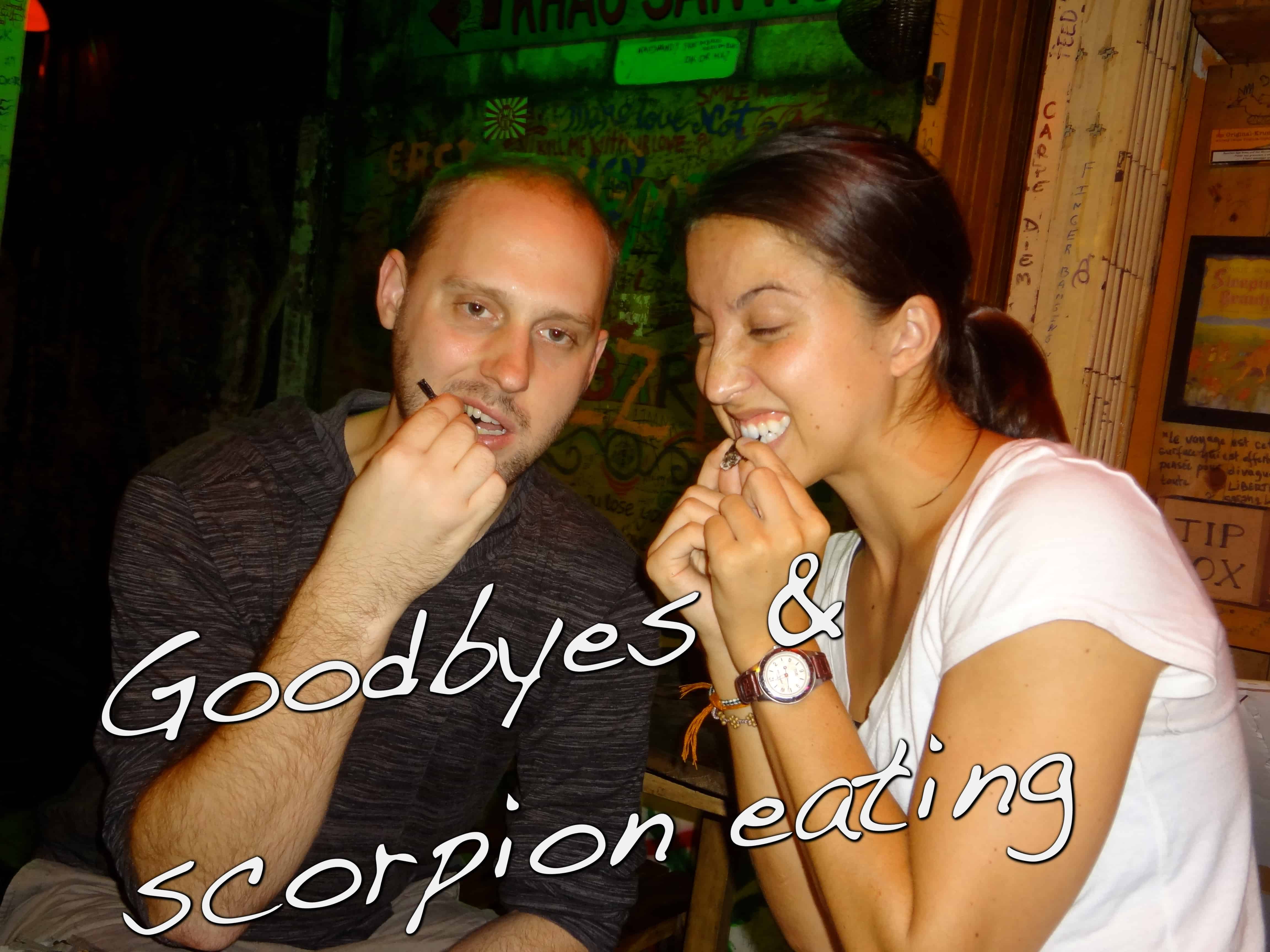 Most notably, March was a month of things winding down.  My brief first semester of the job was coming to an end. Christy and Sarah, two great friends from my ATI course were leaving after only 3 months to return to the United States.  So, a cooking class at May Kaidee's concluded my time with Sarah.  A week later, a party at Mulligan's Bar on Khao San with coworkers marked another goodbye to Christy.
We commemorated this with a traditional Bangkok scorpion tasting.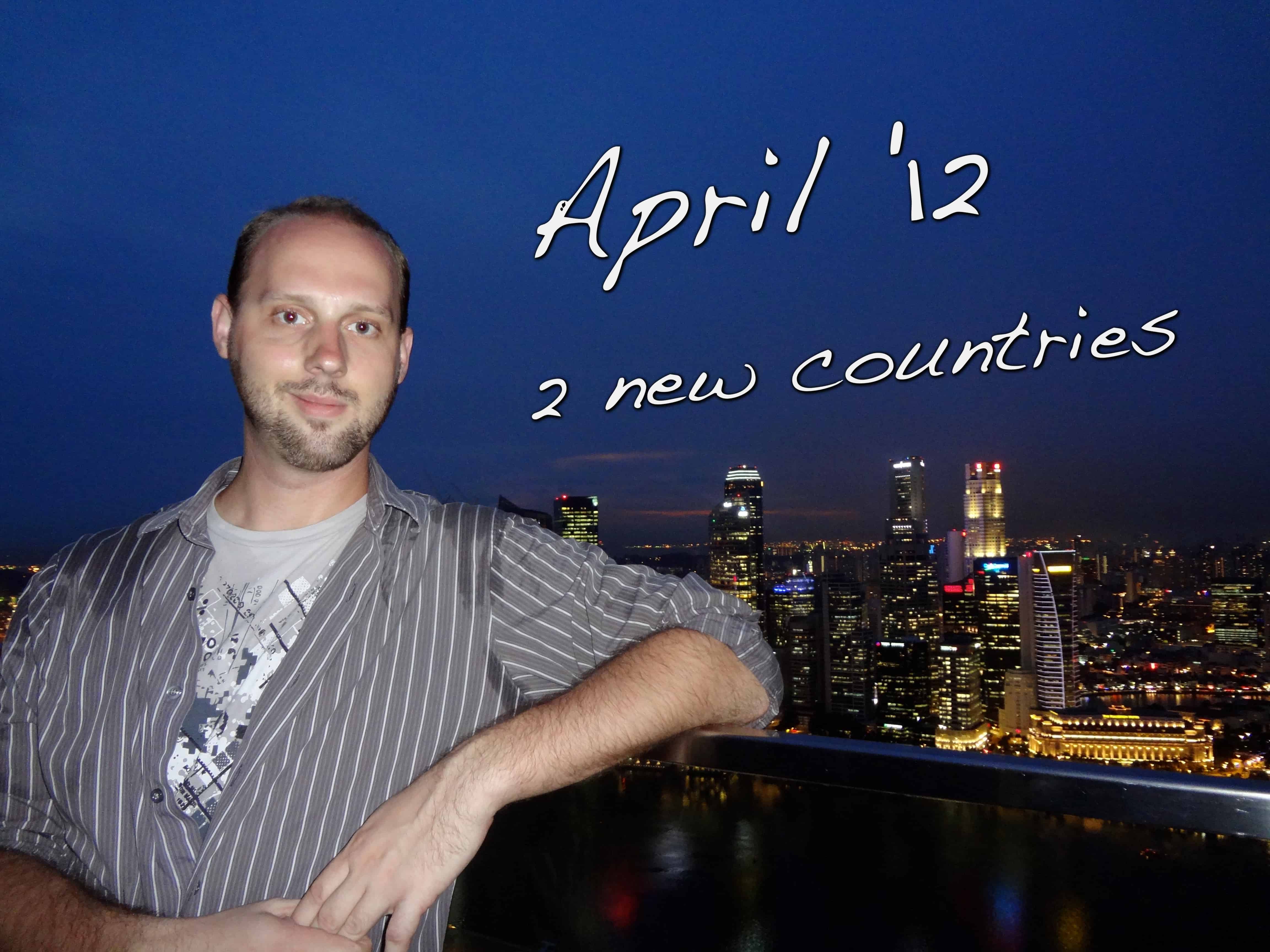 Thailand's New Year, Songkran, is in April.   I wasn't there for it.  After 4 months of waiting I was off on the road again completely open to my own whims.  Unfortunately, it only got to last about 3 weeks before I had to be back to Bangkok.  Still, I saw a good deal of the Malay Peninsula, found a new Lost City, and experienced my first Full Moon Party.
Come May, I still hadn't gotten the bug for travel or Lost Cities out of my system after going at random through three countries.  This ended up in me attempting to get to Ayutthaya on one trip, but only finding a bus to Lopburi instead.  The following week, I hopped a bus to Sukhothai, the first capital of Thailand and spent the time exploring the ancient ruins of Old Sukhothai and Khampaeng Phet.
A year before at this time, I was returning to an Island in Michigan that I had been 3 years in a row and had little to no desire to return to again.  This time, my June and July became about exploring my new surroundings more.  I had done Khao San Road to death.  It was time to take in more of the city, something I hadn't done in great detail since my first week here in November 2011.
So, often joining with friends I knew from both work and now a more extended circle, I was further introduced to areas of the city I had little seen before.  Chinatown.  The river ferries.  Random Sukhumvit alleys.  Sukhumvit dance clubs and restaurants. Hidden basement comedy shows.  The massive Bangkok shopping complexes.  It was all there for the exploring.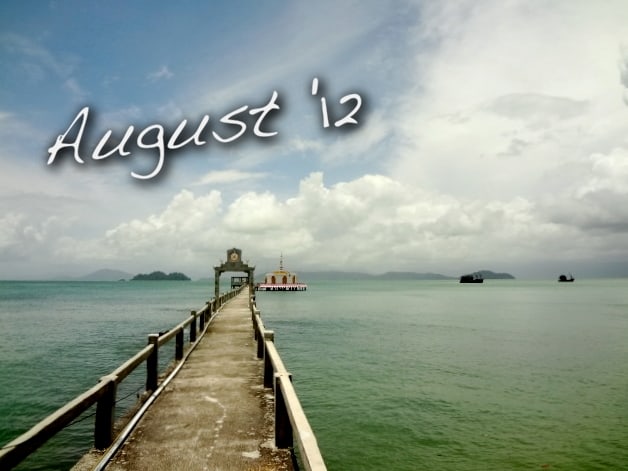 Still the hottest time of the year, I decided to head to an island I had heard about in passing while travelling through Isan in 2011.  Supposedly an empty island run by solar generators and no cars, it was supposed to provide a level of isolation I hadn't yet experienced.
I had done the island with no cars thing before, but this was completely different.  Being the hot time of year, half the island was abandoned, and the few places that were open were nearly empty, giving it about the closest feeling to a deserted island I could have hoped for.  There was still good food, and occasional Internet access, but while there, I really began to feel the spirit of the Thai islands.
I had decided to stay yet another semester, meaning it was time to give myself a level of comfort I hadn't had until then.  At the beginning of September, I moved into an apartment in central Bangkok.  Up until then, I had been living in the far northwestern suburb of Bangyai.  The amount of times I had to take a taxi back at night by myself was ridiculous, as everyone else I knew lived in the city.
I also treated myself to a luxury I hadn't had in just about a year:  a working iPhone.  Somehow, though, this one just doesn't seem to measure up to my first one.
The end of September brought the departure of more friends who were all moving on to somewhere else.  Unfortunately, that's something you have to learn to deal with when in this lifestyle.  Just as I had been moving on continuously the last few years, so does everyone I knew here
Much more than in the static lives that most live when they remain close to home, abroad everyone is moving in different directions, at what often seems vastly different paces.  You have to learn to deal to the fleeting nature of these relationships, or it will eventually get to you.
October was . . . a mixed month.  Of work and adventure.  Of discovery and pain and loss.  The first 2 weeks were limited hours at the school I work at.  The second two I was off to the north to Laos.  It was further and more remote than I had ever gone before.
And then the emails came.  In Luang Namtha, waiting for the bus to Muang Sing, a small frontier town near the China border, I got the flood of messages that Jeff Alexander, my best friend for 10 years, had died in Michigan.  It wasn't unexpected.  In fact, it was a long time coming after 3 years of cancer, but it still hit me in a way that affected the entire trip.  It became about that thing that becomes so common in the fleeting relationships I am now used to:  a talent for moving on.
In Muang Sing, I met a group of random travelers who I had a fantastically fun drunken night with in this small town in the middle of nowhere.  From there on – near broken wrists at the Plain of Jars, breaking out of my guesthouse in Luang Prabang, being stranded at the Naga Fireballs – it became about living for what he and I had always both wanted to do, but only I was ever able to.  And part of me still feels some guilt for that.
Then November came.
The second week in, I came down with a leaky eye infection I figured was pink eye.  After two days of dealing with it and having to cover my eye half the day, I finally took a couple days off, went to a local doctor, got some antibiotics, etc.
The next morning, 9 am my time and 9 pm their time, I got a call from my mother in the U.S.  My father had died.  And I couldn't just go.  I had to arrange the days with my job and then go to immigration for a re-entry permit so as not to void my Thailand visa when I returned.
And I planned to return.
That night, at midnight, I was on a flight out of Bangkok through Tokyo to Chicago and on to Grand Rapids.  My mother (10 years divorced from my father) picked me up and brought me to her house.
From then on, it wasn't a homecoming, it was a cleanup.  The time I was there, I spent primarily at the home of my father and grandfather (who he had been taking care of) going through his meticulously kept files and possessions.
During all of this, the reality of the situation never seemed to hit me the way Jeff had.  Jeff, as much as I hated the idea, I had known about for a long time.  My dad, amidst all his things, so suddenly, and not seeing him in a year . . . it just seemed like he had vanished.  Not that he was gone.
The time I was there coincided with Thanksgiving, an occasion which saw my mother and stepfather join my aunt, grandpa, sister and I for a very pleasant dinner.
Back in Asia, this became a month for starting over.  Two of the most important people I have ever known are no longer in the place where I grew up.  There was already very little semblance of 'home' there for me, as I've never felt a great connection to that city, only to the people there who love me so unconditionally.
When I returned to Bangkok, I brought a number of books and clothes with me.  In one of the pockets of a jacket I hadn't worn in over a year, I found a note written by someone I don't remember saying, "Moving forward".  It sounded like a good idea.
So rather than wallowing around in Bangkok, I decided to look forward.  To improving things.  I began rebuilding this blog for a new website domain.  Instead of heading to the middle of nowhere for my break, I decided to take a SCUBA course, something I could continue to use around the world.  I've begun to re-learn Arabic already with more effort than I ever put into learning Thai.
December started me onto 2013 – a year to better everything.  A year to better myself.